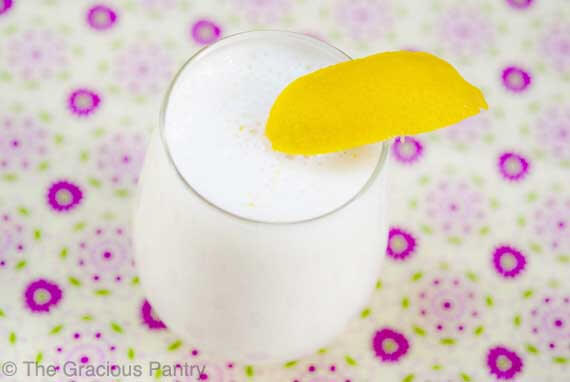 Being a mom is not for sissies. In fact, had anybody told me before I had Mini Chef just how difficult it could be and how much it could try a girl's patience, I would have thought they were nuts.
But this little child of mine, bless his heart, can push every last button I have and then some. And I will even go so far as to say that I appreciate my own mother on a whole other level at this point. The woman is a saint.
Now that Mini Chef is 4, his vocabulary has really branched out. In fact, he's almost talking like a normal adult.
But imagine my surprise when I was at my whits end, and those gorgeous blue eyes looked up at me with utter concern and said,
"Relax, Mom".
Knocked the spitfire right out of me. Needless to say, I was completely disarmed and he was relieved to not be getting his second time-out for the day.
I tell ya, some days…. being a mom is a real hair-raiser.
YOU MIGHT ALSO ENJOY:

Clean Eating Lemon Buttermilk Smoothie
(Makes 2 servings)
Ingredients:
1 cup low-fat buttermilk
2 lemons, juice of (or to taste)
1 scoop vanilla protein powder (amazon affiliate link)
1 tablespoon honey (or to taste)
Directions:
Blend and serve.