Cinnamon Apple Smoothie (Healthy & Easy Recipe!)
This post may contain affiliate links. Read my
Privacy Policy.
As an Amazon Associate I earn from qualifying purchases.
This cinnamon apple smoothie recipe is the perfect way to start off an autumn morning with fabulous fall flavors and a healthy breakfast. It's full of good-for-you nutrition that will give you energy all morning long!
Of all the no-added-sugar smoothie recipes I've done so far, this healthy apple smoothie is by far my favorite. It's an easy recipe that is light and refreshing with just enough sweet from the apple to make it enjoyable. It gets my day off to a good start!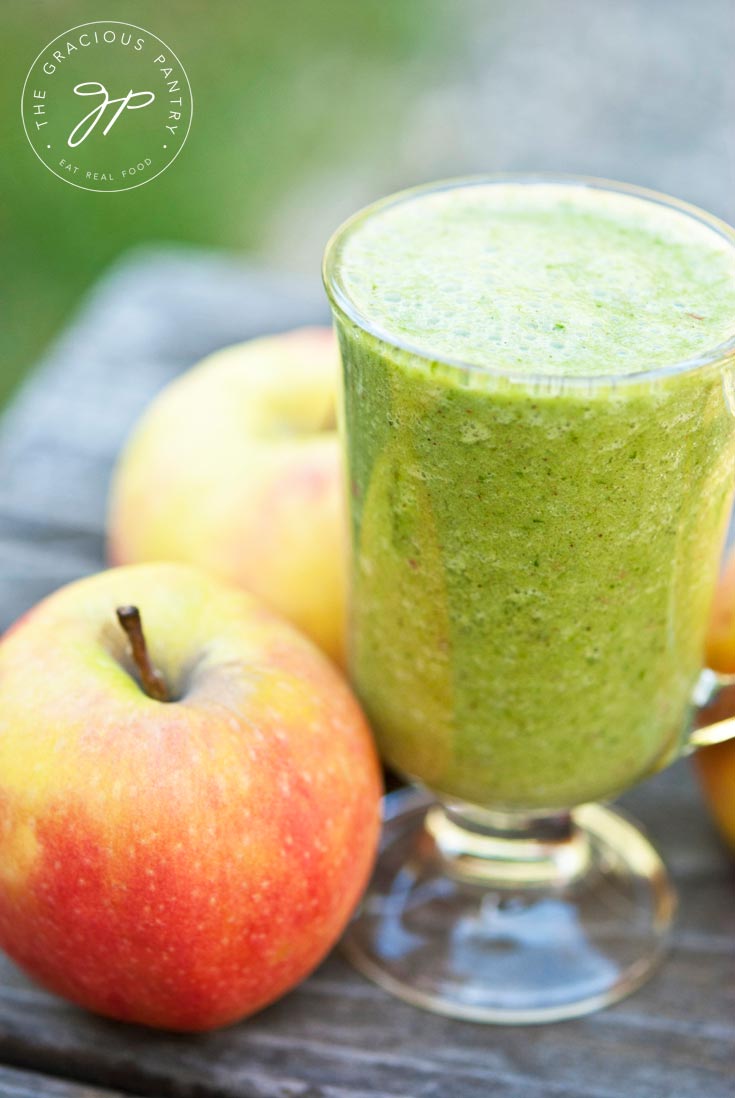 A healthy smoothie is a great way to boost your healthy eating routine. Whether you enjoy it for breakfast or a snack, smoothies are a great addition to a healthy lifestyle. A great smoothie, made well, can give you tons of energy to start your mornin off right.
How To Make Apple Smoothies
The concept is simple. Prep fresh apples and other ingredients, and blend them together! But this recipe is formulated specifically to help bring out the flavor of the cinnamon for a lovely apple/cinnamon combination.
Many people ask how to make an apple smoothie without yogurt or milk. And the truth is, you don't need dairy to make a smoothie at all. Yes, the liquid you use changes the texture of your smoothie. But it can still be smooth in texture.
Here, I used unsweetened almond milk. Almond milk is far less sweet than dairy milk, which is naturally much sweeter than many people realize. It is also a much thinner liquid. So this won't be as "creamy" as a smoothie made with milk or yogurt. But it is very light and refreshing, though all that fiber still fills you up.
And speaking of fiber, the finished apple smoothie will be a little on the thick side from the apple fiber. But that's a good thing if you don't mind the texture! The higher in power your blender is, the smoother the finished texture will be.
I actually sort of like mine a little on the thicker, more fibrous side. I don't mind a little chew in my smoothie. But that's a personal choice.
Also, if you need more sweetness, consider adding half a banana. And for those who don't mind adding a little sweetener, you can easily add honey, maple syrup or stevia to make it a bit sweeter. Simply add to taste.
NOTE: For those doing the No Sugar Challenge, this entire recipe equals 1 serving of the 3 allowed fruit servings per day, unless you add the half banana.
Smoothie Blenders
It's true, some blenders are better than others at making smoothies. The higher up in power they go, the smoother your finished smoothie will be. So let's take a look at few. If you're in the market for a new blender, these are three wonderful blenders to consider. I tried to cover a range of pricing here while still selecting a good quality smoothie blender.
How To Make A Smoothie Thicker
Making thicker smoothies is as simple as adding frozen fruit. And the great thing about adding frozen fruit to thicken your smoothies is that you are simply adding more good nutrition to your morning smoothie!
How To Make A Smoothie Thinner
If a smoothie is too thick for you, the best way to thin it out is by adding more liquid. This could be anything from water to any type of dairy or non-dairy milk. Even juice will work if you prefer that.
How To Make A Smoothie Creamier
Avocados are one of the most popular ways to make a smoothie creamier. But you can also add yogurt or a higher fat milk. Avocados will make your shake the creamiest, yogurt will come down a notch, and a higher fat milk will add the least amount of creaminess, while still making your smoothie creamier.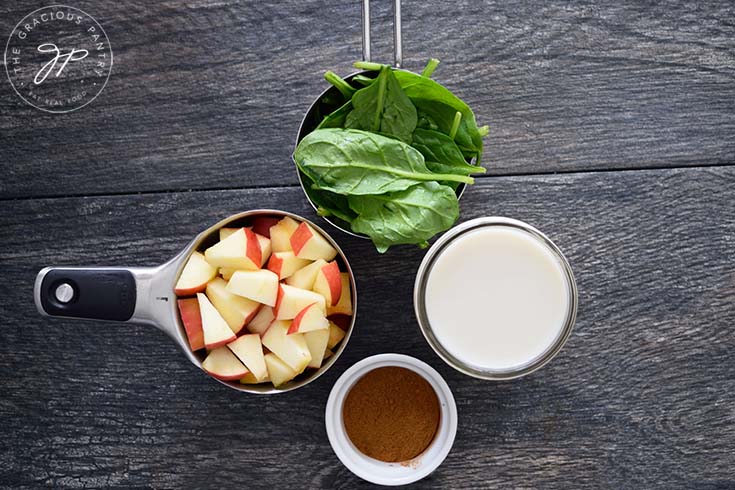 Smoothie Ratios
While I didn't apply any ratios here, it's helpful to know that smoothie ratios are a thing.
According to LaurenCarisCooks.com, a non-frozen fruit smoothie should have this ratio:
3 parts fruit
2 parts liquid
2-3 ice cubes
1-2 tbsp add ins
If you use frozen fruits then the ratio should be more like this:
3 parts frozen fruit
3 parts liquid
1-2 tbsp add ins
So if you feel this smoothie needs any adjusting for your own preferences, these are good rules to follow. (Though, I don't use any ice in mine. But as I said, I didn't apply ratios here.) Add ice to this recipe to easily thicken things up, if you wish. But the apple fiber does a pretty good job all on it's own.
Should You Peel Your Apples For An Apple Smoothie?
When it comes to making smoothies, the question of whether or not to use the apple peel can be answered by a few conditions.
Is your blender high powered? Then no need to peel!
Is your blender a regular, lowered powered blender? Then probably best to peel.
If nutrition is your aim, keep the peel.
If texture is a priority, the peel your apple.
If Your Apple Smoothie Doesn't Fill You Up…
If this is your problem, I totally get it. There is nothing worse that having a nutritious smoothie for breakfast only to be hungry one hour later.
If you can tolerate raw oats (like in muesli), then a simple solution here is to add approximately 2 tbsp. of raw, uncooked oats to your smoothie (about 1 tbsp. per serving). The idea being that they will expand in your tummy and fill you up. I have tried this, and the outcome is pretty remarkable. It really does keep you full longer.
Make sure you use tradition (old fashion) oats, not quick oats, for the best nutrition.
That being said, if you try that with this particular smoothie, you'll definitely want a high powered blender. I don't mind chewing some soft apple fiber with my morning smoothie, but chunks of hard, uncooked oats are a different story. Nobody wants that first thing in the morning! If you have a high powered blender, this is a great option.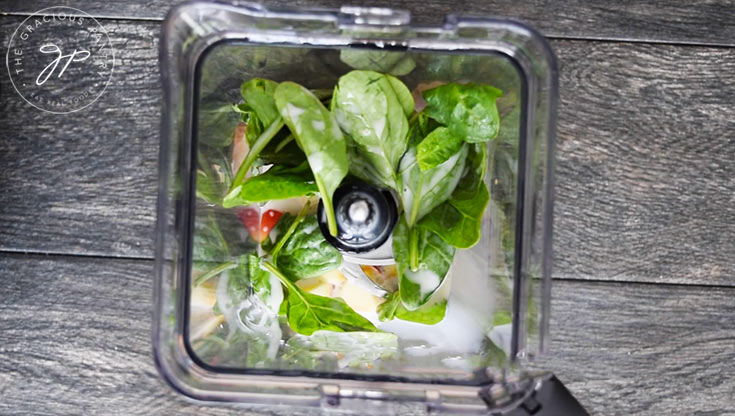 Best Apples For A Cinnamon Apple Smoothie
When it comes to the type of apple you might want to use in a smoothie, there are a few that stand out. The thing with making a smoothie with apple, is that you want apples that will break down easily while still giving you a good apple flavor. Part of the reason this smoothie is so fibrous is because of the type of apple I chose. So if that sort of texture in your smoothie isn't something you like, then simply choose a smoothie-friendly type of apple. Here are the best apples for smoothies:
If you want a green apple smoothie, then you might want to consider using:
Golden Delicious
Granny Smiths
The recipe below makes an apple smoothie without yogurt. But if you really want the tang of a green apple smoothie, then consider adding some. I opted for a dairy free smoothie here, but you can always add some if you prefer it. An apple yogurt smoothie is delicious!
Ingredient Checklist
1 cup chopped, sweet or tart apples -choose apples at the peak of their season
1 cup spinach (raw) – I use baby spinach leaves that are pre-washed.
1 cup almond milk (unsweetened) – Read ingredients at the store. Make sure you get unsweetened, or make your own at home.
¼ tsp. ground cinnamon – You can use up to a ½ teaspoon ground cinnamon if you want a heavy cinnamon flavor. But start small and add as you go, tasting after each addition until you get it just right.
Extra Apple Smoothie Ingredients
Want to mix it up a bit? Here are some extras you can add to your cinnamon apple smoothie for a little extra good nutrition and flavor!
Unflavored protein powder – 1 scoop for extra protein
Natural peanut butter (no sugar added) – Creamy is best, but if you don't mind a few chunks, crunchy peanut butter works too. Adds good fats and a little extra protein.
Almond butter – For healthy fats, protein and fiber without the peanut butter flavor.
Chia seeds – These are a great addition for the antioxidants, high quality protein and extra fiber.
Flaxseed – For their omega 3 fatty acids and extra fiber.
Oat milk – for creaminess.
Unsweetened apple juice – for extra sweetness if your apples aren't very sweet.
Need Smoothie Supplies?
These blenders are a great option for making healthy smoothies. These are both an affiliate link for amazon. It costs you nothing extra to purchase through these links.
MORE HEALTHY SMOOTHIE RECIPES:
Cinnamon Apple Smoothie Recipe

This cinnamon apple smoothie comes together in minutes! Make it even faster by either prepping your ingredients ahead of time or purchase the cut and packaged versions at the store so all you have to do is put everything in the blender.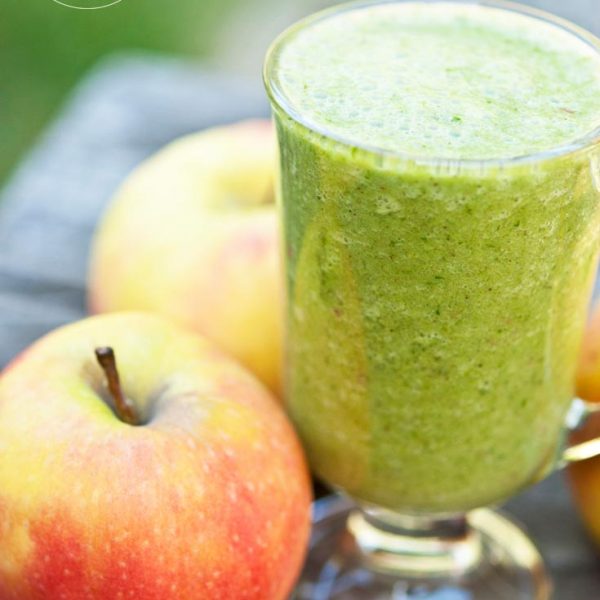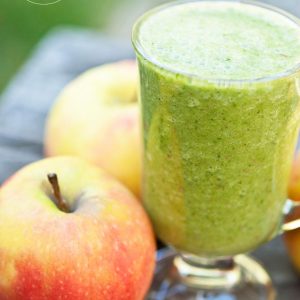 Cinnamon Apple Smoothie Recipe
This delicious smoothie will definitely get your day off on the right food. Packed with nutrition and flavor, you'll love this cinnamon apple combo.
Print
Pin
Rate
Add to Collection
Go to Collections
Servings:
1
cups (servings size – 1 cup)
CLICK TO WATCH THIS RECIPE IN ACTION!
Ingredients
1

cup

chopped, sweet apple

(choose apples at the peak of their season)

1

cup

spinach

(raw)

1

cup

unsweetened almond milk

¼

tsp.

ground cinnamon
Instructions
Serve in your favorite smoothie glass.
Notes
Please note that the nutrition data below is a ballpark figure. Exact data is not possible.
Nutrition
Serving:
1
entire recipe
|
Calories:
110
kcal
|
Carbohydrates:
20
g
|
Protein:
2
g
|
Fat:
3
g
|
Saturated Fat:
1
g
|
Sodium:
350
mg
|
Potassium:
301
mg
|
Fiber:
5
g
|
Sugar:
13
g
|
Vitamin A:
2881
IU
|
Vitamin C:
14
mg
|
Calcium:
342
mg
|
Iron:
1
mg
This recipe from the Gracious Pantry archives, originally posted 4/22/11.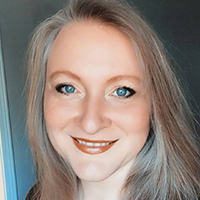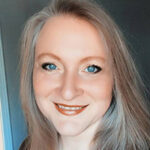 Who me?
I'm Tiffany, a cookbook author, food lover, mom, and writer for MSN and the AP Newswire.
   
Looking to stock your freezer for busy weeknights?
I wrote the book! Grab a copy of my book, Clean Eating Freezer Meals on Amazon here, or at select bookstores nationwide!   
Did you make one of my recipes?
Tag @graciouspantry on Instagram or post your pic on Facebook! I love to see my recipes in action!