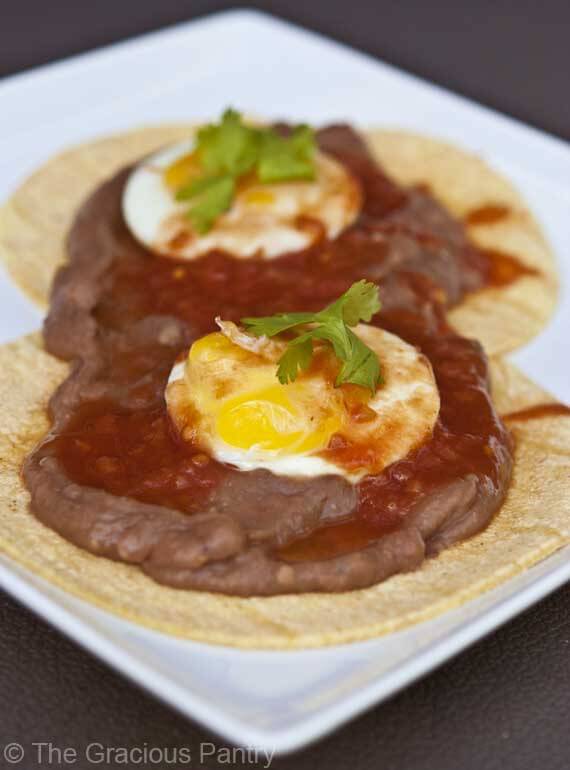 So today is day 1 of the No Sugar Challenge. And to start it off right, I thought a good breakfast was in order!
I did a bit of research for this recipe and found that huevos rancheros is a very personal and individual thing in the homes of people who make it regularly. It can often be a family tradition that gets handed down generation after generation. And that specific way in which it is made will change from family to family.
There are great lengths that somebody can go to to make this dish. It can take hours or mere minutes behind the stove depending on tradition. But if you've never made it before or it's not a familial tradition, this leaves you open to a very large variety of different versions you can try.
I will admit, I took the easy way out. I used store bought tortillas (clean, of course, from Trader Joe's), non-fat, clean, refried beans, jarred salsa and I baked my eggs in a muffin tin.
Now, if you and your family are huevos rancheros traditionalists, you may have just had a heart attack reading that last paragraph. But the truth is, this was simple, quick and downright tasty. Who can argue with that?
Note: For a more "traditional" recipe, you can make the tortillas, refried beans, salsa and then just fry or poach your eggs. It will take longer, but I'd be willing to bet it's awesome!
YOU MIGHT ALSO ENJOY:
Clean Eating Huevos Rancheros
(Makes 2 servings)
Ingredients:
2 Tortillas
1/2 cup beans (I used refried beans,but whole beans work too.)
2 Eggs (cooked any way you like)
1/2 cup salsa (homemade is most often used, but I used the jarred stuff and it was good)
Fresh cilantro for garnish
Directions:
Warm the tortillas. I typically do this on the stove burner over low to medium heat. But you can also do it in the microwave if you wrap the tortillas in a damp paper towel first.
Warm the beans and cook your eggs to your liking.
Assemble the huevos rancheros. 1.Tortilla, 2. beans, 3. eggs, 4. salsa, 5. cilantro.
NOTE: Nutritional Content not available for this recipe.