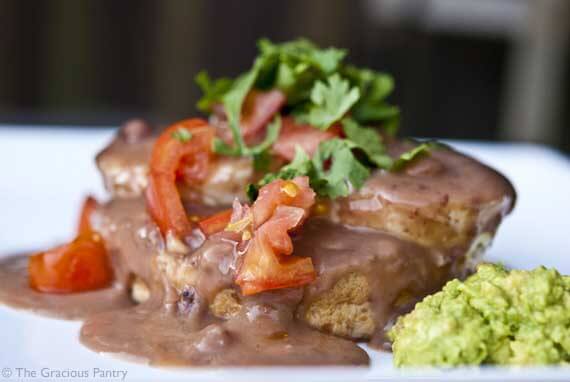 I love it when I can come up with a totally new recipe from leftovers. Something that I actually want to make again and again. The only problem with that is, I then have to be sure I always have those leftovers in the fridge! But I guess I could have worse problems…
I was desperate for something new for breakfast. It's the one meal I always really struggle with creatively. I mean, I love all the different ways you can top your oatmeal, but it's still oatmeal.
Don't get me wrong, I do LOVE my oats in the morning. I eat them regularly. But sometimes I want something different, and just plain old eggs won't do.
I have been making this every morning for a few days now. So I think it's safe to say I found my something different! Hope you like it too!
YOU MIGHT ALSO ENJOY:

Clean Eating Eggs Bean Benedict
(Makes 1 serving)
Ingredients:
1 slice clean toast
2 eggs – style of choice (see below)
1/2 cup refried beans with enough water added to make them a bit runny
1/4 chopped tomato
1 tablespoon chopped cilantro (optional)
2 tablespoon clean eating guacamole (optional)
1/4-1/2 teaspoon oil from an oil sprayer if your tin is not non-stick
Directions:
Using a muffin tin, cook your eggs any way you like them. I like using a muffin tin because I end up using soooo much less fat! In fact, if you have a non-stick muffin tin, you won't need any oil at all.
To cook them, bake at 350 degrees F. for about 10-14 minutes depending on how well you like your eggs cooked. Every oven is different so you may have to experiment with the cooking time a bit.
Place two cooked eggs on top of your toast, cover with beans, top with tomatoes and cilantro. Add a side of guacamole' and you're set!