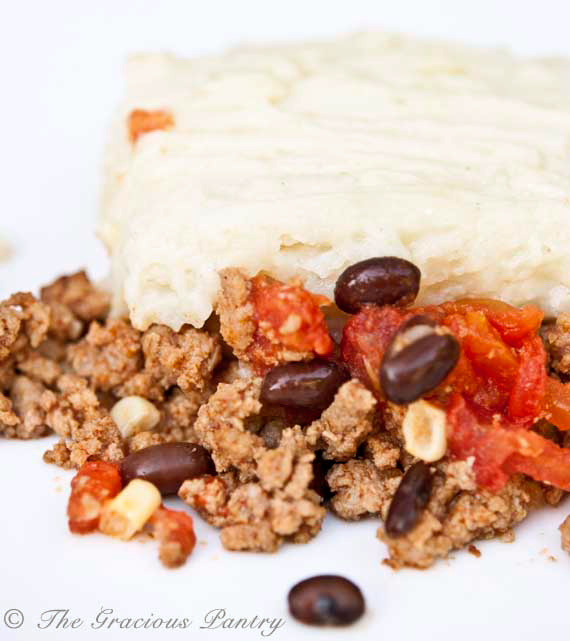 After my first attempt at making shepherd's pie, I was so smitten with the stuff that I knew I had to make it again soon. But I knew that shepherd's pie can come in many different versions, so I was looking forward to trying a new version as well. I just couldn't let too much time go by before making this dish of deliciousness again.
So I thought about all the different twists I could put on it and finally settled on a Mexican flavored version. We seem to be surviving off of clean taco salad around here lately. We love the flavor of it. So I figured I'd transition that into a shepherd's pie.
The entire family loved it! It was a major success in the McCauley household. Cannot wait to make it again. In fact, I think I'll go make another batch now…
YOU MIGHT ALSO ENJOY:

Clean Eating Mexican Shepherds Pie
(Makes approximately 12 servings)
Bottom Layer Ingredients:
1 1/2 pound lean, ground turkey
1 tablespoon garlic powder
1 tablespoon onion powder
1 tablespoon cumin
1 tablespoon chili powder
1 tablespoon olive oil
1 (15 ounce) can diced tomatoes, no sugar added
1 pound frozen, organic corn
1 (15 ounce) can black beans, no sugar added – drained and rinsed
Top Layer Ingredients:
3 large russet potatoes
1 tablespoon onion powder
2 teaspoon garlic powder
1 teaspoon salt
1 cup milk (any kind)
1 cup chicken broth
1 teaspoon cumin
1/2 teaspoon black pepper
Directions:
Boil the potatoes in a large pot until soft and easily pierced with a knife or fork.
While the potatoes boil, place the turkey and spices in a large pan and cook until the meat is well cooked through.
Transfer the turkey to a casserole dish (mine was 9×13) and spread evenly across the bottom.
Next, layer the tomatoes, corn and black beans over the turkey.
When the potatoes are done, drain the water.
Preheat oven to 400 degrees F.
Using a thick hand towel so you don't burn yourself, peel each potato and return it to the pot or blender (if you don't have a handheld blender).
When all the potatoes are peeled, add the rest of the Top Layer Ingredients to the potatoes and blend until smooth.
Spread the mashed potatoes over the top of the meat, corn, beans and tomatoes. Spread evenly with a spatula.
Using a fork, score the potatoes by dragging the fork lightly over the top, back and forth, both over the width and the length of the casserole.
Using an oil mister, mist the top lightly with olive oil and place in the oven.
Bake for about 30 minutes, or until you see the bottom layer get bubbly (if your casserole dish is clear glass). The idea is to brown the top of the potatoes slightly. If this doesn't happen in 30 minutes, turn your oven to broil and broil for about 10-15 minutes, keeping an eye on it to avoid burning.
Allow ample time for cooling. The potatoes really hold on to their heat!