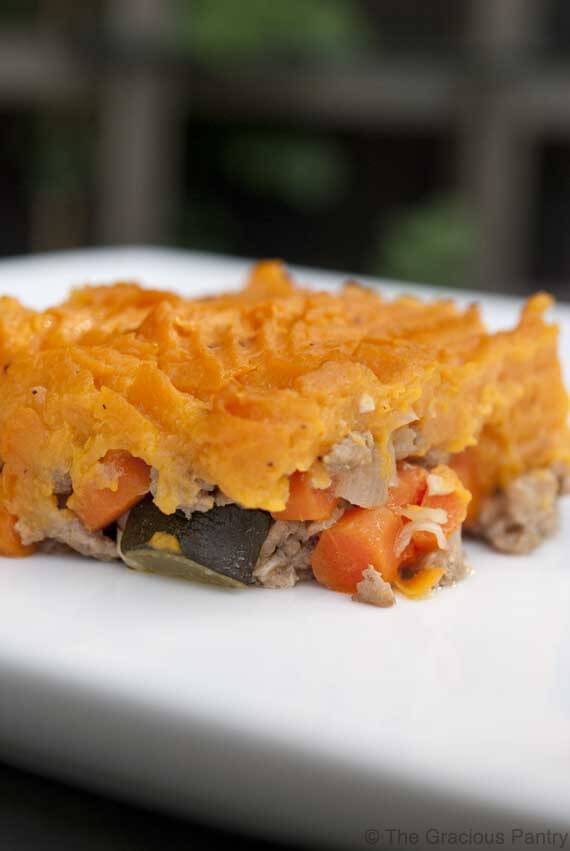 This is the first time I've ever made or even eaten shepherd's pie. I have to admit that the name conjured up images of me tending my flocks of sheep in the meadows somewhere.
I was never really 100% sure about what went in to a shepherd's pie and to be honest, it didn't appeal to me based on the name alone.
But I've gotten several emails from you all asking for a clean version. So I finally bit the bullet and made my first ever shepherd's pie.
All I can say is…. DANG I've been missing out!!! The flavors are simple, but it's one of those dishes that grows on your with every bite.
In fact, I made a casserole dish full that was 9X13 inches, and my husband ate HALF of it for dinner! He just could not stop eating it!
Needless to say, he had to pack something different for lunch the next day because there was just none of it left when dinner was done.
So ya, this was yummy, in my humble opinion. I hope you'll like it too!
YOU MIGHT ALSO ENJOY:

Clean Eating Shepherd's Pie
(Makes 12 servings)
Ingredients:
1 1/2 pounds ground turkey meat
1 tablespoon olive oil
12 cloves garlic, chopped
1 large shallot, chopped
1 large white onion, chopped
2 cups sliced carrots, sliced
1/4 cup celery, sliced
1 large zucchini, cubed
1 tablespoon balsamic vinegar
3 large sweet potatoes
1/2 cup chicken broth, no sugar added
1/4 teaspoon black pepper
1 teaspoon garlic powder
1 teaspoon onion powder
1/4 teaspoon salt
Directions:
Place your sweet potatoes in the microwave for about 20-30 minutes, or until they are cooked all the way through.
While the potatoes cook, saute the garlic, shallot and onions together in the oil.
When the onions are translucent, add in the turkey meat, carrots, celery, zucchini, and balsamic vinegar and continue to cook until the veggies are cooked most of the way. They don't have to be completely cooked because they will bake more in the oven. Just a bit tender is good.
When that is finished cooking, transfer everything to a casserole dish. (Mine was 9×13).
Using a thick towel so you don't burn yourself, peel the potatoes while they are still hot.
Place them in a mixing bowl with the chicken broth, garlic powder, onion powder and salt. Blend with a hand blender until smooth. A food processor or regular blender will work too.
Smooth the potatoes over the meat in the casserole dish. Drag a fork lightly across the top to "rough up" the surface a bit for baking.
Bake at 350 degrees F. for approximately 30 minutes or until it's nice and bubbly (you'll see that if your casserole dish is clear glass).
Cut into 12 sections and allow to cool a bit before serving. The potatoes really hold onto their heat, so be careful.