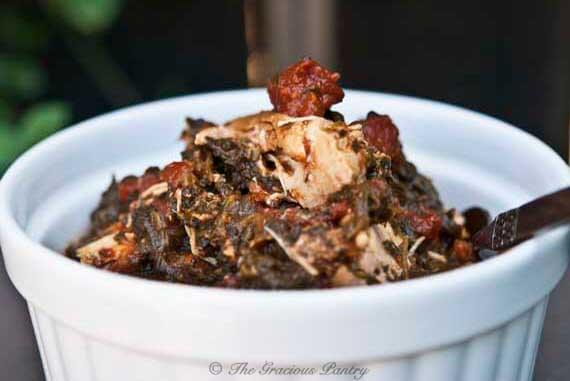 I'm in the middle of a very busy and sometimes stressful season. My slow cooker is doing overtime at the moment and all I can say is that my family would not have dinner on the table without it.
Seriously, whoever invented the slow cooker (I really should research that) should have a monument raised in their honor. I could just kiss him or her.
I mean really. A slow cooker is SUCH a beautiful thing. It does all my hard work for me. It cooks my dinner all day long and when I get home from class, it has a warm and wonderfully aromatic meal awaiting my tired self. It's a beautiful thing. Jussayin'.
If you like the flavor of spinach, you'll love this dish. The flavor it imparts is strong and earthy. The tomatoes offer up a bit of lightness to the dish, but this is definitely a spinach lovers dinner!
YOU MIGHT ALSO ENJOY:

Clean Eating Slow Cooker Spinach And Chicken
(Makes approximately 4 quarts)
Ingredients:
4 large chicken breasts
1 pound frozen spinach
1 (28 ounce) can diced tomatoes
1 (18 ounce) jar of your favorite clean marinara (or 18 ounce of homemade marinara)
Directions:
Place all ingredients in a 5 quart slow cooker and cook on low for 6-8 hours. It's done when the chicken easily falls apart.
Note: Times will vary based on your slow cooker. All crock pots cook differently.