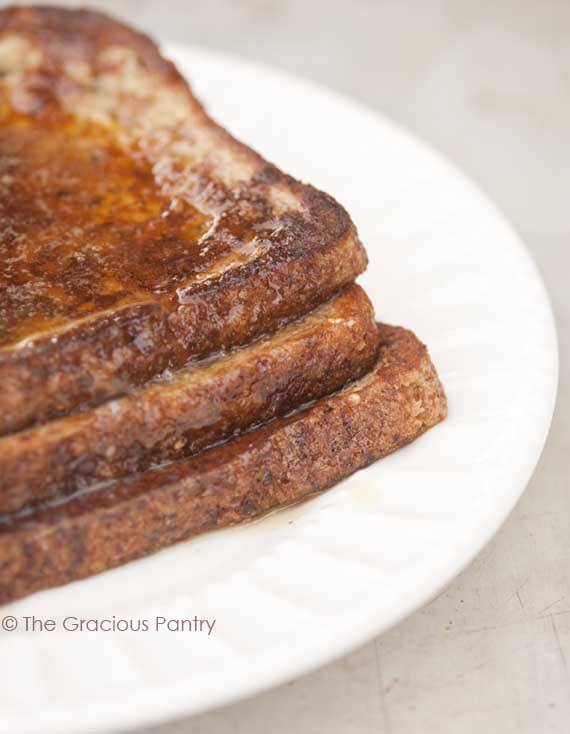 Is French toast really French? Does anyone know? I mean, if the French invented this, I think I may need to relocate. I know they are culinary geniuses and all, but da-anggg! French toast R.O.C.K.S!
I'll be adding this to my Saturday morning repertoire with my munchkin man. He loves it too. Here's how I adapted an old recipe to a clean eating version.
YOU MIGHT ALSO ENJOY:

Clean Eating French Toast
Ingredients:

1/2 cup egg whites
1/2 cup non fat milk OR unsweetened almond milk, OR unsweetened rice milk
1 teaspoon cinnamon
1 teaspoon vanilla
4 -6 slices whole wheat/grain bread (No sugar added)
Maple syrup or honey for topping
Directions:

Combine your egg whites, milk, cinnamon and vanilla in a bowl. Whisk until well blended.
Soak your bread in the mixture until it's partially saturated (Don't let it get too soggy or it will be a drag to get it out of the bowl)
Cook in a non-stick pan without any oil. Keep the heat low to medium low so it doesn't burn. Cook a bit longer than you would regular french toast to be sure the egg gets cooked at the lower temperature.
Plate your food and top with your favorite French toast toppings!
Please Note: Nutritional Content will not available for this recipe and will vary depending on bread used.