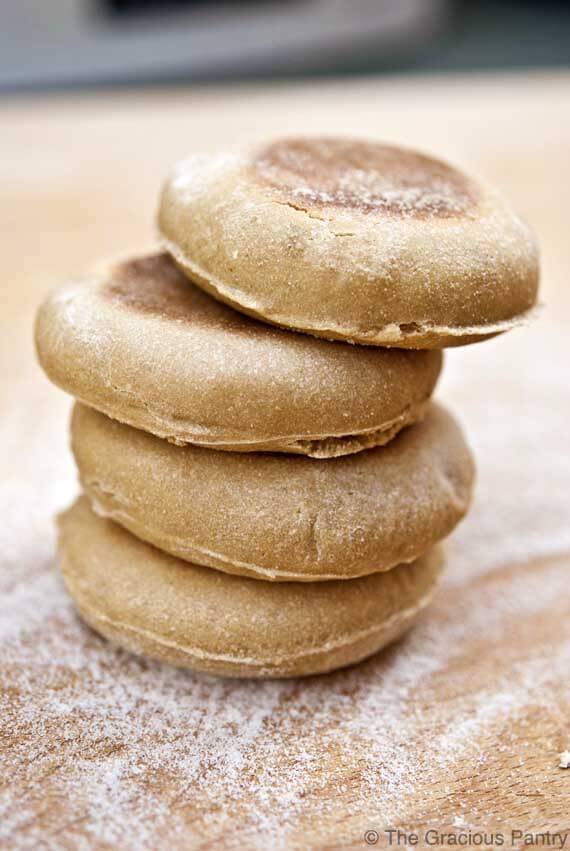 I do love a good English Muffin. When I have one, I always feel like I should be at a fancy tea party somewhere, sipping tea with my pinky finger sticking straight up in the air as I tip my cup. 
But the sad truth is, English Muffins bought in most stores are anything but clean. It's amazing what most companies will add to these very simple muffins!
Thankfully, while they do take a little time, they are actually quite easy to make yourself! They make great burger buns too!
YOU MIGHT ALSO ENJOY:

Clean Eating English Muffins
(Makes approximately 24 muffins – depending on the size you cut them.)
Ingredients:
4 cups whole wheat pastry flour (+ 1 cup on reserve)
1 teasoon salt
1 tablespoon olive oil
2 cups milk (any type will work, I used almond milk), warmed (105-115 degrees F.)
1 (3/4 ounce) pack of active dry yeast
1/4 cup brown rice flour or cornmeal
You Will Need:
2 cookie sheets lined with parchment paper
An oil sprayer/mister is very helpful
A non-stick pan or a heavy-duty pan such as cast iron
Directions:
Warm the milk (I did this in the glass measuring cup), and pour in the yeast. Set aside and allow to foam a bit before using.
In a large mixing bowl, blend the 4 cups of flour and salt. Add the oil, but don't bother stirring until you are ready add the milk.
When you have a nice bit of foam on top of the milk, pour the milk and foam into the flour. Stir with a wooden spoon until it gets too thick to stir.
Knead.
The goal with this dough is to get a, "just-barely" sticky dough that is smooth and soft in texture. Your dough will still be pretty sticky at this point. Add that extra 1 cup of flour, 1/4 cup at a time, kneading after every addition. DO NOT dump in the entire cup because you may not need it all (though you most likely will). Plus, doing a 1/4 cup at a time allows for the necessary amount of kneading.
When you have a nice, soft ball of dough, cover it with a nice, thin coat of olive oil to keep it from drying out while it rises.
Put it back in the mixing bowl, cover with a towel and let sit in a warm area for 1 hour. (I put mine in my stove – heat OFF)
Punch the dough down and give it another brief kneading. Just a few flops of the dough are fine.
Sprinkle the rice flour or cornmeal lightly over your work surface. Put your dough on the work surface and roll with a rolling pin until it's about 1/2 inch thick.
Cut out the muffins. I used one of Mini Chef's plastic cups, but you can also buy cutters that do this.
Place the cut out muffins on a cookie sheet, spray them with a very light coat of olive oil, sprinkle tops with a light dusting of rice flour or cornmeal, cover with a towel and allow to rise for another 30 minutes in a warm area.
Using an UNgreased pan, place as many muffins as you can comfortably fit, in the pan.
IMPORTANT: These cook on your STOVE TOP on LOW heat for a long time. Do NOT raise the heat to try and cook them faster. All you will get are burnt outsides and raw insides. Time is key. I cooked mine for about 15-20 minutes on each side. Test yours to adjust cooking time as needed.