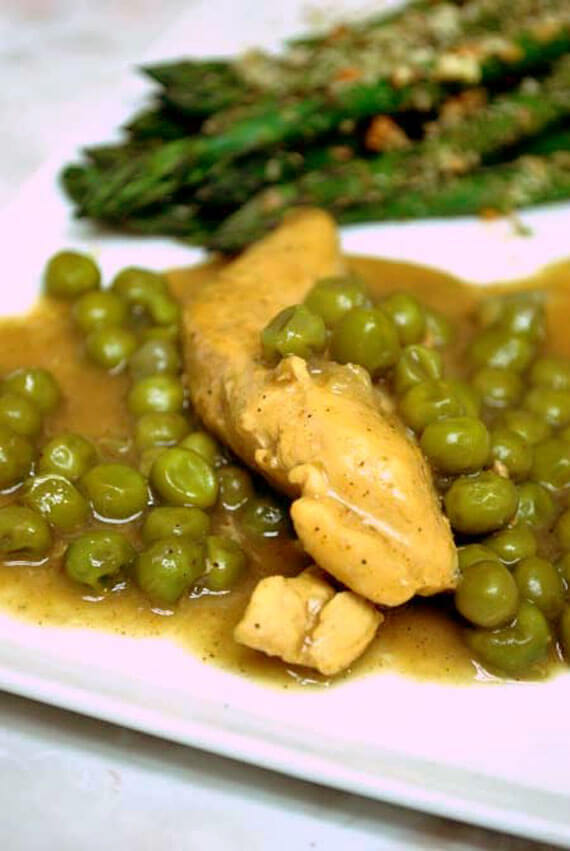 This was a fun recipe. The flavor is great and you can easily adjust the amount of spiciness  by choosing a mild or hot curry, or leaving out the garam masala all together. The choice is yours. Either way, it will be a very tasty dish.
This is the main course of my Valentine's Day menu. The curry and general spiciness of this dish is what makes it an aphrodisiac dish. Anything spicy that gets the sweat glands going and the blood pumping is said to be an aphrodisiac. So if you and your partner like spicy foods, use the garam masala, and use hot curry instead of mild. That should get those sweat glands going!
Clean Eating Curry Chicken With Peas
(Makes 4 servings)
Ingredients:
2 large chicken breasts
1/2 (14 ounce can) light coconut milk
1/4 cup chicken broth
1/2 package frozen peas
1/2 tablespoon mild curry powder
1/2 teaspoon garam masala
1/2 teaspoon garlic powder
Directions:
In a large pot, combine all ingredients except the chicken, and bring to a soft boil.
Add chicken breasts and boil until chicken is cooked through.
If your sauce has not cooked down enough (it should cook down by almost half) by the time your chicken is cooked and you want the sauce to be thicker, you can add 2 tbsp. of organic corn starch to the pot to help thicken up the sauce.
Nutritional Content
1 serving = 1/4 the recipe
This dish is a little higher in cholesterol then most of my dishes. It's the combination of the chicken and coconut milk. So plan the rest of your day's eating plan accordingly.
Calories: 193
Total Fat: 3 gm
Saturated Fats: 2 gm
Trans Fats: 0 gm
Cholesterol: 68 gm
Sodium: 182 mg
Carbohydrates: 9 gm
Dietary fiber: 3 gm
Sugars: 4 gm
Protein: 30 gm
Estimated Glycemic Load: 3
Please Note: Nutritional Information estimated at Nutritiondata.com. Data may not be accurate and is subject to the availability of specific foods in their database. Where one ingredient is not listed, substitutions must be used. Therefore, you should not refer to this data as being exact. It's more of a ballpark figure. The Gracious Pantry does not take responsibility for the inadequacies of the nutrition calculator used. This data is provided as a courtesy and general reference only. It is not exact.