Vegan Minestrone Soup Recipe
Oh, but I love this vegan minestrone soup!
The title it should really have is (brace yourself): A-great-tasting-clean-all-the-veggies-out-of-my-fridge-before-they-go-bad-and-a-few-things-out-of-the-pantry-too-soup. Phew!
The truth is, you can put just about any veggie into this soup, and it's still going to taste great. But here's the recipe that got me this fabulously huge and tasty pot of clean eating minestrone soup.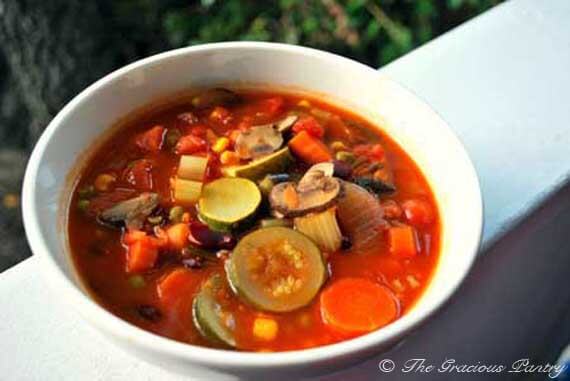 You will need a very large soup pot for this one. You could definitely get away with halving or even quartering the recipe and you'd still have plenty. This was more of a "dump soup" for me. I took everything in the fridge and dumped it in. I realize it's not a pure minestrone, but it sure tastes like the real stuff! Just add cooked pasta! (I recommend cooking the pasta separately so it doesn't get mushy.)
This freezes super well too, which is another reason I recommend cooking the pasta separately. You can make the pasta in smaller amounts as you eat portioned amounts of the soup. This is perfect for stocking your freezer, particularly in colder months. Give it a try!
SUBSCRIBE:
Remember to subscribe to my free, Gracious Pantry Newsletter to receive all my latest recipes in your inbox! Click here to sign up!
MORE HEALTHY SOUP RECIPES:

VEGAN MINESTRONE SOUP RECIPE: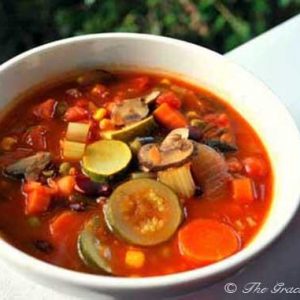 Ingredients
1

large

red onion

4

cloves

garlic

1

small bunch

chives

1

medium bunch

basil

3

medium

bay leaves

3

(15 oz.) cans

tomato sauce

(no sugar added)

1

(28 oz.) can

stewed tomatoes

(no sugar added)

8

cups

vegetable broth

(no sugar added)

6

large

carrots

1

lb.

zucchini

1

small

eggplant

2

(15 oz.) cans

kidney beans

(drained and rinsed)

1

lb.

frozen peas

1

lb.

frozen corn

1/2

lb.

mushrooms

5

large stalks

celery

2

tbsp.

extra virgin olive oil
Instructions
Saute you onions and garlic in 2 Tbsp. extra virgin olive oil. Add your herbs.

Open your cans of tomato products and stock, and add to pot. Bring to a very soft boil.

Add your beans and all other veggies to the pot, and cook at a soft boil until all veggies are cooked through.

Allow to cool, and serve with a slice of whole wheat bread. You can also add leftover chicken to your bowl to get some protein. If you are vegetarian, add rice. The rice and beans will give you your protein.

Want to know what my secret ingredient is? Check out this itsy-bitsy carrot that got added to the pot. My son planted this in spring, and the poor thing just never got any bigger than this.

Freezer storage: Divide this soup into individual servings and freeze for up to 6 months.

Notes
Please note nutrition data is not available for this recipe at this time.