Strawberry Apple Sauce (Slow Cooker Recipe)
Apple sauce takes on a whole new personality with the addition of fresh strawberries. This Strawberry Apple Sauce is a healthy treat and super easy recipe that cooks up overnight in your slow cooker! (But don't worry, I give instructions for other cooking methods too!)
This delicious stuff makes a wonderful side dish, afternoon snack, or dessert.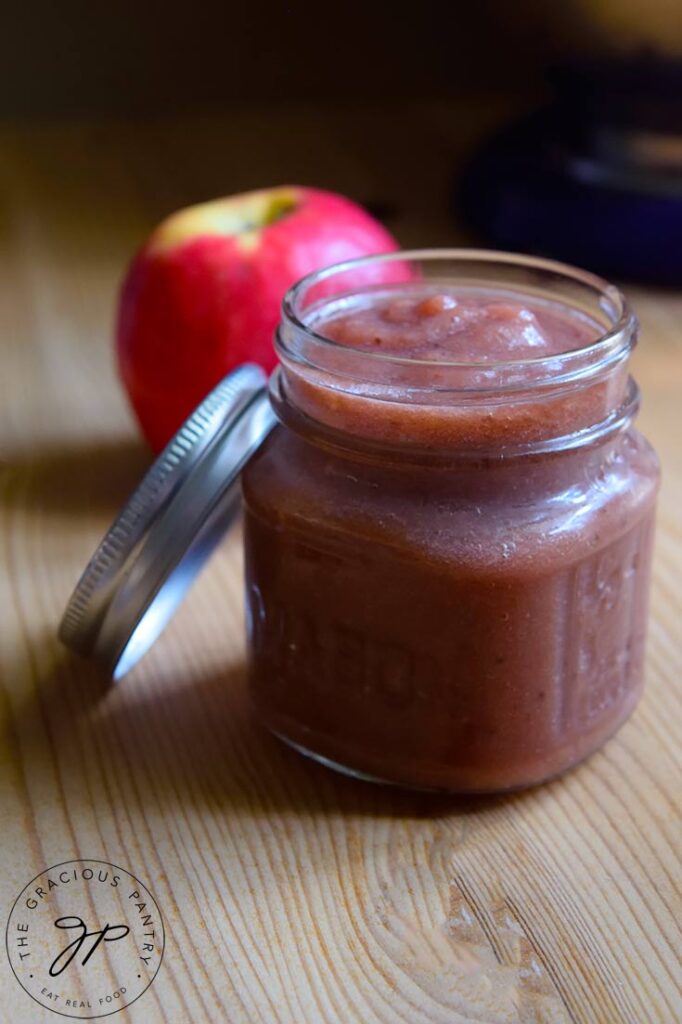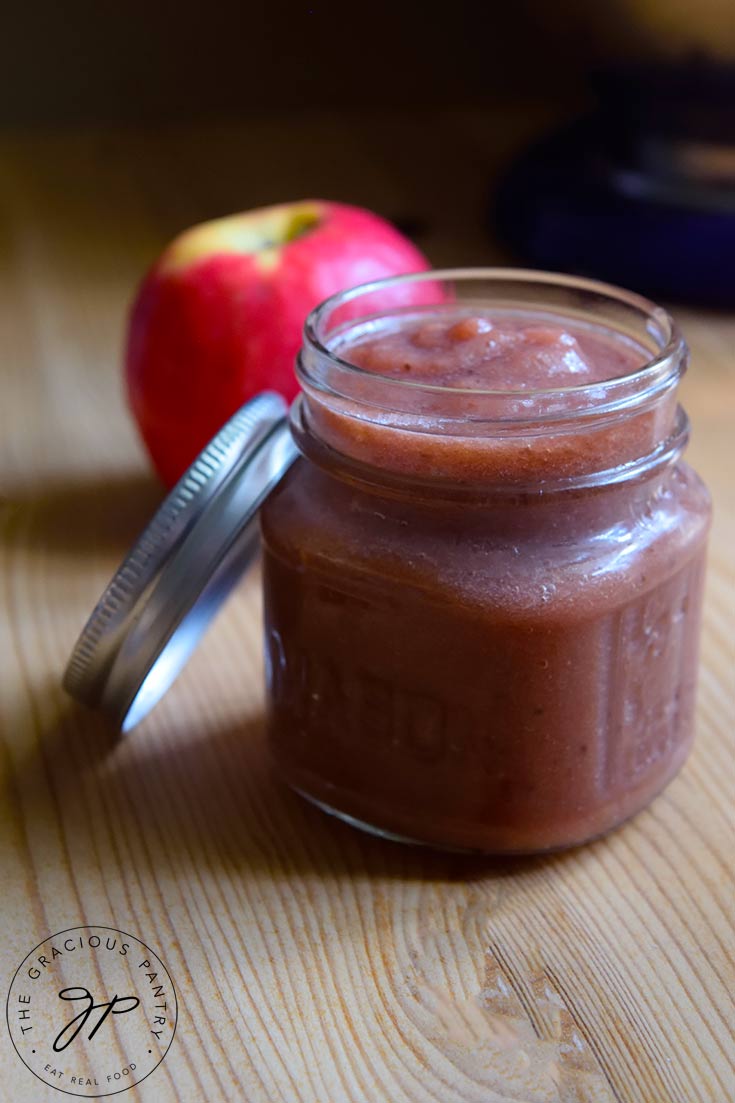 Strawberry Apple Sauce makes a great gift idea as well! It's also a healthy addition to your meal plan. Meal plans should always include some sort of dessert for sanity's sake. But that doesn't mean it has to be unhealthy. This recipe is perfect for a healthy dessert!
What Flavors of Applesauce Are There?
Strawberries aren't the only way to add new flavor to your homemade apple sauce.
Amish Apple Sauce (coming soon!)
Blueberry Apple Sauce
Peach Apple Sauce
Cranberry Apple Sauce
Mango Apple Sauce
Pineapple Apple Sauce
Is Strawberry Applesauce Healthy?
Absolutely! Especially when it's homemade strawberry applesauce.
Store-bought sauces can have a lot of added, processed sugar and other unwanted ingredients. But homemade can be as healthy as you want to make it. And in this recipe, we keep things pretty healthy. (Added sweetener is optional!)
Plus, the added nutrients from the strawberries give it an extra nutritional boost of vitamin C and dietary fiber! So it's one of those healthy snacks or desserts you can actually feel good about eating.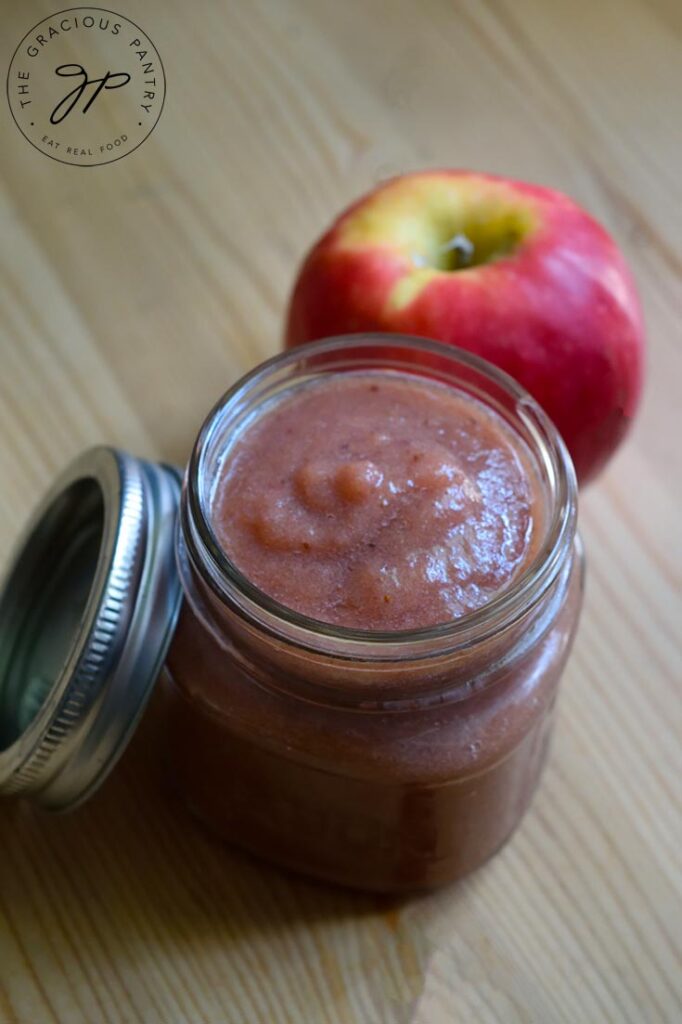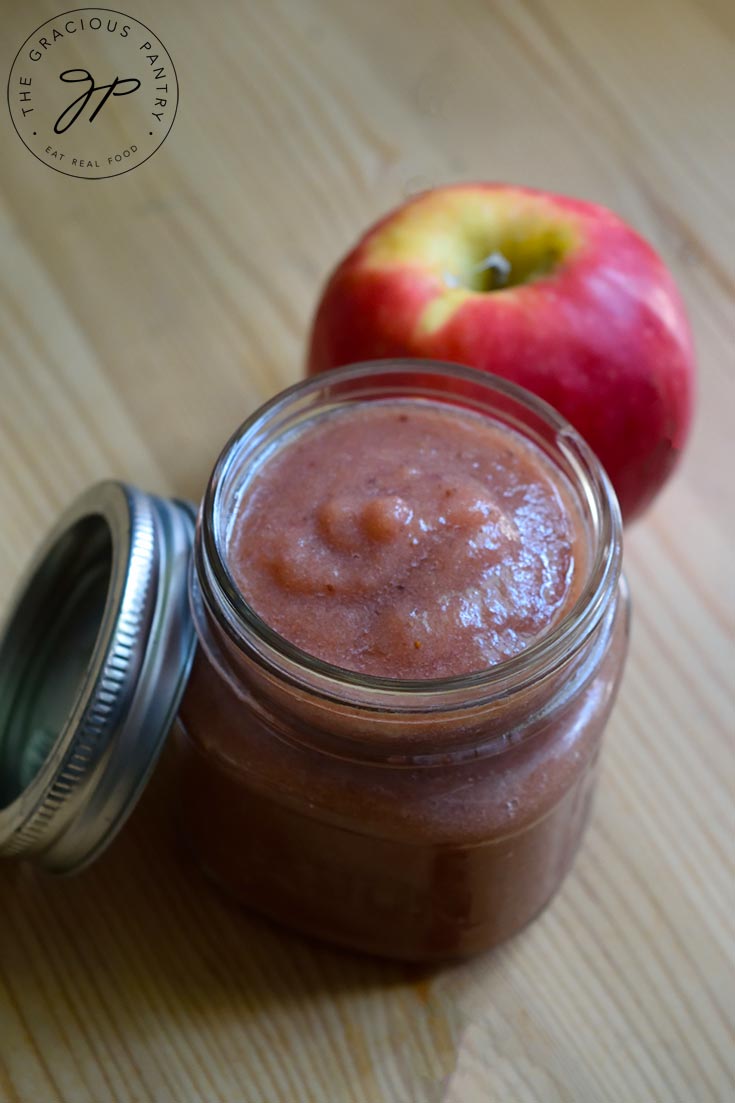 How Can I Make Applesauce Taste Better?
When people ask this question, it's usually because they are used to store-bought apple sauce, which can sometimes be bland or even downright sour in some cases.
To improve this, you can easily add more sweetener and maybe a bit of cinnamon.
For this recipe in particular, make sure you are using fresh, sweet fruits. The quality of the fruit makes all the difference in a recipe like this.
Options For Blending Your Apple Sauce
When it comes to getting the consistency and texture you want in your apple sauce, you have a few options.
Food Processor – This will get you a nice, even blend. You can get a chunkier texture by blending a little less.
Immersion Blender – This will get you the smoothest texture possible, but it's still possible to get a chunkier texture by blending less.
Food Mill – This will get you a more textured consistency. You don't really have much control over how smooth or chunky your sauce is. A food mill will give you the same texture every time.
Standard Blender – As with an immersion blender, this will give you a very smooth texture. It's slightly more difficult to have control over the texture, but not impossible. Depending on how much you make and the size of your blender, you might have to blend in batches.
Potato Masher – This will give you the chunkiest texture. While it's a little more physical effort, it also gives you the most control over the final texture of your sauce.
Apple Corer
You have a few options, beyond a cumbersome knife, for coring your apples. We use a lot of apples around here, so I have all three of these!
What Apples To Use
While tart apples are great for many recipes, in this instance, you want to use sweet apples. When you get to the grocery store, simply ask the produce person what the sweetest apples currently are. Usually, it's the apple that is currently in season, but it can vary.
I used Pink Lady Apples. They are very sweet this time of year and perfect for this recipe. For and added health boost, opt for an organic apple.
Organic Strawberry Puree
If you have it, you could use it here. But instead of adding it to the slow cooker, I would add it when you blend the apples. This will avoid overcooking the already cooked strawberries.
Added Sugar
You don't have to add any sweetener to this recipe at all. And if you do choose to use a sweetener, you can add it at the end after cooking and blending so you can add to taste. Healthy sweetener options are:
Sucanat
Monk fruit
Coconut sugar
Honey
Maple syrup (the real stuff)
Pure liquid stevia
Best Slow Cookers
Strawberry Applesauce Recipe Ingredients
4 medium fresh apples – Use sweet apples. Peel, core and chop them.
1 lb. container sweet strawberries – Strawberries are one of the "Dirty Dozen", so if you can, opt for organic berries.
½ cup water – You can also use apple juice if your fruit isn't that sweet, but you want to avoid adding any sweetener.
¼ cup granular sweetener – This is optional and can be added after cooking. You can add up to a ½ cup sugar, but the amount of sweetener used will depend on how sweet your apples and strawberries are. Taste before adding more.
1 tbsp. lemon juice – This can be fresh or jarred lemon juice. But fresh squeezed has better flavor.
How To Make Strawberry Apple Sauce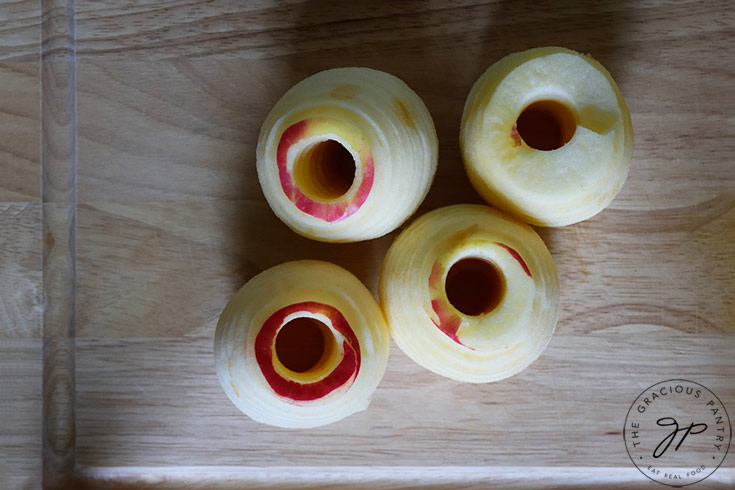 Peel, core and cut the apples uniformly.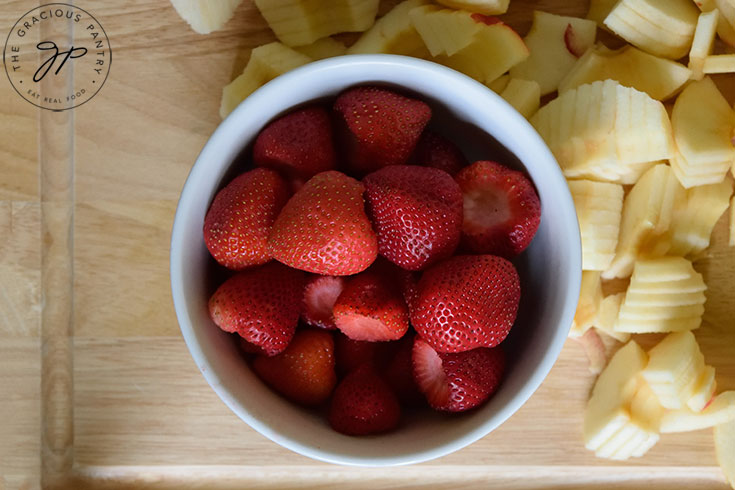 Combine apples with all other ingredients in a 5 quart slow cooker.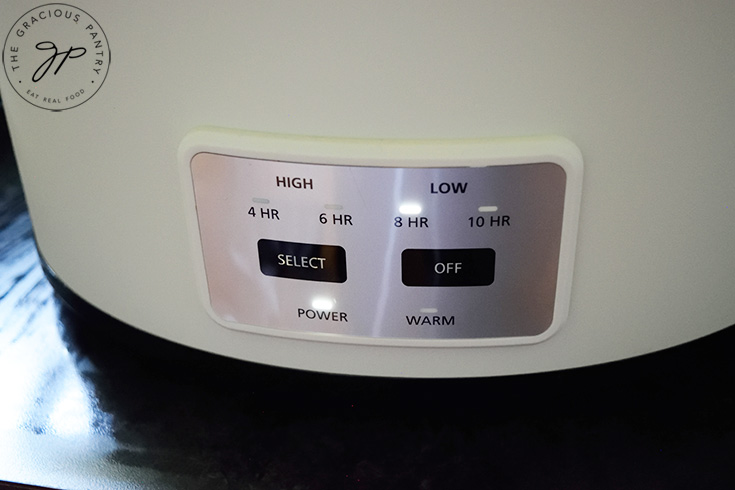 Set to low heat and cook for 8 hours.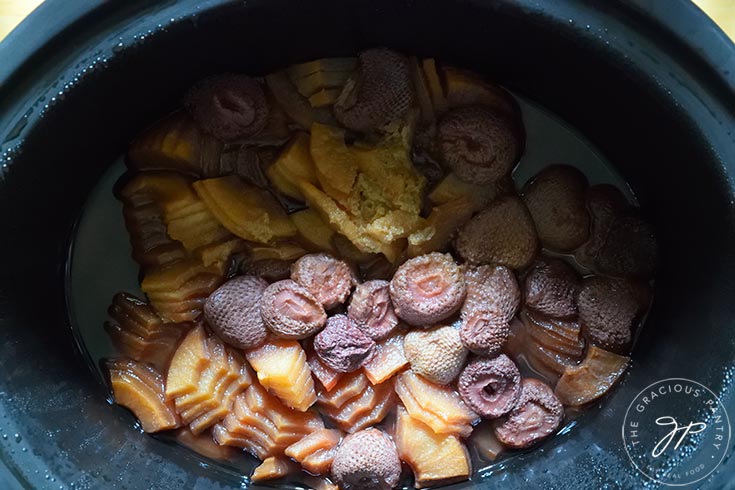 Note that the fruit will look a little "funky" when it's done cooking. This is totally normal. Once blended, you'll have a beautiful sauce.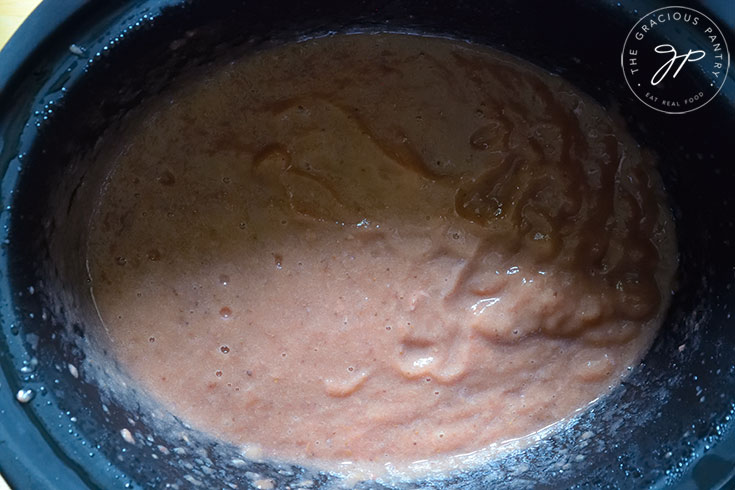 Using an immersion blender, blend until smooth.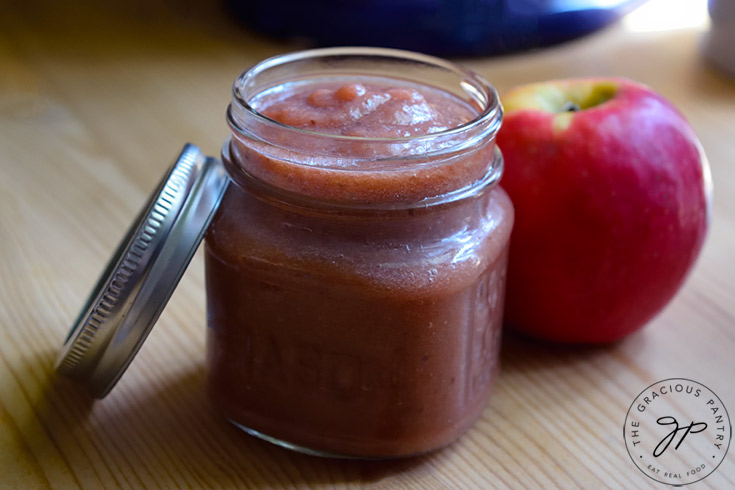 Store in a food-safe, airtight storage container and keep in the fridge for up to 5 days.
Note that this recipe is NOT recommended for canning.
Instant Pot Strawberry Applesauce
Want to make this in your Instant Pot? Here's how!
Cook at high pressure. Use the Manual button and adjust time to 8 minutes. Allow for a 10 minute natural release before opening the steam valve.
Blend and enjoy your Instant Pot applesauce!!
Stove Top Strawberry Apple Sauce
Using a large pot or extra large saucepan, combine the ingredients. Cook over medium heat until the apples are totally soft and easy to mash with a fork.
Blend and serve.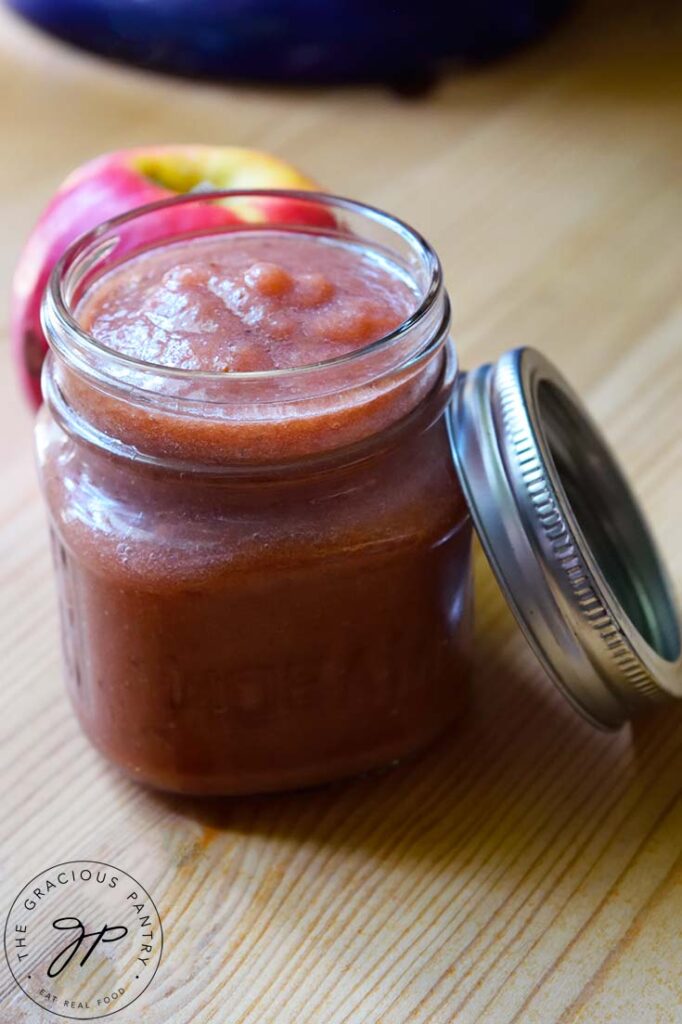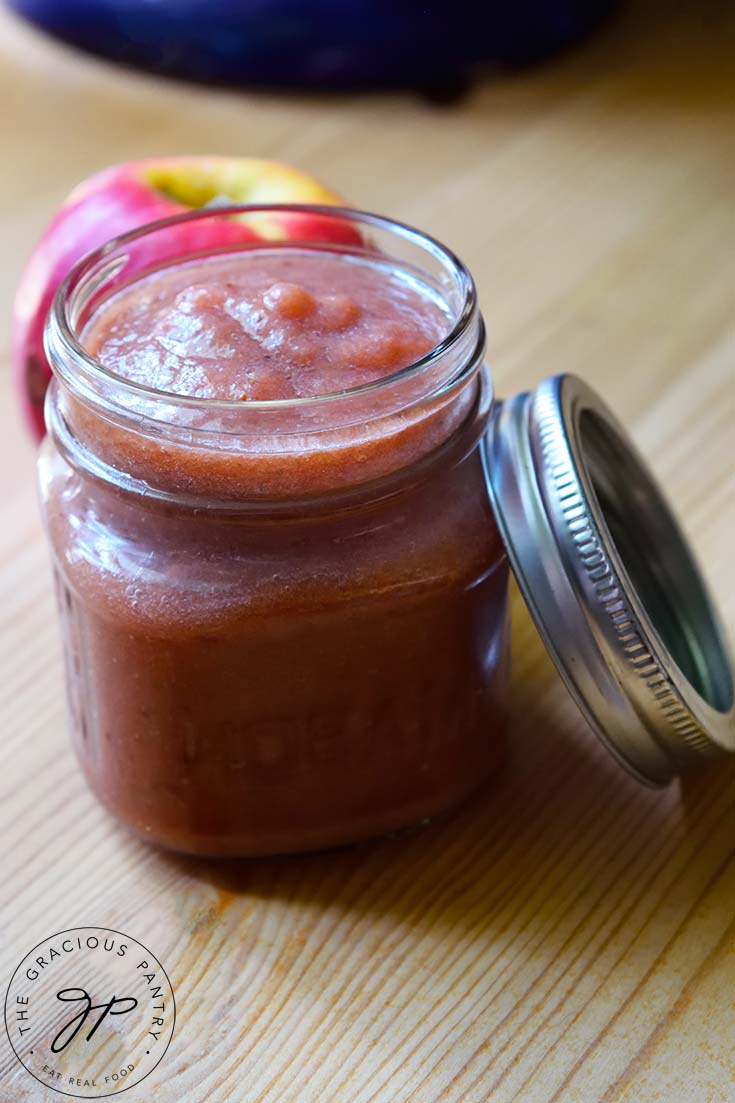 Can You Can Strawberry Apple Sauce?
While I'm sure there are canning recipes available for strawberry apple sauce, this particular recipe is not formulated for canning.
Can You Freeze Strawberry Apple Sauce?
Absolutely! In a proper container, this will freeze for up to 3 months. Normally, homemade apple sauce will freeze for up to 12 months. But the berries change things.
Note that store bought apple sauce cannot be frozen for as long. Homemade can be frozen longer.
How To Store Strawberry Apple Sauce
I have found that, despite this not being a canning recipe, canning jars are a fantastic way to store this in the fridge. But any airtight container will work well for fridge storage.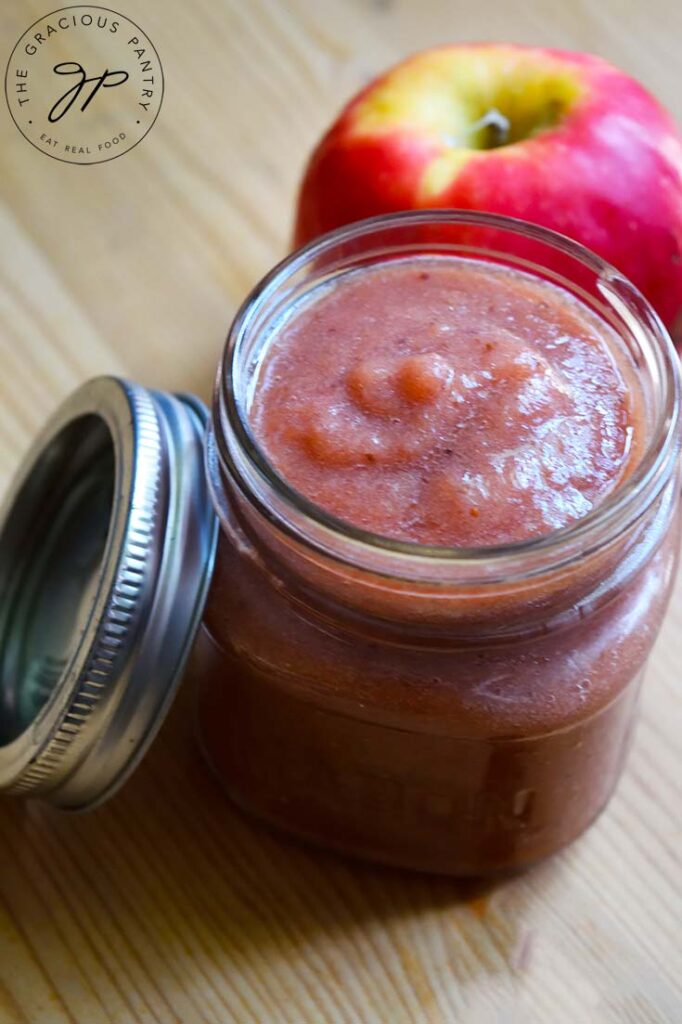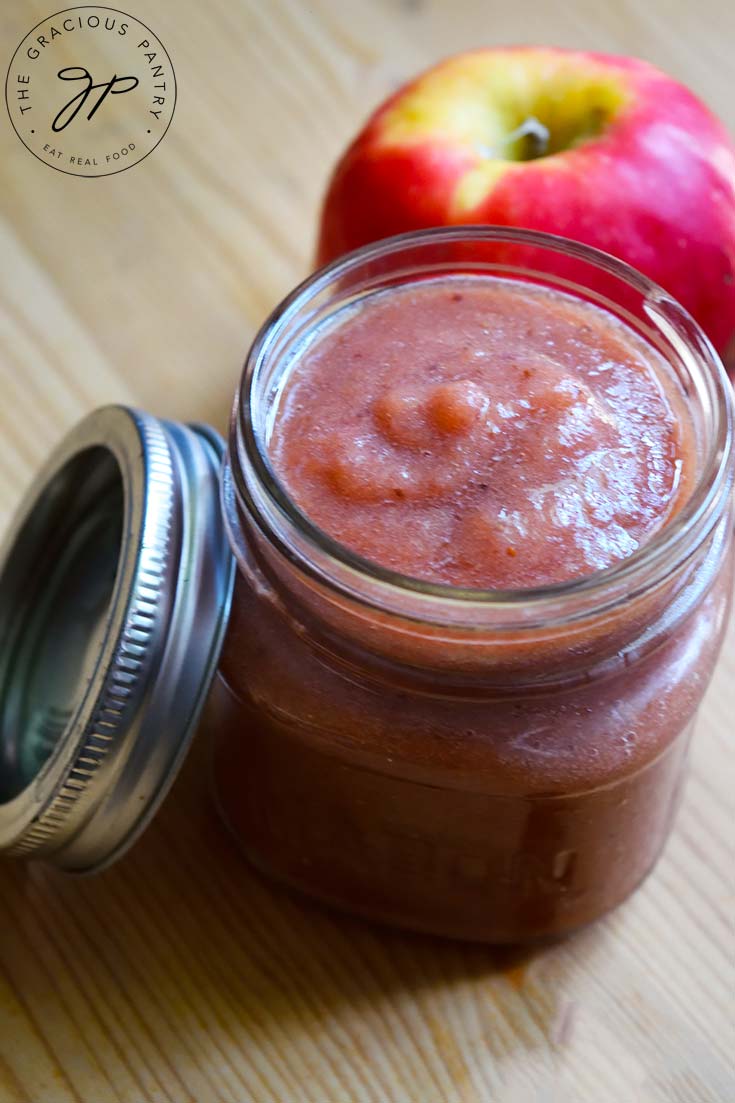 Need Supplies?
If you need supplies for making this recipe, these are the supplies I used. These links are affiliate links, but it costs you nothing extra to use them.
More Homemade Apple Sauce Recipes
SUBSCRIBE
Remember to subscribe to my free newsletter to receive all my latest recipes in your inbox. Click here to sign up!
Strawberry Apple Sauce Recipe