Blueberry Apple Butter Recipe
This post may contain affiliate links. Read my
Privacy Policy.
As an Amazon Associate I earn from qualifying purchases.
This blueberry apple butter is simple and delicious fruit butter that goes well with crackers, toast or just about anything you would use jam or jelly for.
Blueberries are definitely in season at the moment and I couldn't be happier about it. Mini Chef eats them like candy and I enjoy a few here and there for a quick pick-me-up during the day. I love to pair them with walnuts or almonds for a clean snack or small meal.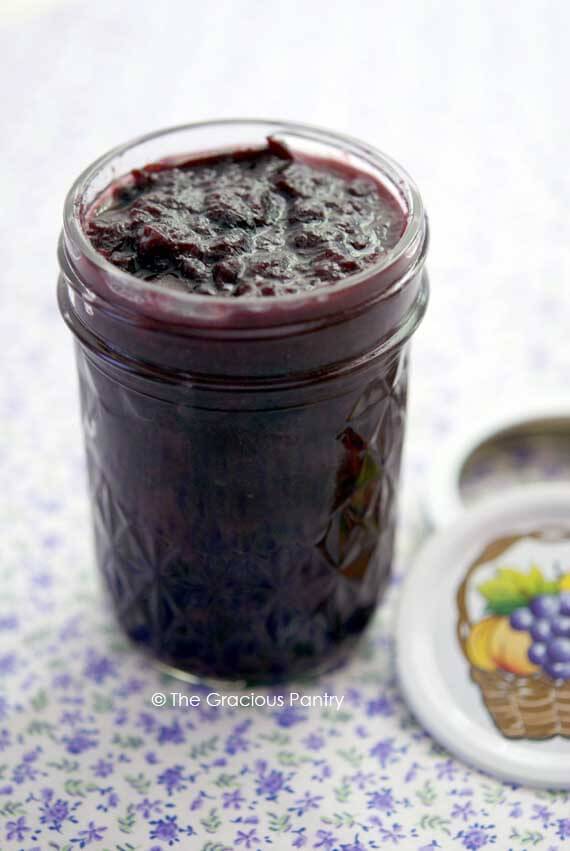 But occasionally, it's nice to have something a bit more decadent. This wonderful fruit butter will liven up the dullest piece of toast. So add a little something extra to breakfast this week! I mean really, who wants drab toast?
MORE HEALTHY FRUIT BUTTER RECIPES:

BLUEBERRY APPLE BUTTER RECIPE: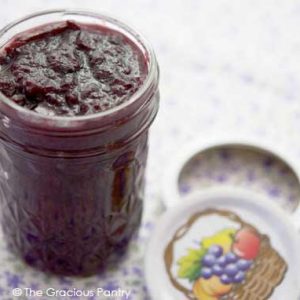 Ingredients
Equal amounts of:
apples

(cored, sliced and peeled)

blueberries

(fresh or frozen - no sugar added)
Other Ingredients:
water

(enough to reach the top of the fruit in your pot)

ground cinnamon

(about 1 tbsp per 6 cups of fruit)

vanilla extract

(about 1 tsp. per 6 cups of fruit)

honey

(about 1 tbsp. per 6 cups of fruit - or to taste)
Instructions
Put the apples, blueberries and water in a pot and bring to a boil. Reduce to a simmer and cook until the liquid is nearly gone.

Add cinnamon, vanilla extract and sweetener to taste. If this adds too much liquid (when using honey), continue to boil it down further.

When you have a nice thick sauce (like thick apple sauce), remove from heat and allow to cool. 

Store in a container in the fridge for up to 1 week, or freeze up to 4 months.
Notes
There is no nutrition data given. Amounts and yield are variable.