Low Carb Trail Mix Recipe
This post may contain affiliate links. Read my
Privacy Policy.
As an Amazon Associate I earn from qualifying purchases.
If you tend to follow a low carb diet of some sort, make sure your fat intake is healthy. This low carb trail mix can help with that!
If you need some low carb snacks around the house, a good low carb trail mix might be a great option to keep on hand. It's quick to make, convenient, and travels extremely well.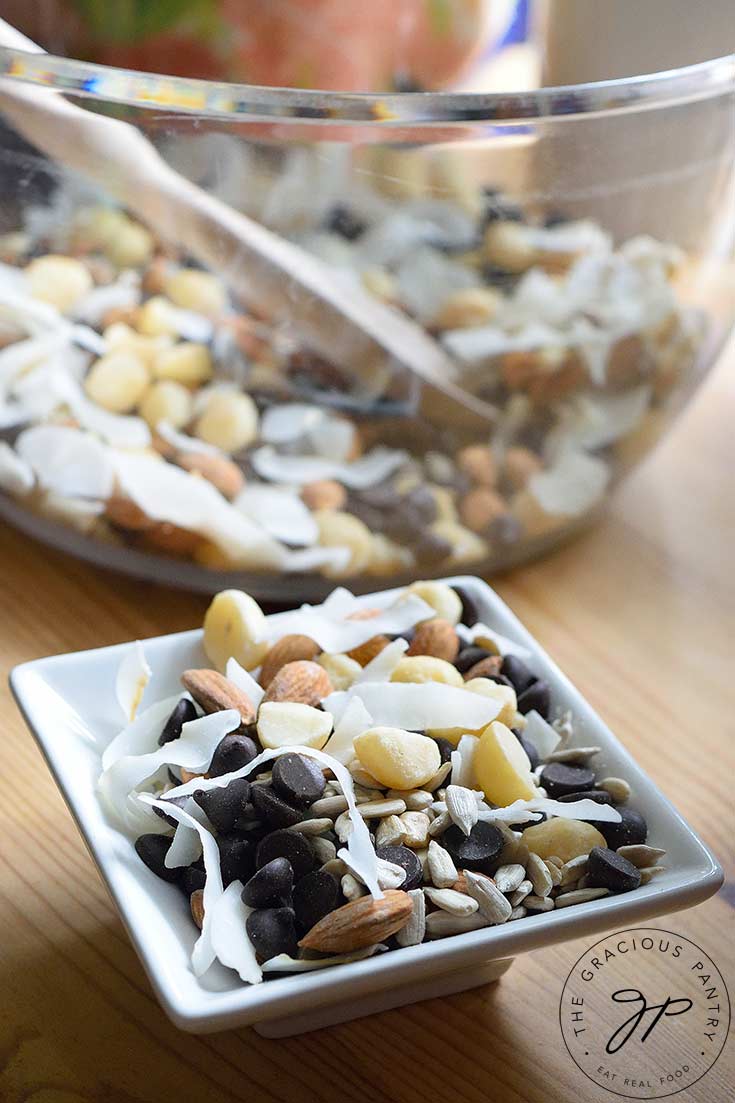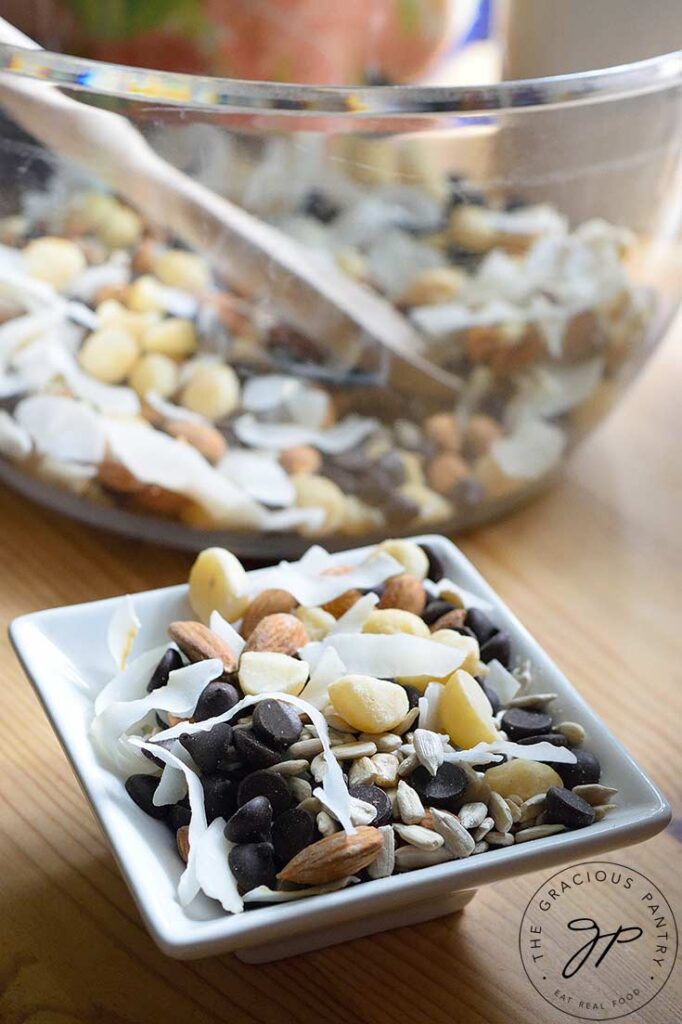 Keto Diet
If you follow the diet world at all, you know the keto diet is everywhere. And while it's not a diet I've ever thrived on (I tried it for 2 years), there are aspects of it that work well for just about anybody.
Low Carb Diet
A low-carb diet can be beneficial for a lot of folks out there. Low-carb foods are here to stay, for good reason.
The Standard American Diet is rife with bad carbs and unhealthy fats. And while going low-care or keto doesn't necessarily mean you are eating bette quality food, either approach tends to take the stress off of our pancreases. And that's never a bad thing.
Healthy Fats
One of the biggest issue I have with many of the low carb and keto diets out there, is that they don't necessarily emphasize the quality of the foods being eaten or promoted. I'm not trying to dish out any medical advice here, as I am woefully unqualified for that. But experience with way too many diets over the years has taught me a few things.
Sure, you could survive on nothing but beef jerky and lose weight. But you will probably end up with high blood pressure from all the excess sodium along with a host of other issues. Just because you CAN eat that way and lose weight, doesn't mean it's beneficial.
We are all different and unique, sure. Maybe there is that one person who would be healthier eating just beef jerky. But for the majority of us, it probably wouldn't be the healthiest approach, even on a keto diet.
One of the areas that I find this to be the biggest issue, is in the quality of the fats consumed.
While few people would ever down a huge glass of soy bean oil, the quality of fats we intake can really affect our overall health. Even if we're losing weight. Weight loss does not always equal getting healthier. A point that is missed by some of the low carb diets out there.
I'm not saying all low carb or keto diets are bad, I'm just saying that many of them tend to side step that particular aspect of healthier eating.
I think most of us can agree that it would be far healthier to consume a gallon of extra virgin olive oil (over time, of course), then a gallon of highly processed corn or canola oil. It doesn't take a medical degree to see the common sense here.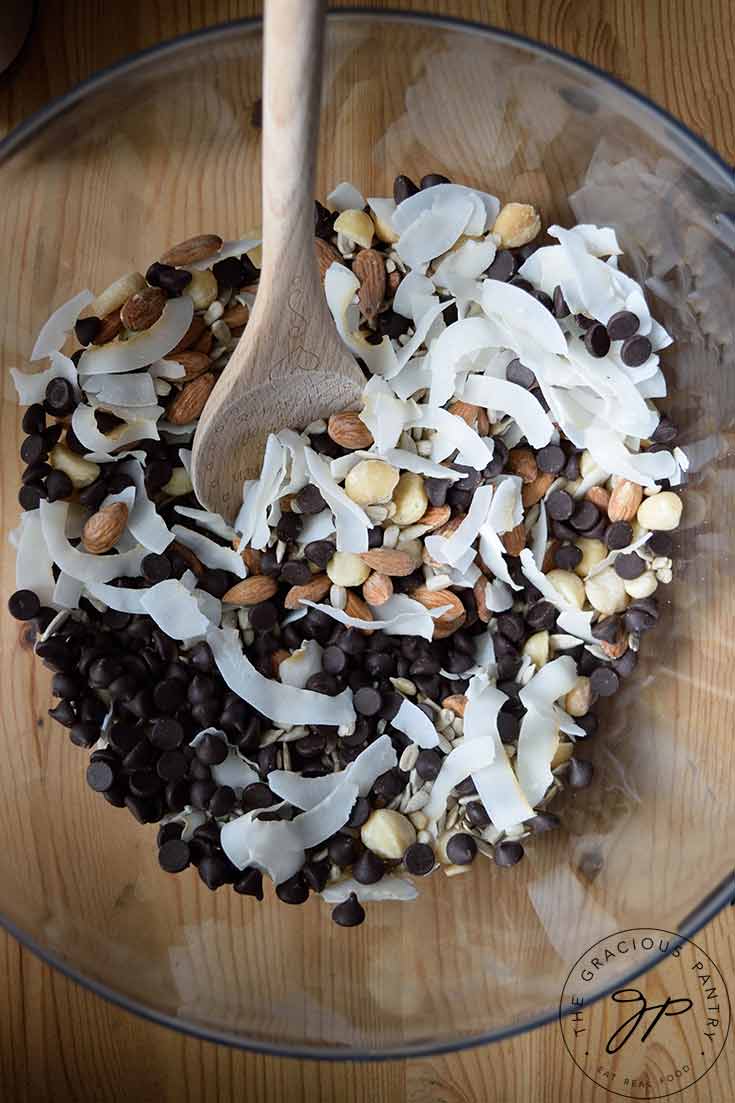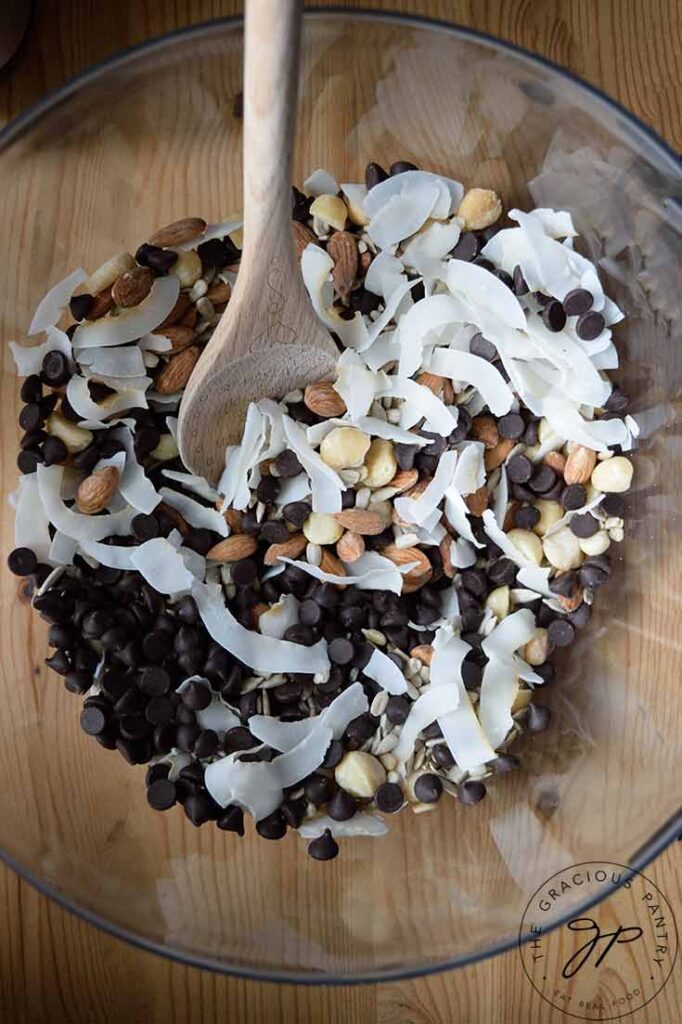 Keto Snacks
The "healthy snack" arena is one place that keto junk food really shines and glistens on the grocery store shelves. There are tons of attractive packages screaming at you about how keto or low carb they are, while the ingredient lists show some spectacularly unhealthy ingredients on the back. Where you're less likely to see it, unless you know to look, and what to look for.
But it doesn't have to be this way. There are lots of perfectly healthy keto snacks that are totally uncomplicated and take very little time to throw together and toss in a purse, pocket, lunch bag or briefcase.
Trail mixes are one way to get small amounts of healthy, high fat calories. And I don't mean anything you can buy at the store. I'm talking about homemade keto trail mix that takes about 5 minutes to make and pack up.

A healthy keto trail mix recipe should have a few standard elements. It should be:
heavy on the healthy fats
low on carbs
hopefully give you some fiber
comprised of real food ingredients
What Is Trail Mix?
Trail mix was originally intended for those outdoor enthusiasts who burn calories at high rates and need high carb foods to fuel them through vigorous, all-day exercise.
Most trail mix is a combination of sweet and salty. Often it's a mixture of nuts and dried fruits such as raisins or cranberries.
These types of mixes are also great for road trips, travel through airports and other long days where you'll need to sustain yourself on smaller amounts of food.
Low carb trail mix is a good option for this. When you eat low carb or keto, you naturally eat less food because you stay full on higher doses of fats. People are naturally less hungry in ketosis.
So when you travel, it can be helpful to have this sort of snack handy. Stored in an airtight container, trail mix will last a long time and needs no refrigeration. While you wouldn't want it to get overheated for hours on end (the nuts can go rancid in high heat), it generally keeps well at room temperature.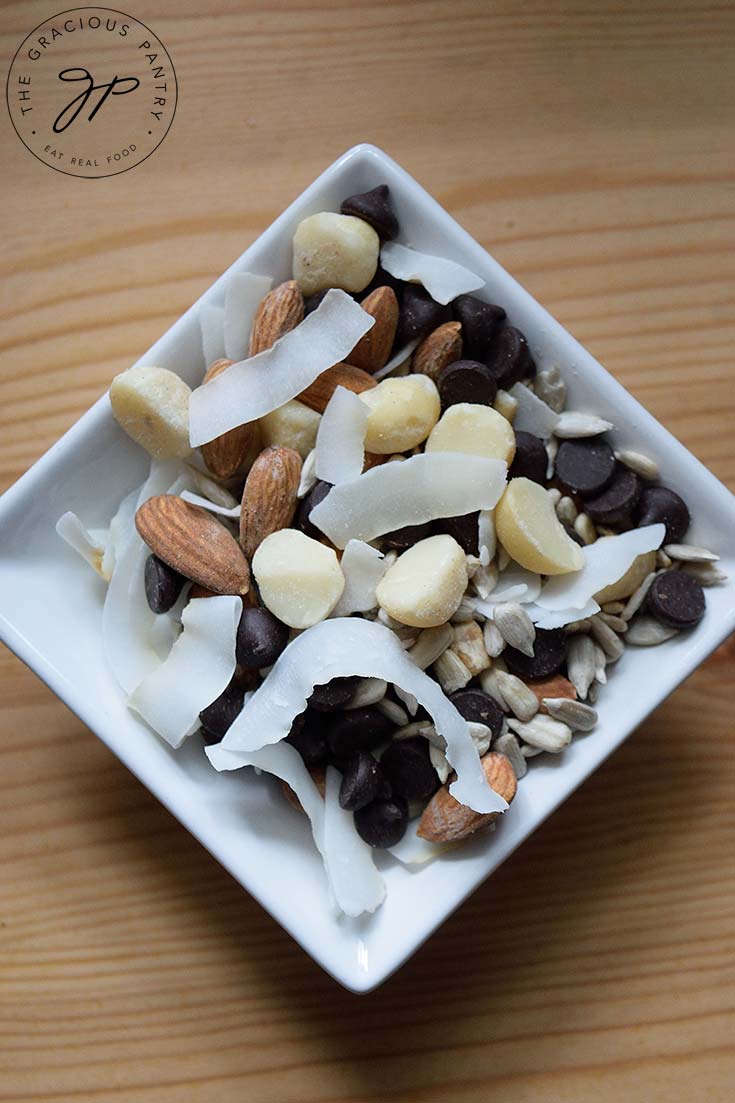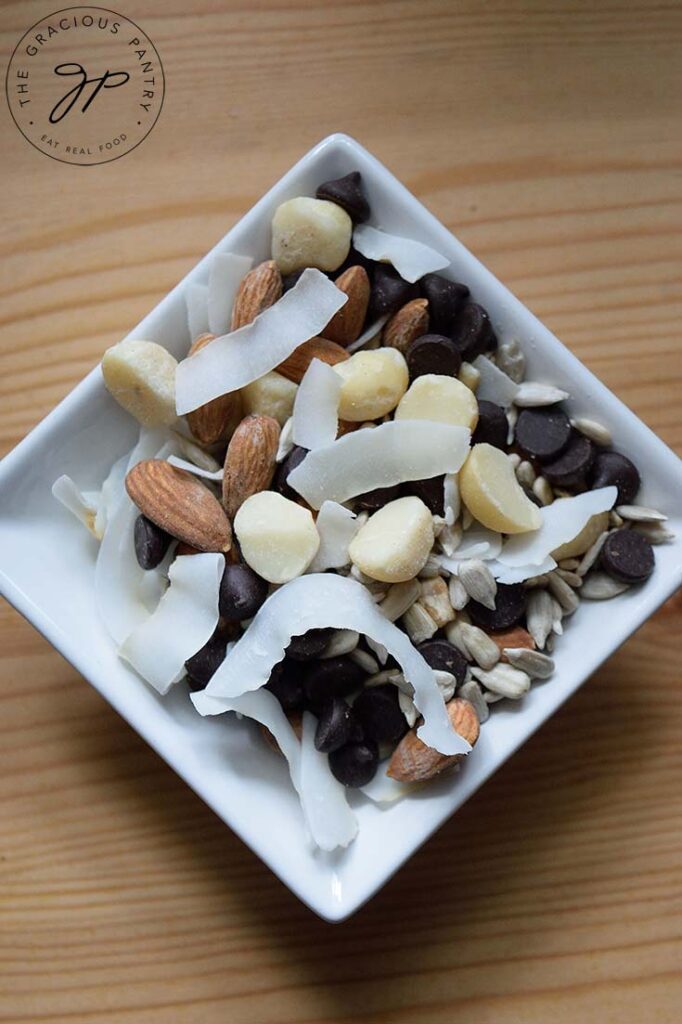 Is Eating Trail Mix Good For Weight Loss?
The short answer is, it can be, if you do it right. Trail mix is not meant for endless snacking. It's meant to be enjoyed in small quantities, a little at a time. If eaten appropriately, it absolutely can be part of a successful weight loss journey.
Is Trail Mix Good For A Low Carb Diet
If you are buying it at the store, probably not. If you are making it at home, it certainly can be.
Can You Eat Mixed Nuts On A Low Carb Diet?
Yep! As long as you opt for the nuts that are lower in carbs, there is no reason not to enjoy mixed nuts on a low carb diet.
Salty Trail Mix
Just because it's trail mix though, doesn't mean it HAS to have a sweet componant. It still can, of course, but you can enjoy a perfectly good, salty trail mix and it will be just as good as more sugary or sweeter versions.
That said, if you prefer the sweet side of things, I'll give you some options for adding that. But lets start with the salty side of things.
Low Carb Trail Mix Ingredients
Macadamia nuts
Walnuts
Coconut
Unsweetened dried cranberries
Sugar free dark chocolate chips (lily's brand)
Sunflower seeds
Pumpkin seeds
Coconut flakes
Chia seeds
Coconut oil – Optional for roasting raw nuts if you prefer that.
How To Make Keto Trail Mix
Wondering how to make low carb trail mix? Just measure your ingredients and combine everything in a large mixing bowl. Give it a good toss, and enjoy!
Can You Freeze Trail Mix?
You sure can! If you make a batch that is too big and worry about the nuts going rancid sooner than you'd like, you can store trail mix in an airtight container in the freezer for up to 4 months.
Need Supplies?
This post may contain affiliate links which won't increase your price but will share some commission.
Low Carb Nutritional Information
So one of the main ways people count carbs is by counting grams of protein as well a grams of carb.
But many also count grams of net carbs. What this means is, any fiber content on the nutrition label is subtracted from the overall number of carbs. It is this "net carb number" that a good majority of keto people use for counting carbs. The idea being, that fiber, while it's definitely a carb, is not actually processed by the body and passes right through without affecting anything negatively.
Roasting Nuts For Trail Mix
If you normally purchase raw nuts but want something roasted for making trail mix, you can do that at home easily enough.
You'll need parchment paper and a baking sheet with edges.
It's best to roast the same type of nut on a single pan. So if you want to roast different types of nuts, do them one type at a time.
This is because the size and type of nut will determine it's roasting time. If you have a tray of raw, mixed nuts, they won't roast evenly. The smaller ones may burn before the larger nuts even get close to being done. So keep them separated for roasting.
Place the nuts on a parchment lined cookie sheet and place in a low temp oven for somewhere between 5-10 minutes, depending on the nut. Keep a close eye on them because some nuts go from raw to burned, very quickly. Stir them a few times during roasting.
Cool them fully, then proceed with mixing your trail mix in a large bowl. You'll want a large mixing bowl just for the ease of the mixing process. It's easy for stuff to get everywhere if your bowl is too small.
Note that if you want to add some spices to your trail mix, you'll want to spray the nuts with an oil sprayer and sprinkle on some spice before you roast the nuts.
Sweet Additions
If you are low carb and still want that sweetness in your trail mix, you have a few options.
Spray the nuts with coconut oil and roll them in a low carb sweetener before roasting.
Use a low carb chocolate chip (I use the Lily's brand. They are wonderful)
Use dried fruit very sparingly. Opt for unsweetened cranberries, and add your low sweetener. Cranberries are actually a low carb fruit. It's the sugar that gets added that really ups the unhealthy carbs in most cases.
More Low Carb Snack Recipes
SUBSCRIBE
Remember to subscribe to my free newsletter to receive all my latest recipes in your inbox. Click here to sign up!
Low Carb Trail Mix Recipe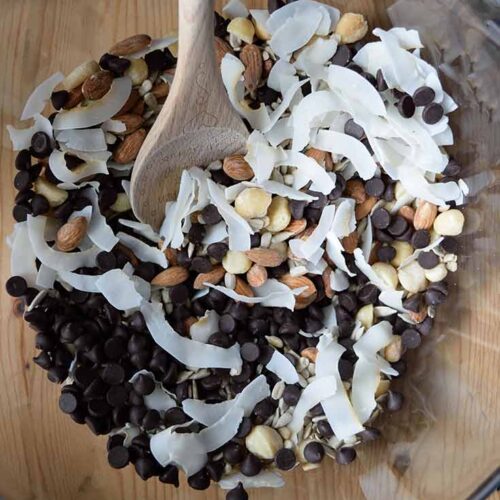 Low Carb Trail Mix Recipe
A delicious, low carb snack that is ready to eat in under 5 minutes!
Print
Pin
Rate
Ingredients
1

cup

macadamia nuts

(I used salted)

1

cup

almonds

(I used roasted and salted)

1

cup

raw sunflower seeds

1

cup

unsweetened coconut flakes

(large size, not the small shreds)

1

cup

low carb chocolate chips

(optional)
Instructions
Place all ingredients in a large mixing bowl and toss or stir to combine.

Store in an airtight storage container in a cool, dark pantry or cabinet.
Notes
Please note that the nutrition data given here is a ballpark figure. Exact data is not possible. This data does NOT include the optional chocolate chips.
Nutrition
Serving:
0.25
cup
|
Calories:
156
kcal
|
Carbohydrates:
5
g
|
Protein:
4
g
|
Fat:
15
g
|
Saturated Fat:
4
g
|
Polyunsaturated Fat:
3
g
|
Monounsaturated Fat:
8
g
|
Trans Fat:
1
g
|
Sodium:
3
mg
|
Potassium:
141
mg
|
Fiber:
3
g
|
Sugar:
1
g
|
Vitamin A:
3
IU
|
Vitamin C:
1
mg
|
Calcium:
31
mg
|
Iron:
1
mg