Instant Pot Potato Leek Soup Recipe
This Instant Pot potato leek soup comes together quickly and easily. This creamy soup will be on the table in minutes!
This classic soup (also known as potage parmentier) gets an upgrade in cooking method with this Instant Pot version. A classic potato leek soup is total comfort food. Its warm, creamy texture is soothing on a cold fall or winter night. This great recipe is even better the next day! And don't worry, I'll give you other cooking options as well.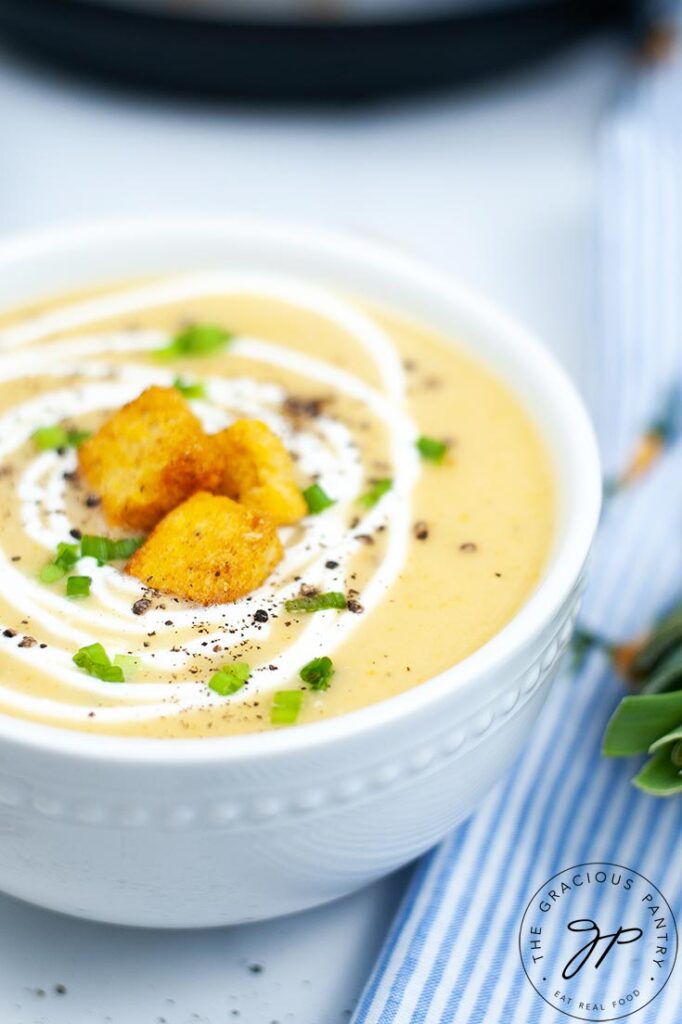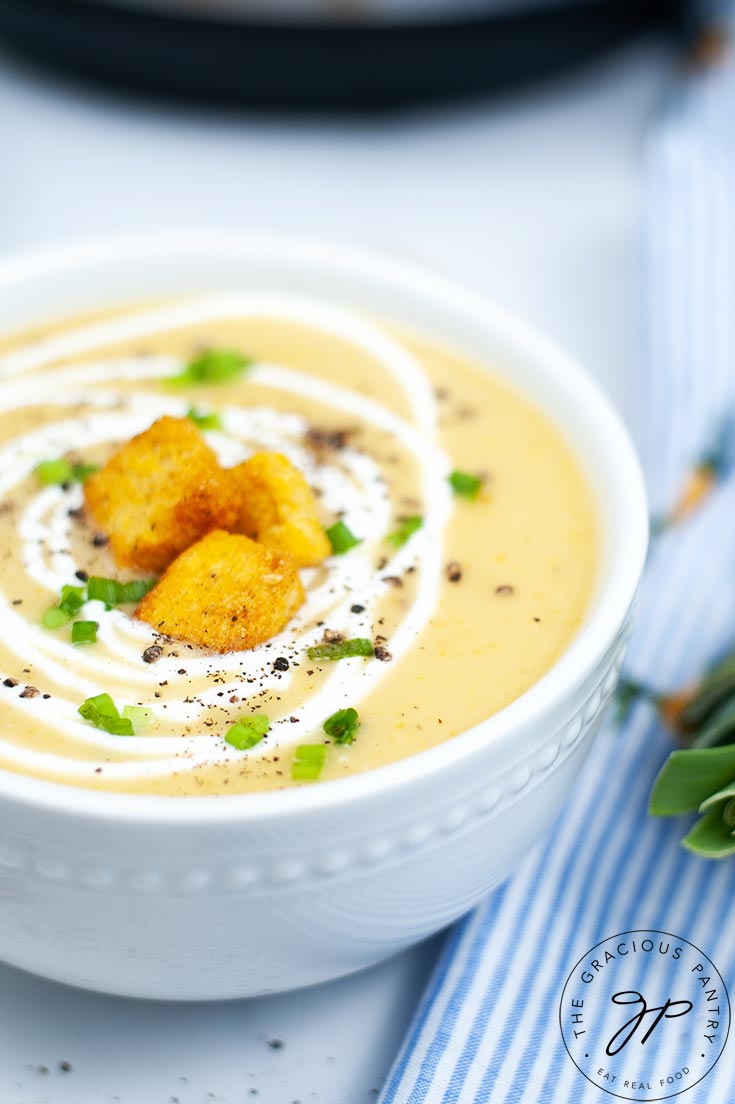 Quick Links
Are Leeks Good In Soup?
Absolutely! Leeks are great for many different types of soup but are particularly well suited for potato soup. Cut off the dark green parts and discard them. They are too tough and don't taste good. You want the light green and white portions of the leek.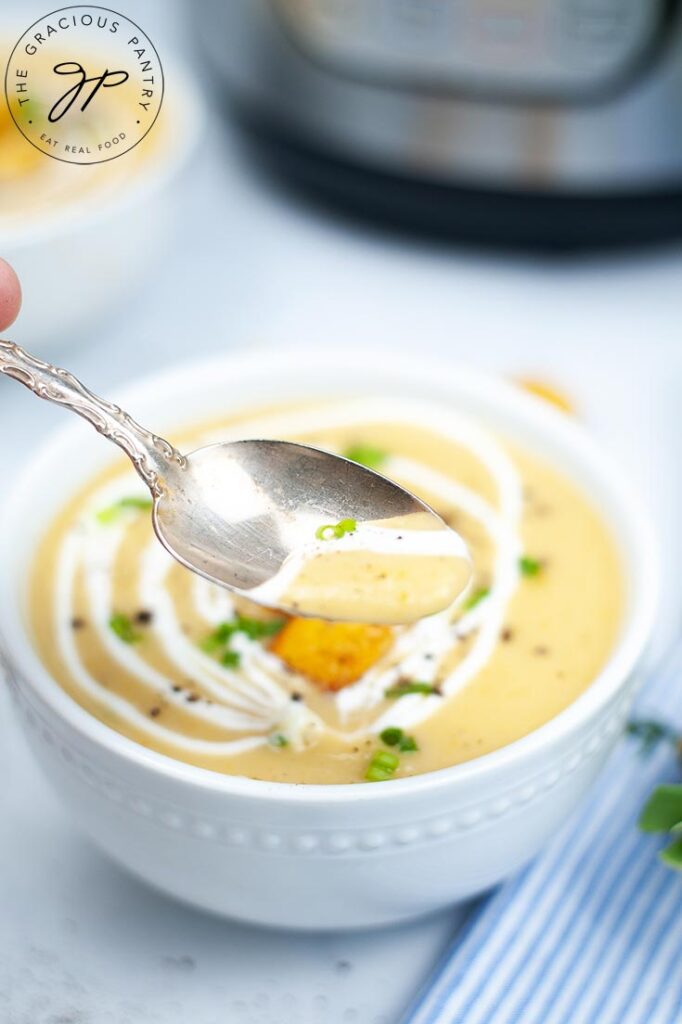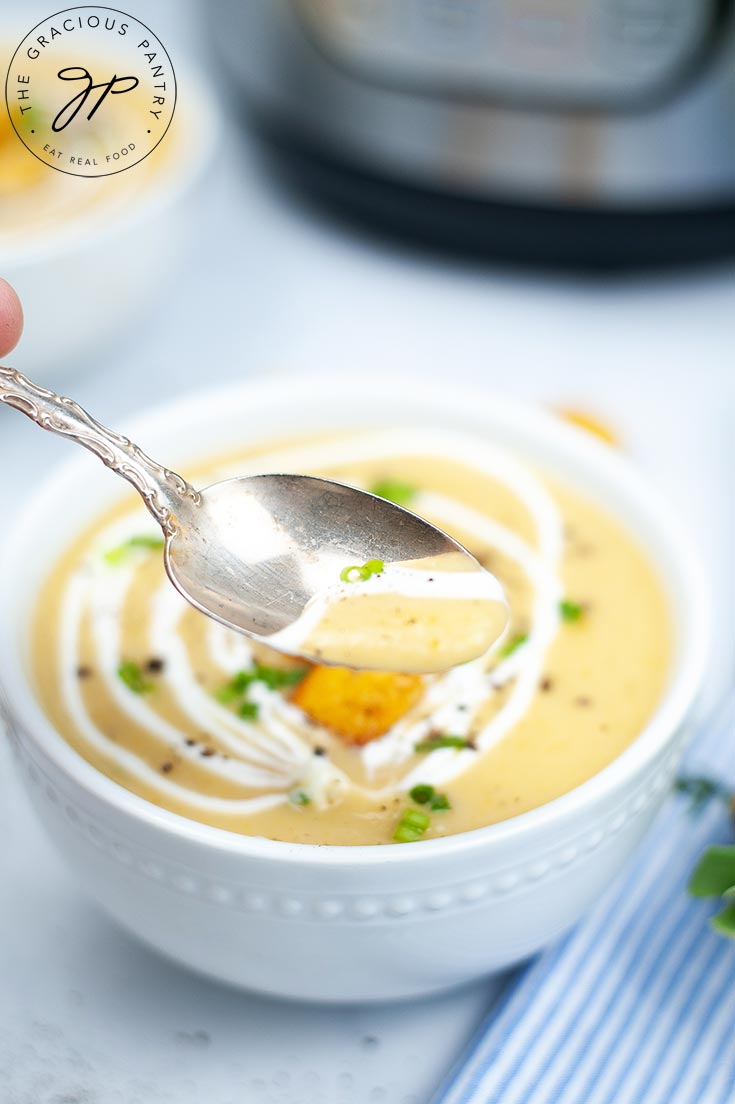 Can You Put Frozen Leeks In Soup?
You sure can! Don't bother to thaw. The important thing is that they get fully cooked so that they will blend well. Frozen leeks are so thin that they won't have any trouble thawing in the pot as the soup cooks.
Can You Freeze Potato And Leek Soup?
Yes, you can! Packaged properly in an airtight container, this soup will freeze well for up to three months.
I like these containers for freezing in 1 cup portions. Then I transfer them to freezer-safe, zipper-top storage bags. They stack well in the freezer this way.
Creamy Potato Soup
To get a potato soup creamy, you have to use some dairy. In this recipe, I cut down on the fat just a bit with the use of Greek yogurt. But I also use half and half as well as butter. You can also melt butter to drizzle over the top of the finished soup if you like.
Creamy Potato Leek Soup
As far as blenders go, you can use either a regular blender (as I did here), or an immersion blender (often the easiest to use).
Best Potatoes For Potato Soup
While russet potatoes are always the classic potato for any potato soup, Yukon gold potatoes are also a wonderful option. Either will work well here.
Vegan Potato Leek Soup
If you prefer to make your soup vegan (plant-based), you can make the following substitutions:
Use vegan butter
Use a plain almond yogurt (Califia is a wonderful brand that I use often)
Use can substitute the half and half with a dairy free milk. I highly recommend unsweetened cashew milk for flavor. If the soup isn't creamy enough, you can add extra vegan butter.
Use vegetable broth instead of chicken broth or stock.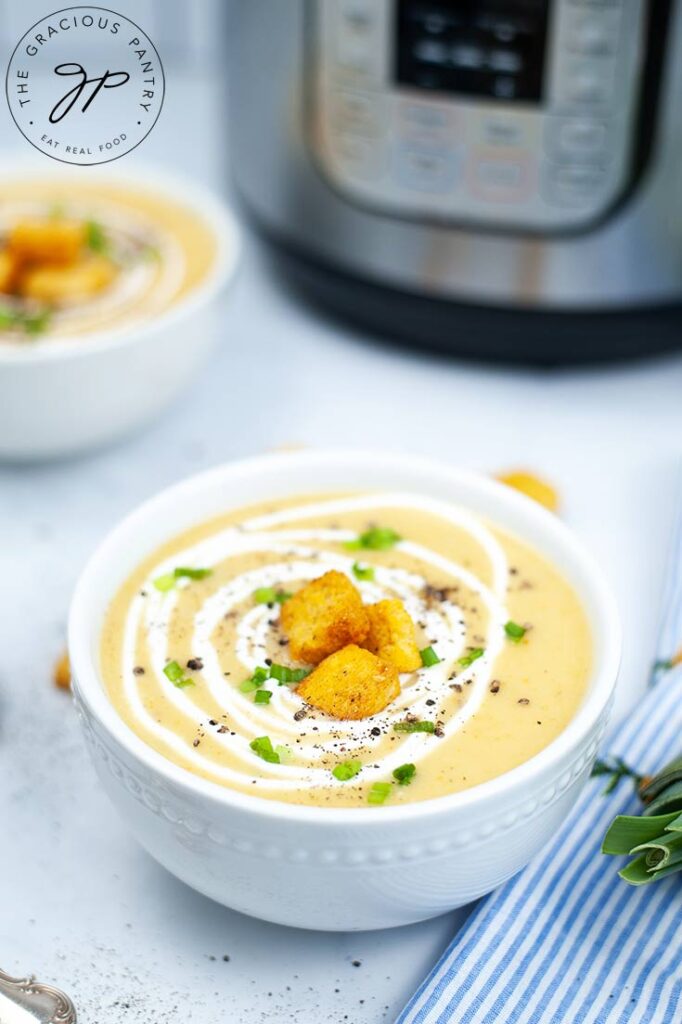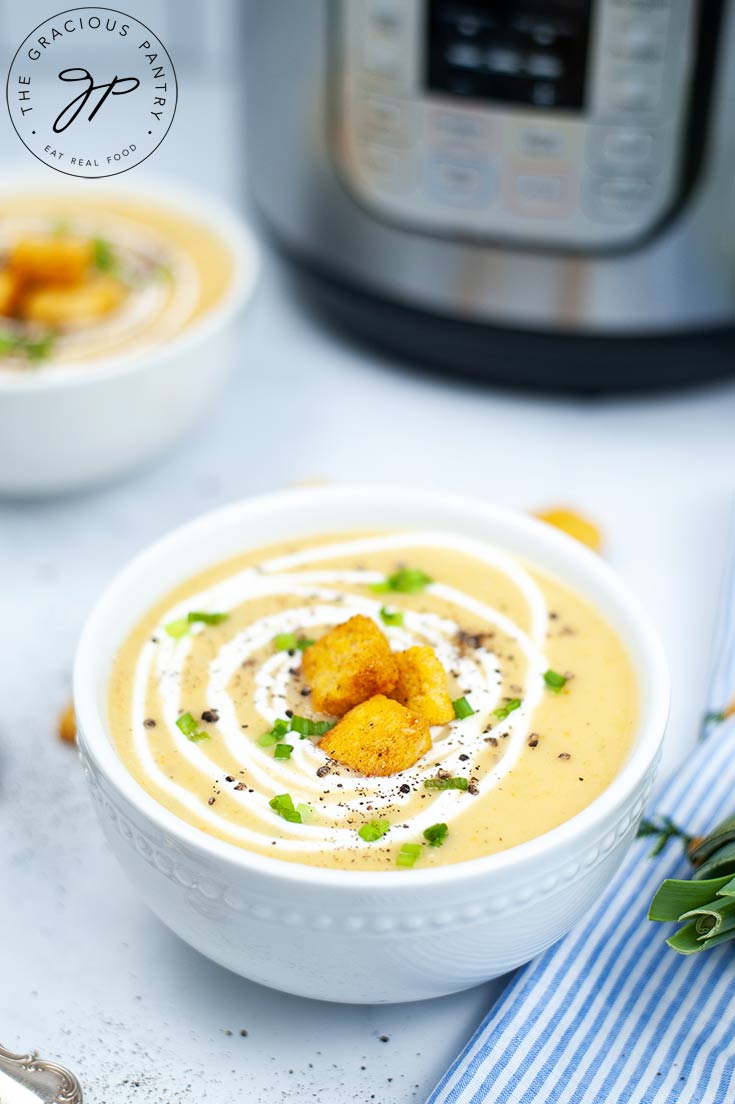 Instant Pot Potato Leek Soup Ingredients
1 medium leek – Choose one with half white and half green. Less white will lack in flavor.
4 medium russet potatoes – Cleaned and peeled if you wish. Peeling isn't necessary. Opt for your preference.
⅓ cup diced carrots – Cut them to a medium dice.
2 tbsp. minced garlic – This is approximately 4-6 garlic cloves, depending on their size.
2 tbsp. butter – If you want a vegan soup, simply use plant-based butter.
2 tbsp. plain Greek yogurt – If you prefer, you can use sour cream instead.
¼ cup half and half – you can use whole milk if you prefer. But half and half is better.
1 ½ tsp. soy sauce – If you don't have soy sauce, you can also use tamari, coconut aminos, or lemon juice work as substitutes)
5 cups chicken stock – vegetable stock or chicken broth works too. Look for no added sugar in the ingredient list.
1 tbsp. garlic powder – Garlic granules work too. Just avoid garlic salt.
1 tbsp. onion powder – Onion granules work well too.
1 tsp. salt – I used pink Himalayan salt, but use whatever salt you normally cook with.
1 tsp. ground black pepper – You can also use white pepper if you prefer.
1 large bay leaf – (bay leaves are optional – remove before serving)
Traditional Additions
While I don't suggest garnishing with chopped leeks, a little cheddar cheese, and fresh chives will work very well here.
For those who prefer it, you can add a splash of white wine towards the end of the cooking process.
How Do You Make Potato Leek Soup From Scratch?
Here are all the different methods you can use to cook this delicious potato leek soup from scratch.
Instant Pot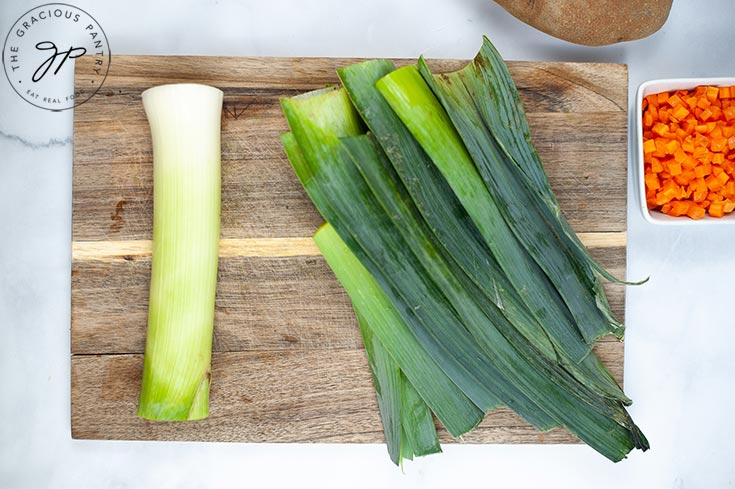 To prepare the leek, cut the top of the leek leaves away just below where the leaves are light green and the stalk resembles a trunk. Also, remove the end of the stalk where the leek hairs are.
Once you have removed the excess leek, cut the trunk in half longways and rinse with water. Leeks are grown in sandy soil and are very gritty.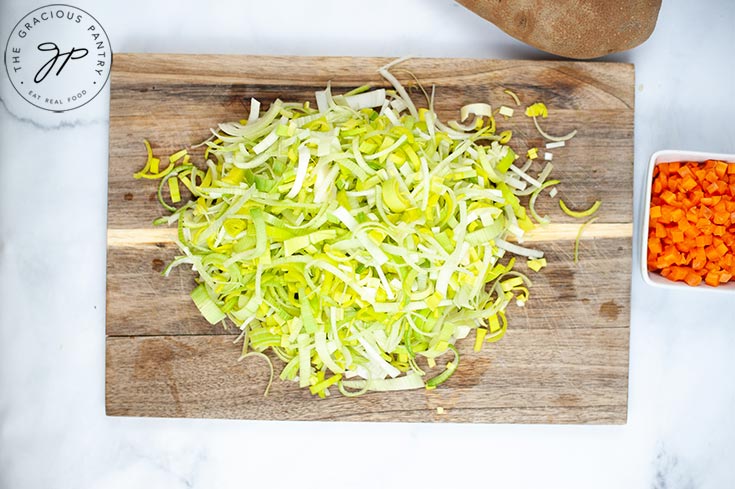 Now place sliced leek trunks down and slice into then half-moons. Place chopped leeks in a salad spinner to wash and rinse. You can soak in cold water to allow grit to fall to the bottom of the bowl if you don't have a salad spinner.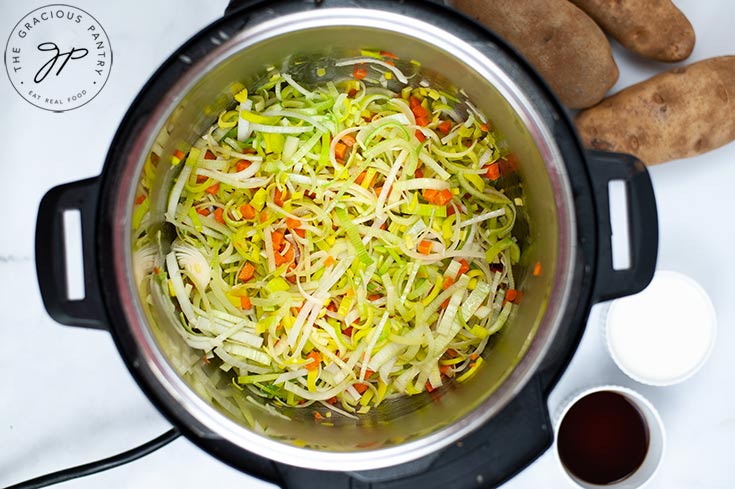 In the instant pot, place the butter and set to sauté mode. Once the butter has melted, add the leeks and carrots. Sauté the vegetables for 5 minutes.
Peel and cut potatoes into 1" cubes. Add the to the Instant Pot. Add garlic and spices to sauté. Then add the broth, soy sauce, and half and half.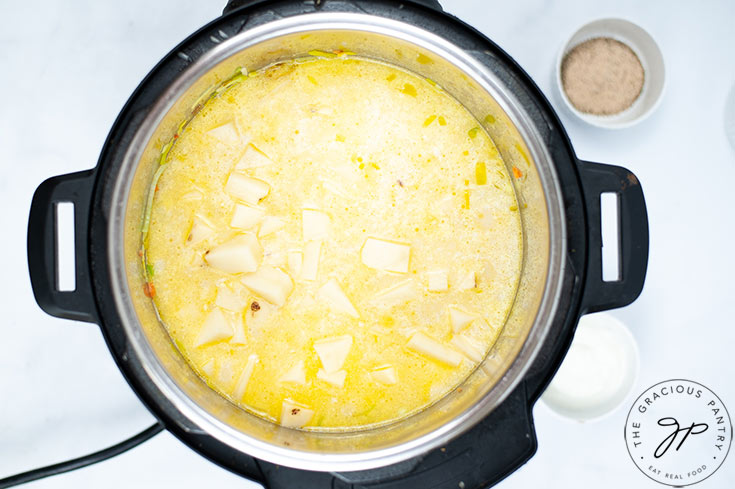 Seal the lid and pressure valve and cook on high pressure for 20 minutes. Manually release pressure.
Add soup to a blender, and blend until smooth and creamy.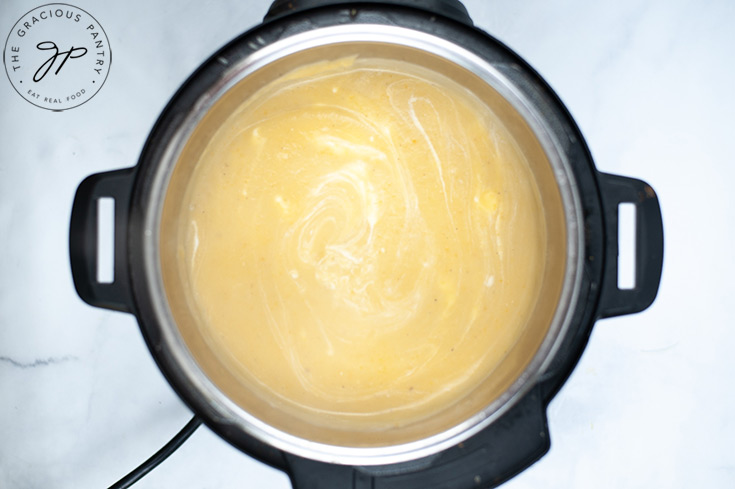 Add yogurt and stir it in.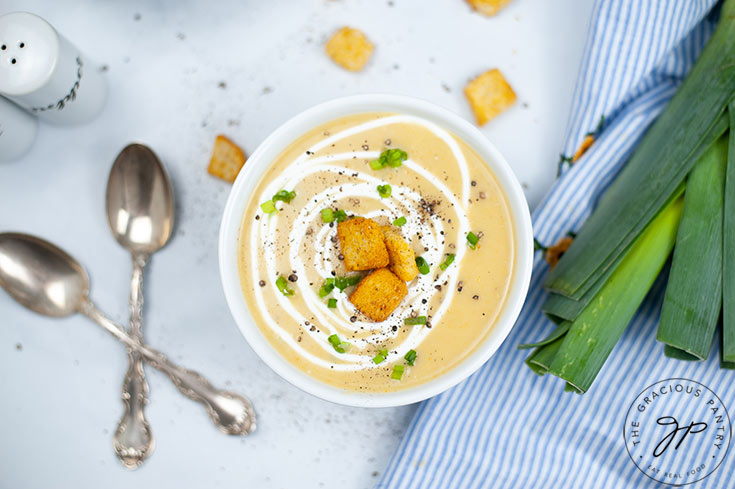 Let cool and serve.
Stove Top
Follow all the directions in the recipe below, but instead of using the Instant Pot, use a large soup pot or regular, large pot.
Sauté the vegetables as indicated.
Add everything else (except the yogurt) and cook of medium heat to medium-high heat. Don't let this boil too hard. A simmer is best. Cook until the potatoes are soft. Then blend, add yogurt, and serve warm or at room temperature.
Slow Cooker
Sauté the vegetable in a skillet with oil.
In a slow cooker that is 4 quarts or larger (the crock must be at least half full to cook properly), add the sautéd vegetables and all the other ingredients (except the yogurt) and cook on low for 3-4 hours.
Once the potatoes are soft, you can blend, stir in the yogurt and serve.
What To Serve With Potato Leek Soup
Some homemade croutons for garnish, crusty garlic bread, and a green salad are a great way to serve this.
Need Supplies?
SUBSCRIBE
Remember to subscribe to my free newsletter to receive all my latest recipes in your inbox. Click here to sign up!
More Potato Soup Recipes
Instant Pot Potato Leek Soup Recipe