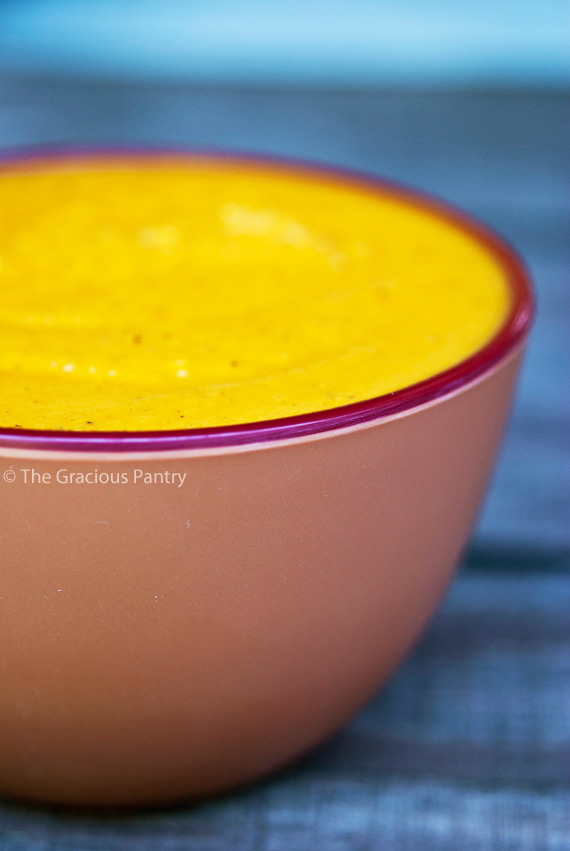 Fall is here, and I have to tell you, I'm very excited about that fact!
Fall is my absolute favorite time of year. All those pumpkins, turning leaves, apple harvests, burning fire places scenting the air outdoors and all those warm, comfy sweaters put me right in my element. There's no better time of year to be in the kitchen, creating some warm and wonderful comfort food!
This soup may very well be one of my new favorite comfort foods too! It's thick, a tad creamy, bursting with curry spice, and oh so warm and cozy in the tummy.  I served this with some Clean Eating English Muffins, and for the 15 minutes it took me to eat a bowl of this deliciousness, I was in shear, elemental heaven.
YOU MIGHT ALSO ENJOY:

Clean Eating Curried Sweet Potato Soup
(Makes approximately 8 cups)
Ingredients:
3 pounds sweet potatoes, peeled and cut into chunks
4 cups low sodium chicken broth
1 (15 ounce) can light coconut milk
1 small apple
1 teaspoon nutmeg
1 teaspoon ground ginger
1/2 teaspoon black pepper (optional)
1/2 teaspoon sea salt
1 teaspoon onion powder
1 tablespoon curry powder
Directions:
Place all ingredients into a large soup pot and bring to a medium boil.
Cook at a medium boil until the apples and sweet potatoes are soft.
Using a hand blender, blend the soup until smooth directly in the soup pot you just cooked it in. If you don't have a hand blender, you'll have to transfer the contents to a regular blender a little at a time. Be careful, it's hot!