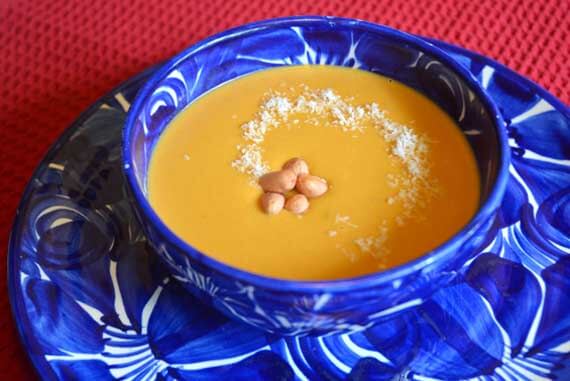 Hi everyone! I'm Anne from Anne's Healthy Kitchen. I'm really excited to be a guest on Tiffany's blog because I love her approach to food and her delicious clean eating recipes.
I have lived and traveled in many different countries and experienced many very different diets; what they had in common is exactly Tiffany's clean eating approach. Using fresh, real food to cook simple, colorful and tasty meals.
Today I want to offer you this recipe I created that replaced our sweet potato and carrot soup family favorite. This is my new version of Sunday night's family soup! Even my 4-year old, who is not a big fan of soups, absolutely loves this one.
I am European and peanut butter is an exotic ingredient for me. I love it together with coconut milk, as a sauce for sautéed vegetables like in Indonesia. And I love the nutty taste it imparts to this soup.
It is very easy to make; you can adjust the quantities of both peanut butter and coconut milk to your own taste. You can also add some chipotle pepper for a spicy touch and a smoky taste.
YOU MIGHT ALSO ENJOY:
RECIPE REFERENCE:

Clean Eating Sweet Potato Soup with Peanut Butter and Coconut Milk
Author:
Ingredients
1 1/2 lb. sweet potatoes
1 tbsp. olive oil
1 medium onion, chopped
3 cloves garlic, minced
1 (1-inch) piece of ginger, peeled and grated
1/2 tsp. ground cinnamon
1 tsp. cumin powder
1 pinch cayenne pepper
2 3/4 cups chicken stock or water
2 tbsp. tomato passata (what is tomato passata?)
1 tsp unrefined sea salt
1 cup coconut milk
1/2 cup natural peanut butter
A few chopped peanuts for garnish (optional)
Instructions
Peel sweet potatoes and cut into large chunks; set aside.
Heat the olive oil in a large soup pot over medium heat. Sauté onion until soft and light golden brown, about 5 minutes. Add garlic and ginger and sauté a few minutes more; add cinnamon, cumin and cayenne pepper; mix well.
Add chicken stock or water, then add tomato puree, salt and sweet potatoes. Bring to a boil, then reduce heat and simmer until sweet potatoes are soft, approximately 20 minutes.
Remove from heat. Using an immersion blender, blend soup until smooth. Whisk in peanut butter and coconut until smooth. Cook again over medium heat until heated through. Adjust seasoning, to taste.
You can garnish with a few peanuts.
Enjoy your soup!
Visit Anne'sHealthyKitchen and take a look at Anne's Healthy Recipes from five continents. You can also find her on Facebook, YouTube, Pinterest and Google+.