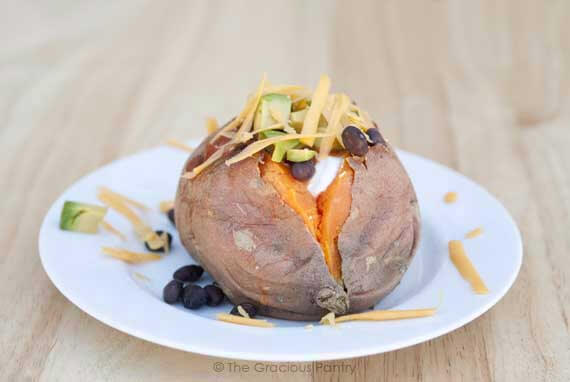 This week is a continuation of the dorm room recipes I started a couple of weeks ago. I didn't feel like I had really done enough for that particular area of my blog, so I reached out to eMeals once again for help. You see, while I'm writing this cookbook, I'm relying heavily on eMeals to help me bring you easy recipes that you can make in your dorm room with just a microwave. But this isn't just good for college students, this works for bachelors or anybody wanting to make single serving meals. I think we could all use a few of those recipes for emergency backup.
As usual, eMeals came to the rescue, and the result was this delicious, jam-packed, nutrient-dense stuffed potato that will fill you up and keep you going like few potatoes can! This was so delicious that Mini Chef and I ended up fighting over the last bite for a good 5 minutes before we finally decided to split it. I guess there is a downside to cooking single serving meals. Especially if there is more than one of you….
Disclosure: If you purchase a subscription through the link above, I receive a small percentage of the sale. This money goes towards keeping this blog running as well as paying for the groceries that go into the recipes you find here.
YOU MIGHT ALSO ENJOY:

Clean Eating Stuffed Mexican Sweet Potato
Tools: Microwave, plate, bowl, knife, fork, spoon
Recipe Notes: I couldn't find a corn and bean salsa that was clean, so instead, I used plain black beans, omitted the corn and added my favorite clean salsa. Works perfect! You can pretty much make this to suit whatever you have on had.
Ingredients:
1 medium sweet potato
2 tablespoons nonfat plain Greek yogurt
1 teaspoon lime juice
1/3 cup organic black bean and corn salsa
1/4 avocado, diced (optional)
1/4 cup Cheddar cheese (optional)
Directions:
Prick potato several times with a fork.
Place on a microwave-safe plate, and microwave on High 7 to 8 minutes or until done.
Split potato, and fluff with a fork.
In a small bowl, stir together Greek yogurt and lime juice.
Top potato with salsa, avocado, cheese and yogurt mixture.