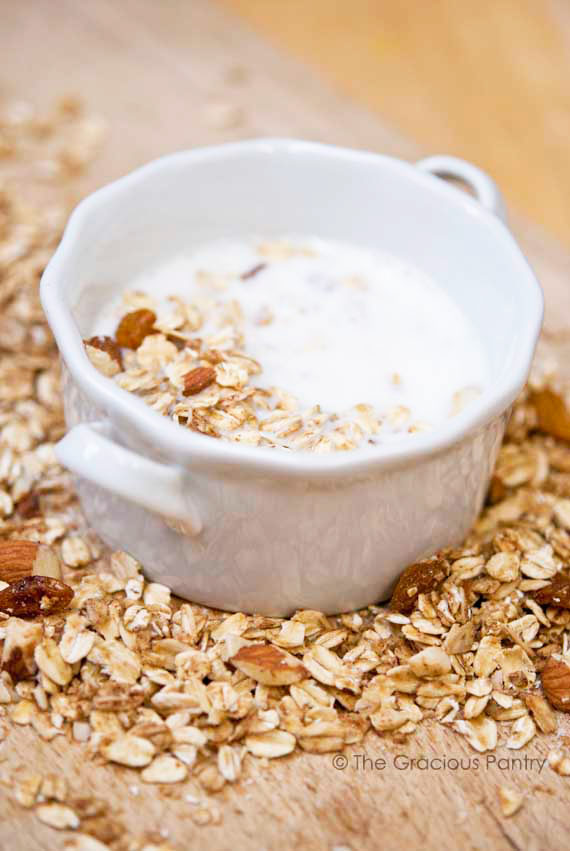 No, I don't mean from a box or a package. I mean, make a big batch of cereal in a microwave that you can keep in a dry container and pour cold milk over first thing in the morning. Healthy, cold cereal, NOT from a box!
I admit that this is more of a granola, but when I tasted it, it definitely seemed like cereal to me! So I went with that. This is a great recipe for all dorm room college students. Not only does it make a great breakfast meusli-type cereal, but also doubles as a grab-n-go snack! And the bonus is, you don't have to store it in that itty-bitty refrigerator in your dorm room. What more could you ask for?? (You could even make this in the cafeteria microwave if you have to!)
The recipe below was adapted from the recipe here.

Clean Eating Cold Cereal
(Makes 10 servings)
Ingredients:
2 tbsp. honey
2 tbsp. sucanat (amazon affiliate link) or coconut sugar
2 tbsp. coconut oil
1 tsp. cinnamon
1 tsp. vanilla
1/8 tsp. salt
4 cups (428 g) dry traditional oats (gluten free if needed)
1/2 cup (80 g) chopped raw almonds
1/2 cup (85 g) golden raisins
Directions:
In a small, microwave-safe bowl, stir together the honey, sucanat, coconut oil, cinnamon, vanilla and salt.
In a large microwafe-safe bowl, combine the oats and almonds.
Microwave the sugar mixture for about 1 minute or until it bubbles. Pour it over the oats and mix until the oats are evenly coated. This will take a few minutes.
Place the oats in your microwave and cook for 3 minutes. Remove from microwave and stir well to remove hot spots.
Cook one more time for 2 minutes, and then stir well. You can repeat this as needed, but I found that that is usually enough.
If you have a cookie sheet, pour the oats out onto that to cool. If not, simply allow it to cool in the bowl, stirring occasionally to help it along.
Once fully cooled, stir in the raisins and store in an air-tight container or ziplock bag in dry storage for 1 week. Also okay to store in the fridge if you have room. Will keep for about 4 weeks in the fridge.