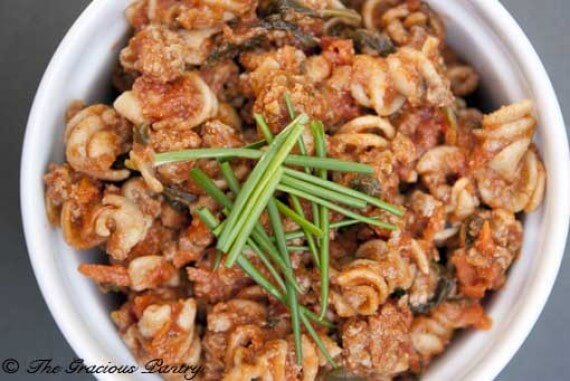 This simple yet delicious pasta dish will become a staple in your home. Filled with veggies and tons of nutrients, the kids won't even notice they are eating something good for them!
This was actually one of the recipes that got cut from my most recent cookbook. Not because it wasn't good enough, but because we ran out of room! So I'm sharing it here with you instead. I just know you're going to love it. Now go load up on those superfoods!
YOU MIGHT ALSO ENJOY:

Clean Eating Superfood Rotini
(Makes 9 servings)
Ingredients:
1 1/2 pounds lean ground turkey
1 tablespoon olive oil
2 medium zucchini, shredded
2 medium carrots, shredded
1 (15 ounces) can tomato sauce, no sugar added
1 (28 ounces) can diced tomatoes
1/2 pounds whole wheat Rotini
1 tablespoon onion powder
1 tablespoon garlic powder
1 tablespoon ground cumin
2 cups raw spinach, tightly packed
2 cup water
parmesan for topping
Directions:
In a large pan, cook the turkey in the olive oil until almost completely cooked.
Add the zucchini, carrots, tomato sauce, diced tomatoes, spinach and spices.
When the spinach has cooked down so there is some room in the pan, add the pasta and cook until soft, stirring frequently and adding the water in increments as needed for cooking.
Top with parmesan and serve.