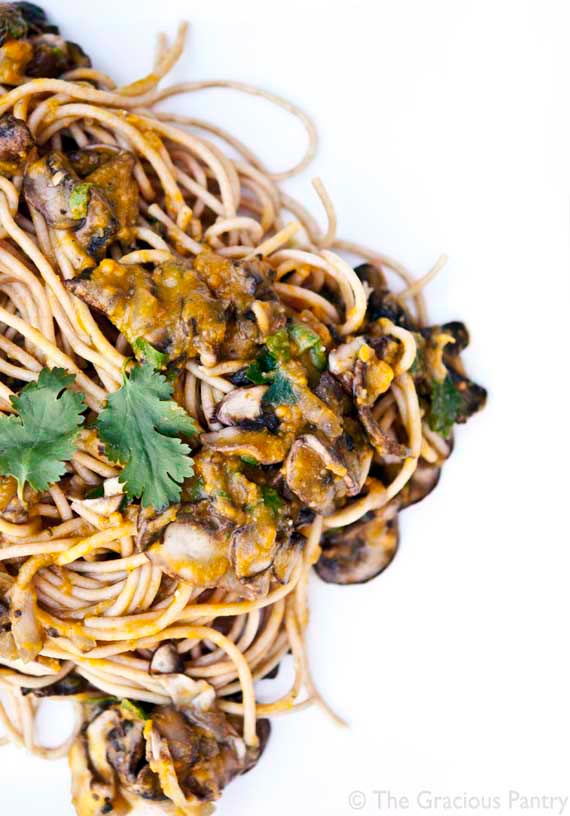 I always envision pumpkin flavored anything as a fall or winter thing. After all, that's when you're supposed to buy pumpkins, right? But after stocking up on a ton of canned pumpkin this past winter, I have so much that I just had to start using some of it so I'd have more room on my pantry shelves. Glad I did!
Not only did I make this on a fairly warm day (almost 100 F.), I actually enjoyed it! I've had many readers tell me that they stock up on pumpkin as well and eat it all year round. So I think that's what I'll do this year. After all, the year is almost half way over!! (Should I start on holiday gifts now? Ghaa! I'll just put that thought right out of my head and move on…)
Both Mike (my husband) and Mini Chef loved it as well and it even past "the in-law test"! So I guess that's sayin' something. Hope you enjoy it too!
YOU MIGHT ALSO ENJOY:

Clean Eating Pumpkin Spaghetti With Sautéed Cremini Mushrooms
(Makes 5 cups sauce)
Ingredients:
1/2 medium yellow onion, finely diced
1 pound cremini mushrooms, sliced
1/2 cup flat leaf (Italian) parsley, chopped
2 teaspoons olive oil
1 (15 ounce) can pumpkin (not pumpkin pie filling)
1/2 teaspoon garlic powder
1 cup low sodium chicken broth, no sugar added
2/3 cup light coconut milk (canned, not from a carton)
1/2 cup parmesan cheese
1 pound whole grain spaghetti, cooked to package directions
Directions:
In a large skillet, saute the onion, mushrooms and parsley in the olive oil over low to medium heat until the mushrooms are wilted.
Stir in the pumpkin, chicken broth, garlic powder and coconut milk. Stir and warm through, mixing thoroughly with a whisk.
When the sauce is done, stir in the parmesan cheese and immediately remove the sauce from heat.
Pour sauce over your pasta and serve.