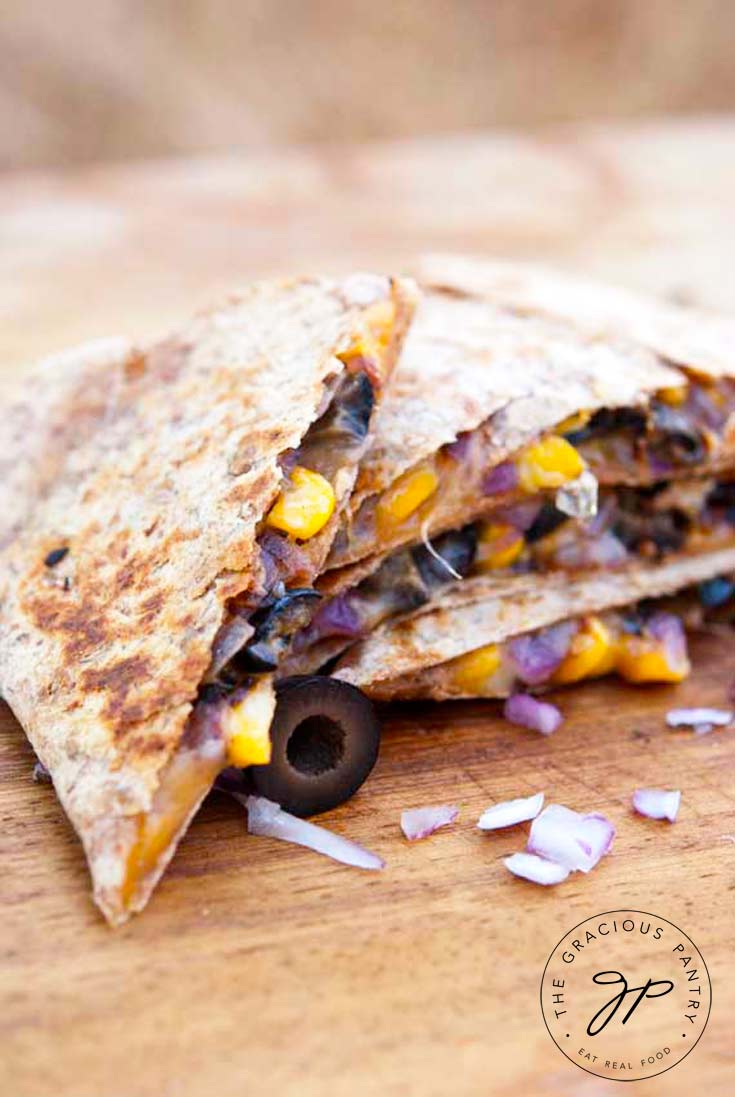 These make a fantastic, quick dinner during a busy, back-to-school evening.
And the fun part for college students is, you don't have to have a stove to make this. A coffee maker and a microwave will do just fine! Simply sauté the corn and onions with the oil in your coffee pot (it won't be as thorough as a pan, but in a pinch…) and then finish the whole thing in a microwave!
And for those of you cooking at home, this is an easy way to feel good about the food you are putting on the table. Serve it with a side salad and your meal is pretty darn complete!
YOU MIGHT ALSO ENJOY:

Clean Eating Stuffed Mexican Quesadillas Recipe
Author:
Ingredients
1/4 cup chopped red onions
1/4 cup frozen corn
1 tbsp olive oil
1 whole grain tortilla
1/4 cup hand-grated cheese (I used jack and cheddar, mixed)
2 tbsp. black olives, sliced
Serve with salsa
OPTIONAL TOPPINGS OR FILLINGS:
Chopped, fresh tomatoes
Fresh, chopped cilantro
Avocado or guacamole
Instructions
Saute the onions and corn in the olive oil until the onions are translucent.
While that cooks, warm your tortilla on the burner next to that, flipping once. Then place on your work surface.
Spread the cheese over the tortilla, then layer on the onions and corn, and finally the olives and any other filling you wish to add. Tomatoes would be a good option.
Return the quesadilla to the pan you sautéed the onions in and cook over low heat, flipping once or as needed, until the cheese is fully melted.
Transfer the quesadilla to a cutting board, cut like a pizza, and serve with toppings of your choice.