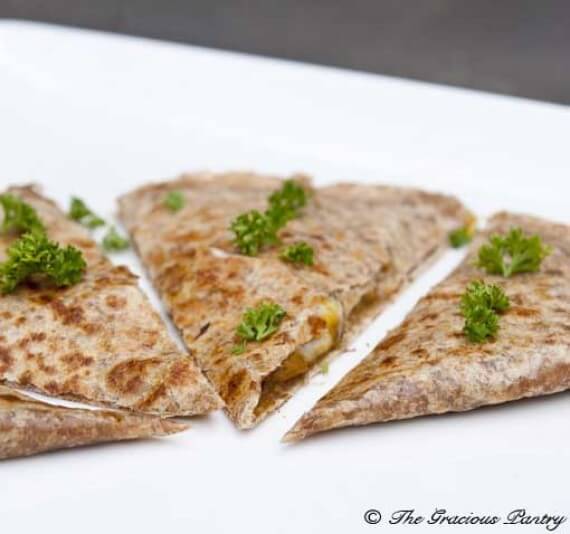 I love quesadillas. I do. Maybe it's my love of Mexican food overall, but something about quesadillas is just so satisfying.
I try very hard to make them healthy too. I mean, let's face it, a quesadilla can go downhill pretty quickly in the health department. But just because it can, doesn't mean it has to!
This filling and satisfying quesadilla is a fantastic source of vitamin A as well as calcium. Enjoy this in moderation as it is higher in fats by simply balancing out the rest of your day's eating plan.
YOU MIGHT ALSO ENJOY:

Clean Eating Pumpkin Quesadilla
(Makes 1 serving)
Ingredients:
1 large, whole grain tortilla
1 tablespoon finely chopped, red onion
1/4 cup canned pumpkin (not, pumpkin pie filling)
1/2 teaspoon garlic powder
1/2 teaspoon. sage
1/2 teaspoon balsamic vinegar
1/4 cup finely grated jack cheese
3 teaspoon olive oil
Directions:
In a small mixing bowl, combine the pumpkin, garlic powder, sage and vinegar. Stir well to combine.
In a large frying pan using 1 of the 2 teaspoons of oil, sauté the onion over low heat until it wilts. Scoop the onion into the pumpkin mix and stir to combine.
Using the last teaspoon of oil, warm your tortilla in the pan. Flip once and spread the pumpkin over half of the tortilla. Top with the cheese and fold the tortilla in half.
Cook until the tortilla is browned on one side, then flip and brown the other side. The quesadilla is finished when both sides are browned nicely and the cheese is melted.