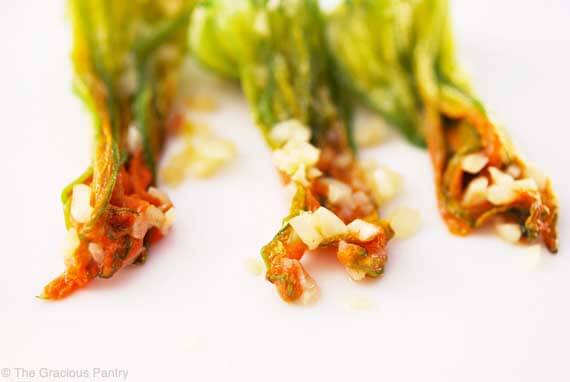 If you've never had squash blossoms before, I highly recommend them! They make a perfect appetizer for just about any meal, and they are so simple to make!
To be honest, I've only had these twice in my life. The first time, a friend gave us some blossoms from his zucchini plants years ago. The second time (pictured above), I picked them from the zucchini plants in my in-law's garden.
Both times, I've wondered why I don't eat these more often! I guess my problem is that I don't have access to a steady or large supply. Consider yourself lucky if you have a local store that carries them. If not, you'll probably have to scrounge for them like I do. But I'll say this, they are worth scrounging… and yes… even worth begging for.
YOU MIGHT ALSO ENJOY:
Clean Eating Squash Blossoms
(This recipe makes 3 blossoms, because that's what I had on hand. Feel free to multiply the recipe based on the number of blossoms you have.)
Ingredients:
3 squash blossoms
1 clove garlic, chopped
1/2 teaspoon olive oil
Salt and pepper to taste
Directions:
Remove the fuzzy yellow part from inside the flower.
Run the blossoms under cold water to remove any dirt or bugs, and set aside on a paper towel.
Put your oil in a non-stick pan, and place your blossoms and garlic in the pan. Roll them around in the oil a bit while the oil is still cool.
Cook over low or medium-low heat, stirring frequently, until they are soft at the base which is the thickest part and takes the longest to cook.
Sprinkle with salt and pepper.
Line em' up like lil' soldiers and enjoy!
Nutritional Content:
(Data is for 1 blossom)
Calories: 9
Total Fat: 1 gm
Saturated Fats: 0 gm
Trans Fats: 0 gm
Cholesterol: 0 gm
Sodium: 1 mg
Carbohydrates: 1 gm
Dietary fiber: 0 gm
Sugars: 0 gm
Protein: 0 gm
Estimated Glycemic Load: 0
Please Note: Nutritional information estimated at Nutritiondata.com. Data may not be accurate and is subject to the availability of specific foods in their database. Where one ingredient is not listed, substitutions must be used. Therefore, you should not refer to this data as being exact. It's more of a ballpark figure. The Gracious Pantry does not take responsibility for the inadequacies of the nutrition calculator used. This data is provided as a courtesy and general reference only. It is not exact.