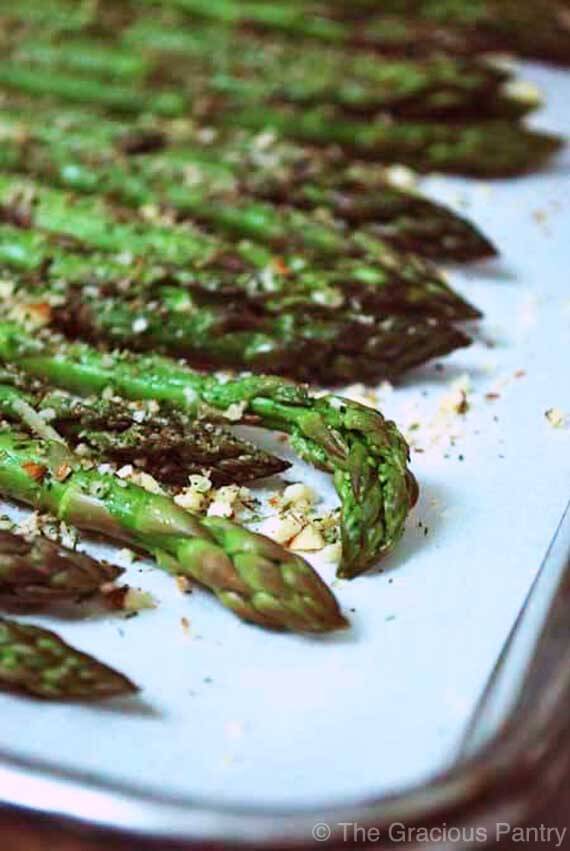 Looking for a better asparagus recipe?
This dish was part of my Valentine's Day menu. I love the way the roasted nuts compliment the flavor of the asparagus. It's a fabulous combination.
I've been roasting vegetables in the oven for some time now. It's one of my favorite ways to eat veggies. Something about it just brings out the flavor of a vegetable like nothing else can (except maybe grilling).
So I knew I wanted to roast my V-day asparagus. But I didn't want it to be plain the way I normally cook it. So I improvised.
YOU MIGHT ALSO ENJOY:
Clean Eating Baked Almond Asparagus
(Makes 2 servings)
Ingredients:
1/2 pound asparagus
1/4 cup almonds
1/4 cup parmesan cheese
2 teaspoon dried basil
1 teaspoon garlic powder
Directions:
Place all ingredients except the asparagus into a food processor and blend.
Clean your asparagus the way you usually do and spread it on a parchment lined baking sheet in a single layer.
Spray the asparagus with a very light coating of olive oil using a non-aerosol oil sprayer.
Sprinkle your asparagus with the nut mixture. Use all of it. It will seem like to much, but trust me. Use all of it.
Bake at 350 degrees F. until it reaches your preferred level of "done-ness" (Is that a word? I don't think so. But we'll pretend it is for now.)
Allow to cool slightly and serve.
Nutritional Content:
(1 serving = half the recipe)
Calories: 150
Total Fat: 10 gm
Saturated Fats: 3 gm
Trans Fats: 0 gm
Cholesterol: 11 gm
Sodium: 194 mg
Carbohydrates: 9 gm
Dietary fiber: 4 gm
Sugars: 3 gm
Protein: 10 gm
Estimated Glycemic Load: 3
Please Note: Nutritional Information estimated at Nutritiondata.com. Data may not be accurate and is subject to the availability of specific foods in their database. Where one ingredient is not listed, substitutions must be used. Therefore, you should not refer to this data as being exact. It's more of a ballpark figure. The Gracious Pantry does not take responsibility for the inadequacies of the nutrition calculator used. This data is provided as a courtesy and general reference only. It is not exact.