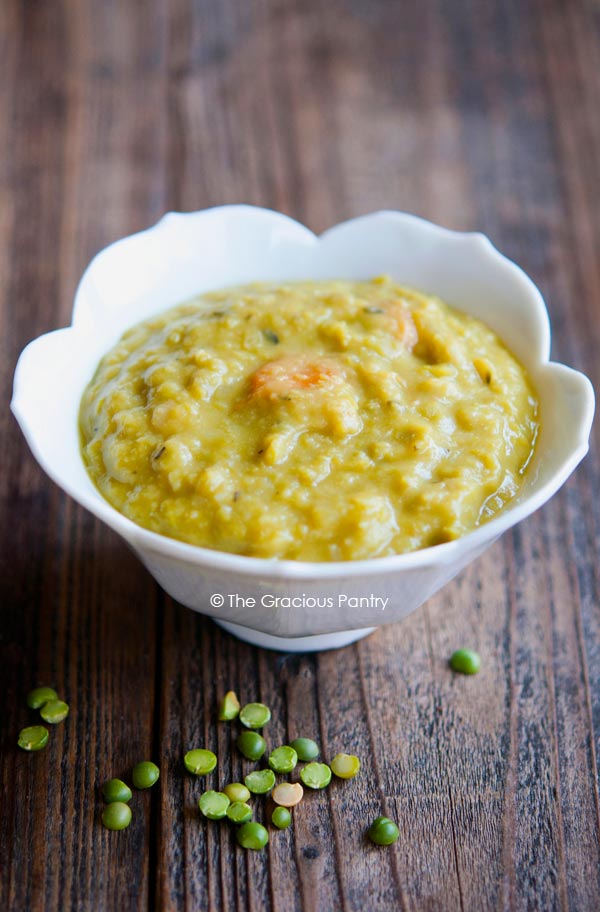 Need a quick, go-to soup recipe for a busy, cold and blustery weeknight? I've got the perfect solution! Clean Eating Split Pea Soup!
Now, there are two camps of people when it comes to Split Pea Soup. You either cook it with meat in it, or you don't. Most people tend to have a strong preference one way or the other. And in addition, you either like it soupy, or thick as mud.
The great thing about this recipe is that you can cook it either way! The recipe below is the vegetarian version. But if you like it with meat, then simply add your meat of choice to the pot when cooking! (Just be sure it's cooked properly in the end).
As for thickness, this soup will thicken with time. So if you like your split pea soupy, then simply add a little extra broth as the soup thickens (as it cools, usually by the next day). But if you like it thick like stew, let it sit overnight in the fridge after it's done cooking. It'll be nice and thick in the morning.
I just love a versatile recipe, don't you?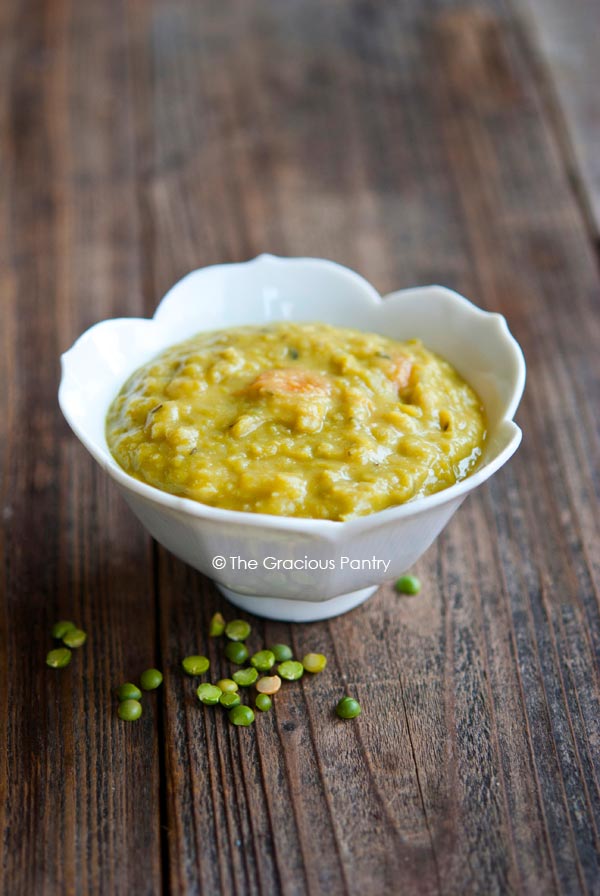 YOU MIGHT ALSO ENJOY:

Clean Eating Split Pea Soup Recipe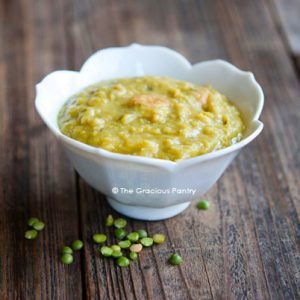 RECIPE NOTE: 8 cups of stock will give you a very thick soup. 12 cups will give you a runnier soup. Your choice! And if you get it too runny, leave the lid off (both on the stove top and with a slow cooker), keep the pot at a gentle simmer until the liquid cooks down enough to create the consistency you prefer. Use a 5 or 6 quart slow cooker
Author:
Tiffany McCauley | The Gracious Pantry.com
Yield:
Approximately 5 quarts
Ingredients
4 large carrots, sliced
4 stalks celery, sliced
1 red onion, chopped
1 tablespoon olive oil
2 tsp. dried thyme
1 tablespoon garlic powder
1 tablespoon onion powder
8 or 12 cups veggie or chicken stock (see note below)
3 cups dry split peas
Instructions
SLOW COOKER DIRECTIONS:
Saute your onions in the olive oil until they are translucent.
Put all ingredients in a slow cooker and turn on low.
Let cook for 8-10 hours.
STOVE TOP DIRECTIONS:
Saute the onions, carrots and celery in the olive oil in a large soup pot until the onions are translucent.
Combine all remaining ingredients in the soup pot and bring to a boil.
Reduce heat to a slow boil and allow to cook until peas are soft. Stir frequently to void burning at the bottom of the pot.