Mug Cake Mix Recipe From Scratch
This post may contain affiliate links. Read my
Privacy Policy.
As an Amazon Associate I earn from qualifying purchases.
Mug cake mix is always something I love to keep on hand for those moments when you just want a little something sweet, but you don't want a whole dang cake sitting in your fridge starring at you every time you open the fridge door.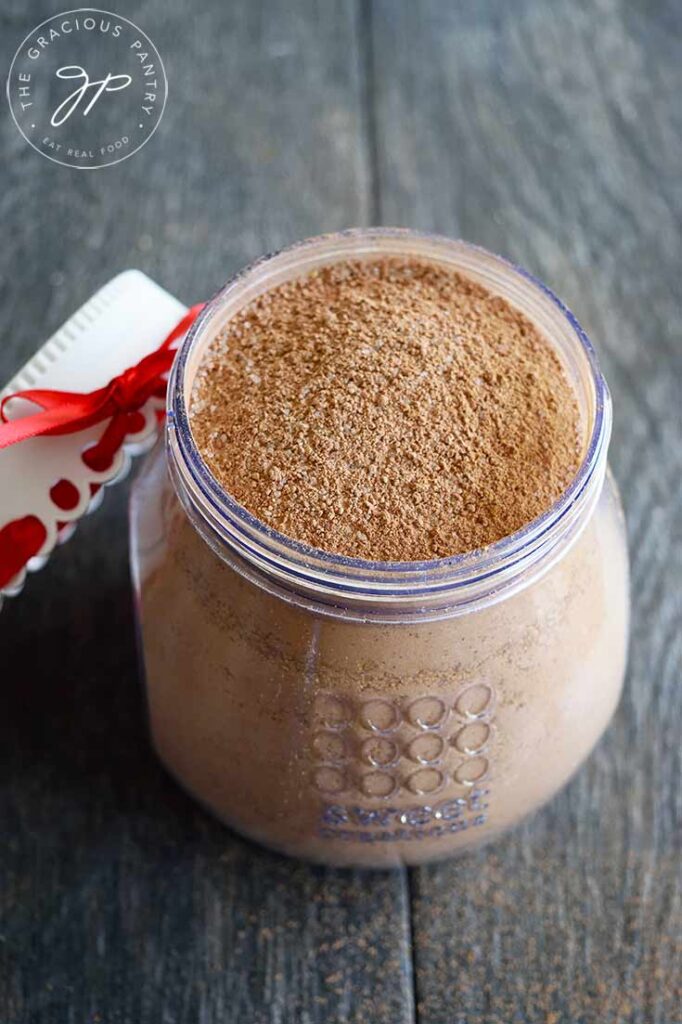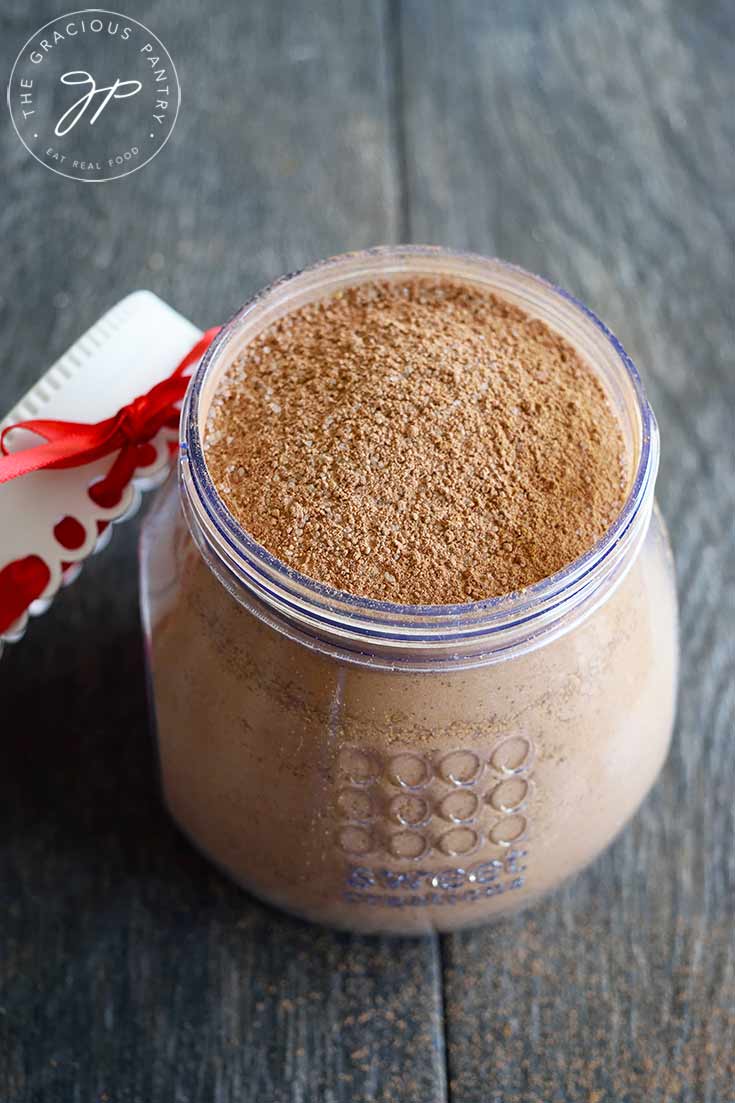 Why Are Mug Cakes So Popular?
Portion control is the first benefit of these types of little cakes. But beyond that, they are just super fast and easy to make.
They are most often made in 2 minutes in a microwave. You can certainly bake them, and I give you the instructions for that below.
But if you want a quick treat that's easy to throw together, few desserts can top a mug cake for speed and convenience.
Are Mug Cakes Any Good?
Absolutely! They are just like regular cake if you make them right. This particular recipe is for chocolate mug cake mix. I hope to make a vanilla version soon and will post it here when I do.
Are Your Mug Cakes Chewy?
The short answer is, they shouldn't be. They should have the texture of regular cake. So if you end up with chewy mug cake, here are a couple of things you can adjust with future mug cakes.
Try a little less oil, or make sure you are measuring the oil exactly. Too much oil can create a chewy or rubbery texture in a mug cake.
Don't overcook a mug cake. This can also lead to textures you might not care for. It's just as important to not overcook as it is to not undercook.
Gluten Free Mug Cake
This chocolate mug cake mix recipe is naturally gluten free. That being said, make sure you use gluten free ingredients.
This recipe uses oat flour which can easily be found as gluten free. I believe Bob's Red Mill has the most widely available version.
You can also grind your own gluten free oats into flour with a grinder. Just be sure you get it super fine like the store-bought stuff.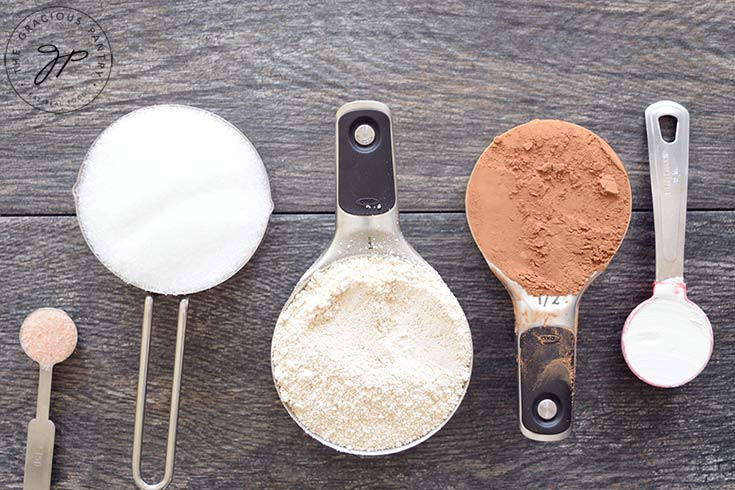 Vegan Mug Cake
If you want to make a vegan version of this, try using a flax egg instead of regular egg.
What is a flax egg?
It's 1 tbsp. ground flaxseed (or flax meal) mixed with 3 tbsp. water. You let that sit for about 15 minutes or until it's "goopy", and then you use that in place of egg. This entire mixture will replace one egg.
For the milk, I recommend either unsweetened almond milk or oat milk. They will work best here, but any non–dairy milk will work. The only one to be careful with is full-fat coconut milk. It may be too thick for this, though I have not tried it myself.
Cake In A Mug Ingredients
Oat Flour – This is a basic oat flour that many stores carry. If you can't find it locally, Amazon typically carries it. I have found it at Whole foods, Publix and sometimes even Food Lion. (1 cup)
Sweetener – I personally used Xylitol for this recipe because it's what works best for my blood sugar. But you can easily replace that with equal amounts of Sucanat, coconut sugar, monk fruit or maple sugar. Pretty much any unprocessed sugar will work here as long as it's a dry sugar. (1 ½ cups)
Cocoa Powder – Use an unsweetened cocoa powder. Whatever brand or variety you prefer is fine, so long as it's unsweetened. (½ cup)
Baking Powder – Make sure your baking powder is fresh and active. Older baking powder loses its potency over time. (1 tbsp.)
Salt – I used Himalayan pink salt. But most any salt you have on hand will work here. (½ tsp.)
The Mug
Make sure your mug cake is microwave and oven safe. If you don't have one, find a small, single serving bowl that is. You don't HAVE to make this in a mug. A mug is just a convenient way to make these small cakes.
How To Make Mug Cake Mix
This is a simple process of whisking together dry ingredients.
Add all the ingredients to a large mixing bowl.
Whisk well to combine.
Set a funnel on your storage jar and fill.
Store in your pantry or give as a gift!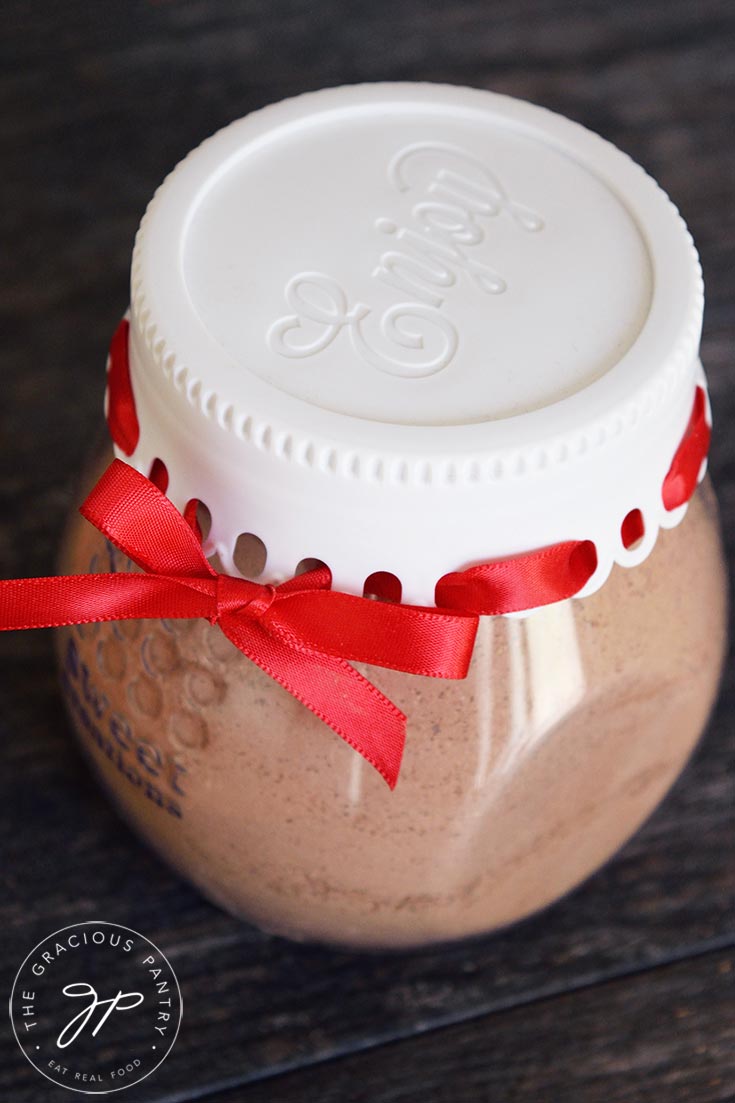 How To Make Chocolate Mug Cake With Mug Cake Mix
Once you have the basic mix made, you'll want to follow this quick and simple recipe for making your mug cake. Remember to print this out if you are giving this mix as a gift. (See printable version below)
1/4 cup mug cake mix
2 tbsp. milk (any kind)
1 tbsp. oil
1 large egg
½ tsp. vanilla extract
Whisk it all together with a fork and microwave for 2 minutes on high, or bake at 350 F. for 20 minutes.
Note that you may have to adjust cooking time in the microwave to suit your own microwave. Not all microwaves cook exactly the same.
Need Storage Jars?
SUBSCRIBE:
Remember to subscribe to my free, Gracious Pantry Newsletter to receive all my latest recipes in your inbox! Click here to sign up!
More Mug Cake Recipes: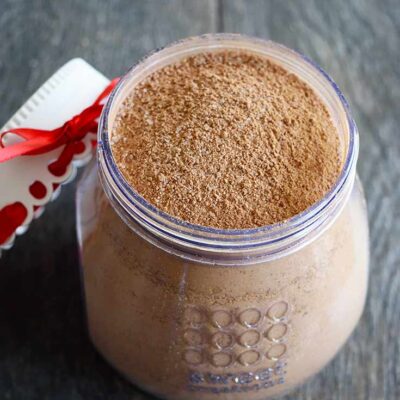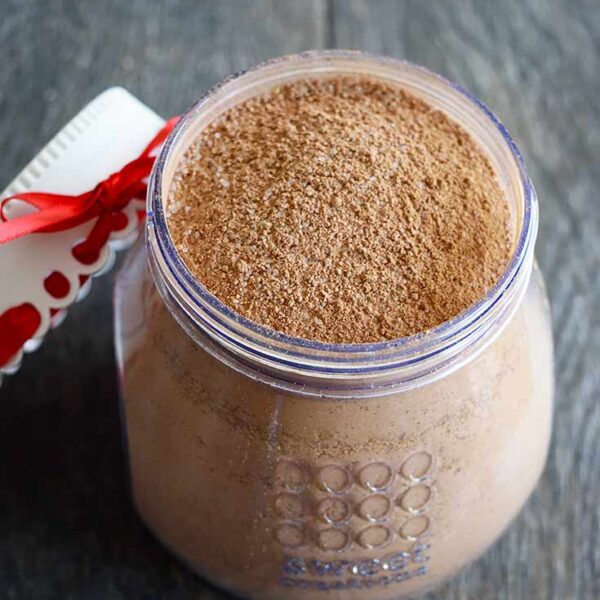 Mug Cake Mix Recipe
An easy, quick-to-make mug cake mix that you can keep in the pantry for a portion-controlled, quick fix when you need one. (Mug cake recipe is below)
Print
Pin
Rate
CLICK TO WATCH THIS RECIPE IN ACTION!
Equipment
Storage container for mix.

Standard size mug – Microwave and oven safe.
Ingredients
1

cup

oat flour

(gluten free if needed)

1 ½

cups

sweetener

½

cup

cocoa powder

(unsweetened)

1

tbsp.

baking powder

½

tsp.

salt
Instructions
Add all the ingredients to a large mixing bowl.

Set a funnel on your storage jar and fill.

Store in your pantry or give as a gift!
Notes
Please note that the nutrition data given here is a ballpark figure. Exact data is not possible. Data figured using Sucanat for sweeetener.
Nutrition
Serving:
0.25
cup
|
Calories:
150
kcal
|
Carbohydrates:
34
g
|
Protein:
2
g
|
Fat:
1
g
|
Saturated Fat:
1
g
|
Sodium:
84
mg
|
Potassium:
223
mg
|
Fiber:
2
g
|
Sugar:
25
g
|
Calcium:
66
mg
|
Iron:
1
mg
Chocolate Mug Cake Recipe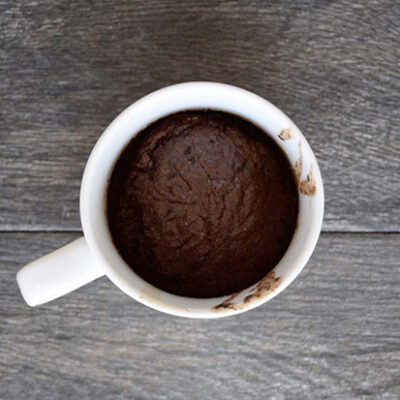 Mug Cake Using Mug Cake Mix
Here's how to make this delicious mug cake using Mug Cake Mix. Note that cooking time is for the microwave. If using an oven, total time will be 25 minutes.
Print
Pin
Rate
Ingredients
¼

cup

Mug Cake Mix

2

tbsp.

milk

(I used unsweetened almond milk)

1

large

egg

1

tbsp.

oil

(I used coconut oil, but any will work)

1

tsp.

pure vanilla extract
Instructions
Whisk all ingredients together in a microwave and oven safe mug or bowl.

Microwave on high for 2 minutes (approximately) or bake at 350 F. for 20 minutes.
Notes
Please note that the nutrition data given here is a ballpark figure. Exact data is not possible. Note that there is no way for me to combine the nutrition data for the two recipes. So you'll have to add up the two.
Nutrition
Serving:
1
cake
|
Calories:
234
kcal
|
Carbohydrates:
2
g
|
Protein:
7
g
|
Fat:
21
g
|
Saturated Fat:
3
g
|
Cholesterol:
189
mg
|
Sodium:
84
mg
|
Potassium:
108
mg
|
Sugar:
2
g
|
Vitamin A:
270
IU
|
Calcium:
61
mg
|
Iron:
1
mg