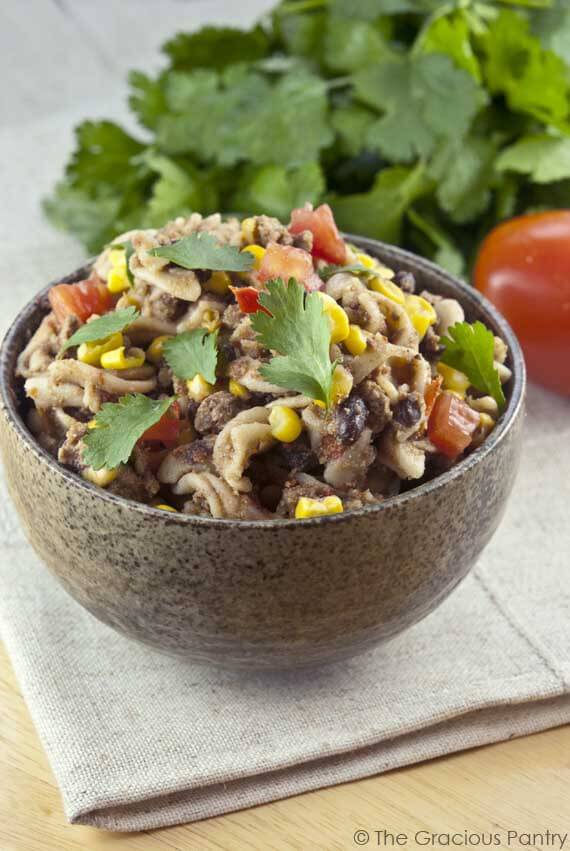 A while back, I did a recipe for Chili Mac. It was enjoyed by all and I've always thought about making it again. So I did. Only this time…
I tried it Mexican-style.
Man, oh man, this is now my absolute, favorite chili mac recipe. Mini Chef told me I could make him this for dinner every single night if I wanted to, and to be honest, I ate it several nights in a row and didn't get tired of it, so he may be on to something.
Not that eating the same thing over and over is ever a good idea, but some days, it's just nice to know that dinner is in the fridge, even if it's the same thing you had for dinner last night.
Notes on the recipe: It may seem like you are adding a lot of spices to this, but it's been my experience that spices can sometimes get a bit dull in flavor when using a slow cooker. Particularly if you are not using any processed ingredients. So don't be shy with the spices. And feel free to stir in a bit more when it's done cooking. I ended up adding more garlic and cumin, but you can adjust to taste. This is wonderful topped with fresh cilantro!
YOU MIGHT ALSO ENJOY:

Clean Eating Slow Cooker Mexican Style Chili Mac
(Makes approximately 12 cups)
Ingredients:
1 large red onion, chopped
1 tbsp. coconut or olive oil (I used coconut)
1 lb. lean, ground turkey
1 (15 oz.) can black beans (do not drain/rinse)
2 large tomatoes, coarsely chopped
2 cups frozen, organic corn
1 medium red bell pepper, chopped
2 tbsp. garlic powder
2 tbsp. onion powder
2 tbsp. chili powder
2 tbsp. ground cumin
3/4 lb. whole grain rotini pasta (I used brown rice fussili – almost the same thing)
Salt and pepper to taste
Chopped fresh cilantro for garnish
Directions:
Saute the onions in the oil using a large skillet.
Once soft, add in the turkey, and cook until just browned
Pour the contents of the pan into your slow cooker.
Add the rest of the ingredients and stir well to combine.
Cook on low for 4 -5 hours.
In the last 1/2 hour of cooking, stir in the dry pasta.
Stir again at 15 minutes, and continue cooking until the pasta is cooked through. (About another 15 minutes)
Preparation time: 15 minutes
Cooking time: 5 hours