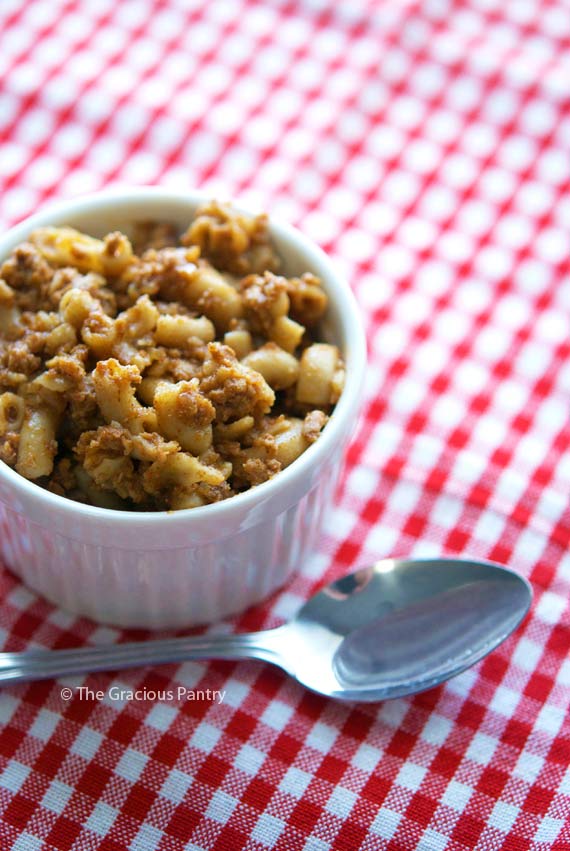 Chili mac is not a dish I grew up with. In fact, it's not a dish I had ever experienced before this. I was kind of shooting in the dark on this one, but I have to say, I think my aim was pretty good.
This may not be the more traditional version you're thinking of, but it's close enough to get the job done and it definitely qualifies as comfort food. The cinnamon gives it a flavorful twist and it's sure to bring your little ones…. or not so little ones, coming back for more.
YOU MIGHT ALSO ENJOY:

Clean Eating Chili Mac
(Makes 9 servings)
Ingredients:
1 1/2 pounds lean, ground turkey
2 teaspoons coconut oil
1/4 cup dehydrated onions (or 1 large onion, chopped fine)
1 tablespoon garlic powder (or 8 fresh cloves, minced)
1 tablespoon chili powder
1 tablespoon cumin
1 teaspoon cinnamon
1 teaspoon coriander
1 (15 ounce) can tomato sauce, no sugar added, low sodium is best
1 cup water
Whole grain macaroni, cooked to package directions (as much as you like)
Salt to taste
Parmesan cheese for garnish
Directions:
In a medium to large soup pot, cook the turkey in the oil.
When the meat is about half way cooked, stir in all the spices.
When the meat is finished cooking, stir in the pasta and remaining ingredients.
Served topped with parmesan cheese.