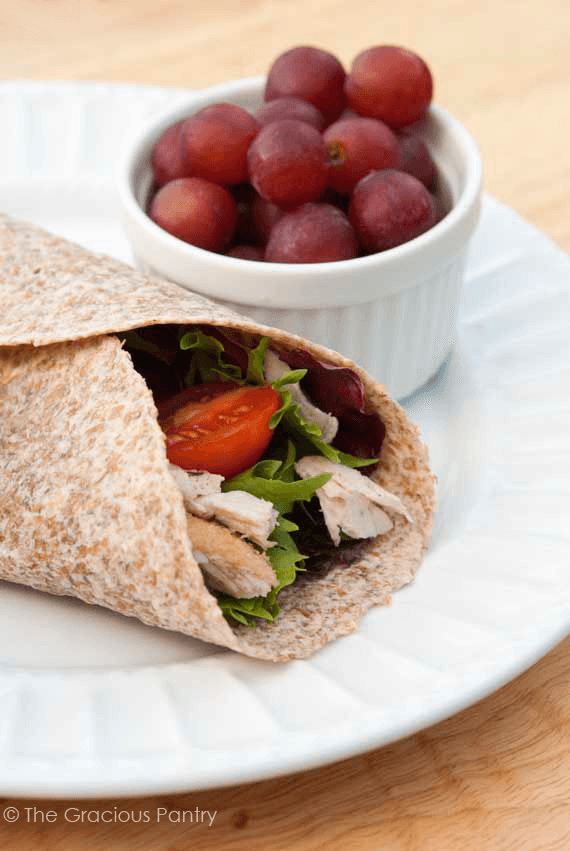 I get asked a lot about what kinds of food are good to pack for lunches. Food that you can either pack in your lunch box, or easily assemble at work.
This one falls under the "assemble at work" category. Pack the individual components and enjoy a delicious and very filling wrap on your lunch break.
Now, I really this is not a novel idea. The truth is, you could put just about anything in a wrap. But I like this one because it reminds me very much of eating a sandwich and salad for lunch, only faster because it's all put together into one handy wrap. And if you need it to be even more filling, you could try spreading some tahini or hummus on the wrap before loading it up. Tons of fiber and no hunger pangs before your next meal!
YOU MIGHT ALSO ENJOY:

Clean Eating Turkey Lunch Wraps
Ingredients:
1 sprouted grain wrap
6 oz. shredded, baked turkey
1-2 cups spring mix lettuce
5 cherry tomatoes, halved
1-2 tsp. dijon mustard
Freshly ground black pepper
Directions:
Spread the dijon on your wrap, then layer all the other ingredients.
Wrap it up tight and dig in!
Preparation time: 5 minutes
Number of servings: 1