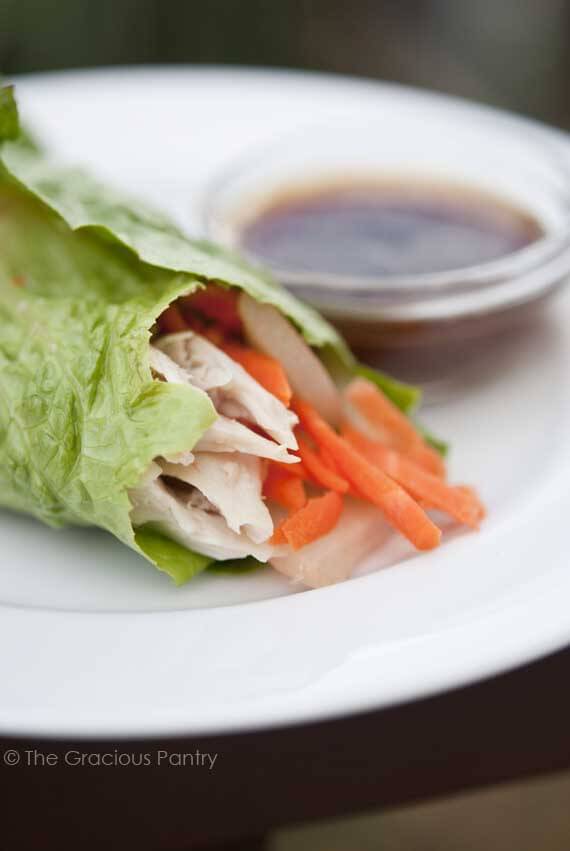 Sometimes, a nice, light lunch is the only way to go. Something that won't sit in your tummy like a ton of bricks, making you too sleepy to get through your afternoon.
And sometimes, you need a light but more substantial "snack". I use that term lightly because in clean eating, you don't really snack. You just eat smaller meals more frequently. I guess one could say that you snack all day long, but that's not really accurate either is it…
In truth, this recipe is really for the dipping sauce rather than the actual wraps. You can fill your lettuce leaves with just about any vegetable and/or meat. It's really quite versatile. But the dipping sauce… that's what makes the meal.
This is a very thin, broth-like dipping sauce, similar to au-jus. If you taste it by itself, you may be a little overwhelmed by the intensity of the flavor. But dip your lettuce wraps in it and you've got something all together delicious. I should also mention that a little goes a long way. I ate two wraps and didn't even use a full tablespoon.
I will say that packing your wraps tightly (how well you roll them up) is important. If you are taking these for lunch, I highly recommend wrapping them in plastic wrap so that you don't lose any contents and they don't come unrolled. Give yourself a big plate for these as well. Or you can do what I do and pack up the individual ingredients, and roll them all up as you eat them. Makes life simpler and a little less messy.
YOU MIGHT ALSO ENJOY:

Clean Eating Asian Style Lettuce Wraps
(Makes approximately a 1/2 cup sauce)
Sauce Ingredients:
1/4 cup coconut aminos (or low sodium soy sauce)
2 tsp. coconut sugar (honey works too)
1/4 tsp. fresh, grated ginger (more if you like a stronger ginger flavor)
1/2 tsp. garlic powder
1 dash of cayenne pepper (optional)
1/4 cup low sodium or homemade chicken broth
Sauce Directions:
Combine all ingredients in a mixing bowl or bottle and whisk, stir or shake until the sweetener has dissolved.
Serve in a small dipping container with lettuce wraps.
Possible Wrap Ingredients:
Chicken
Carrots, shredded
Water chestnuts
Sesame seeds
Wrap Directions:
Place a small amount of each filling at the center of your lettuce leaves and roll it up like a burrito.
Dip in sauce and enjoy!
PREPARATION TIME: 2 minute(s)
NUMBER OF SERVINGS (YIELD): 8