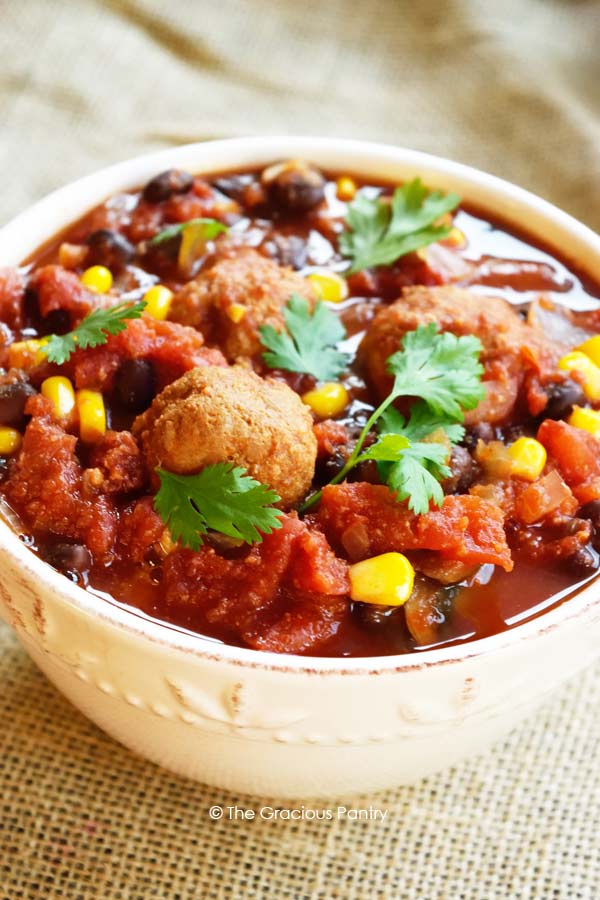 It's officially fall!! My favorite time of year!!! The sweaters have come out of their summer storage, the leaves are turning into a million shades of brown and crimson, and the nights are cool and crisp. It just doesn't get any better in my book!
Chili is a staple this time of year, and I always like to mix things up a bit by trying new ways of serving this old, autumn classic.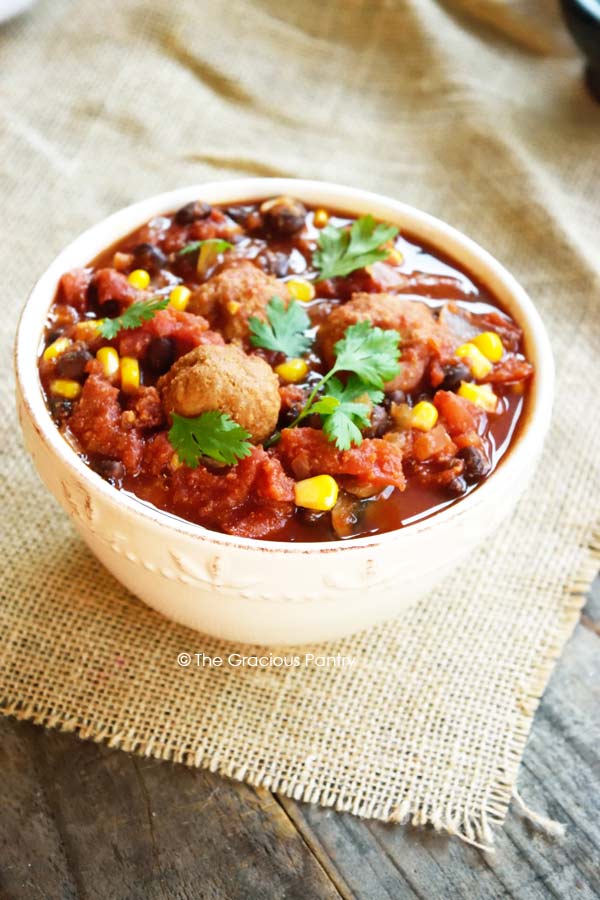 Somebody mentioned an interest in meatball chili recently and the bells in my head started ringing. It just sounded so delicious and perfect for this time of year! This particular recipe would be perfect with corn bread.
So dust off that slow cooker if you haven't used it in a while, clean out the crock and toss this quick and simple dish together for dinner tonight!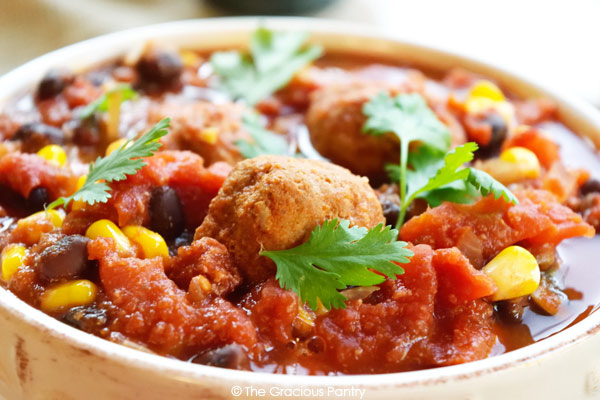 YOU MIGHT ALSO ENJOY:

Clean Eating Slow Cooker Meatball Chili Recipe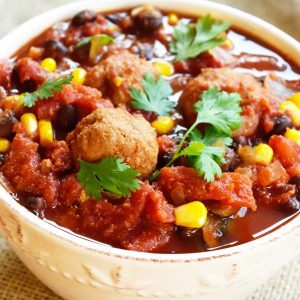 Author:
Tiffany McCauley | The Gracious Pantry.com
Yield:
Approximately 10 cups/servings
Ingredients
1 lb. ground turkey
2 tbsp. garlic powder, divided
2 tbsp. onion powder, divided
1 medium yellow onion, chopped
1 (15 oz.) can or jar (or made from dry) black beans, drained and rinsed
8 oz. sliced mushrooms, diced fine
1 lb. bag frozen corn
1 tbsp. ground cumin
1 tbsp. chili powder
1 (15 oz.) can or jar tomato sauce, no sugar added
1 (28 oz.) can or jar dice tomatoes (juice included)
Salt to taste after cooking
Instructions
In a medium to large mixing bowl, knead the ground turkey, 1 tbsp. garlic powder and 1 tbsp. onion powder together. Form meatballs approximately the size of a large walnut and place them on the bottom of the crock.
Layer the remaining ingredients in the order listed over the meatballs, adding the remaining garlic and onion powder along with the chili powder.
Cook on high for 2-3 hours, or on low for 3-4 hours, or until the meatballs are cooked through.