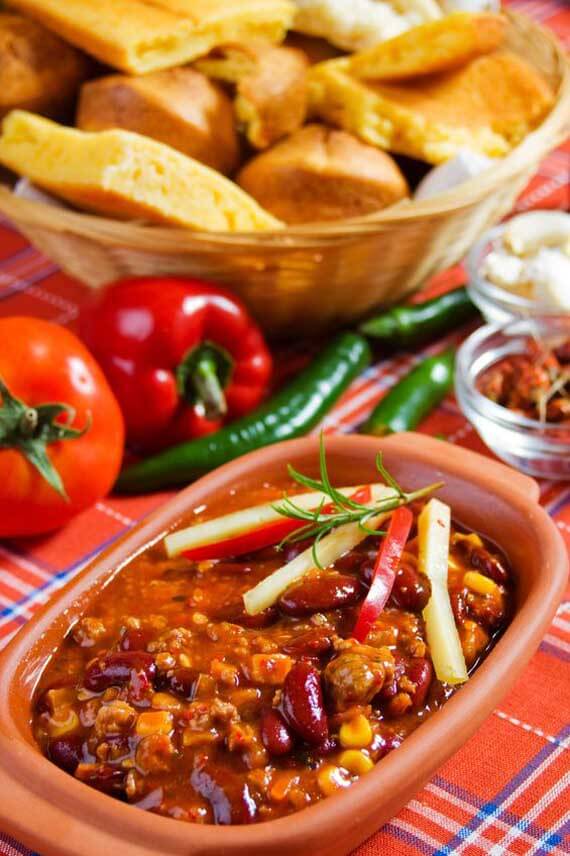 Some days are just "chili days". Is it a coincidence that those particular days are usually "chilly"? I think not.
But bad jokes aside, I really do think that we enjoy food based on our emotions and feelings. On cold days, we want warmth and comfort and the feeling of home and a warm kitchen with fabulous aromas. What better way to scent your kitchen than a big pot of chili?
YOU MIGHT ALSO ENJOY:

Clean Eating 2 Bean Turkey Chili
(Makes approximately 20 servings)
Ingredients:
1 1/2 pound lean, ground turkey
5 cloves garlic, chopped fine
1 medium yellow onion, chopped
1 tablespoon olive oil
1 (28 ounce) can diced tomatoes (not drained)
1 (15 ounce) can black beans, no sugar added, drained and rinsed
1 (15 ounce) can kidney or cannellini beans, no sugar added, drained and rinsed
1 pound frozen corn (optional)
2 teaspoons ground cumin
1 tablespoon chili powder
1 (12 ounce) jar of your favorite salsa
Directions:
In a large pot, saute' the garlic and onion in the olive oil.
Stir in the meat and brown, breaking it up as you stir.
Stir in everything else and cook over medium-high heat until the meat is cooked through. Stir frequently to avoid any burning on the bottom of your pot. If you need extra liquid, you can always stir in a little chicken broth to get the consistency you like. But I found that the salsa was enough. Do what suits your tastes.
Allow to cool and serve.
Note: If you can manage it, store this overnight and enjoy the next day. The flavor is even better on the second day when the flavors have really melded. Yum!