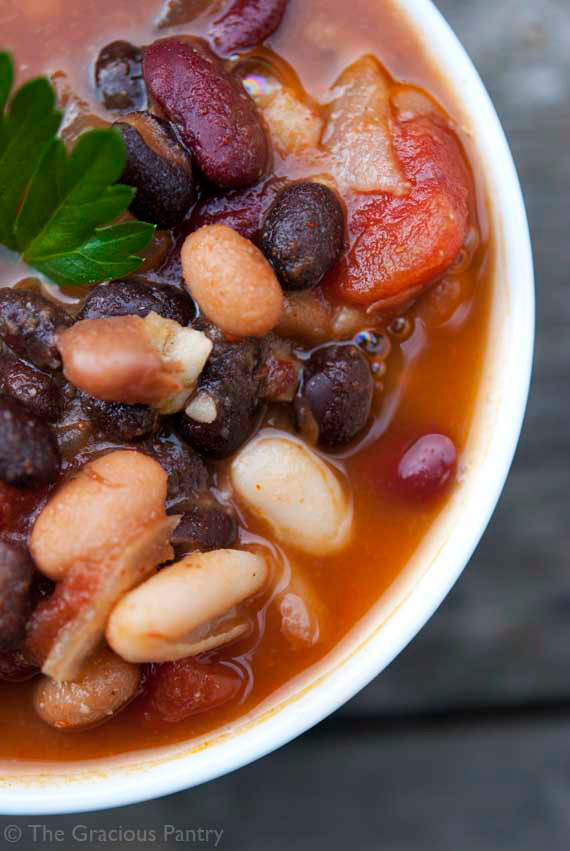 I have to be honest, this chili could easily be soup. But I had to pick one, so I went with chili. Is that bad? Either way, this was delicious!
I have a hard time with vegan and/or vegetarian dishes because I can never get them seasoned the way I like. But this one I'm pretty proud of. You can use home cooked or canned beans, either way. I used the canned variety and dinner was put together in about 10 minutes. If you want more of a soup, add some extra vegetable broth. If you like a heartier chili, use a little less. The amount of broth you put in is what you will end up with, so it's easy to gauge how "soupy" you want this.
YOU MIGHT ALSO ENJOY:

Clean Eating 4 Bean Chili
(Makes approximately 10 servings)
Ingredients:
5 cloves garlic, chopped fine
1 medium yellow onion, chopped
1 tablespoon olive oil
1 (28 ounce) can diced tomatoes
1 (15 ounce) can black beans, drained
1 (15 ounce) can pinto beans, drained
1 (15 ounce) can kidney beans, drained
1 (15 ounce) can cannellini beans, drained
2 teaspoon ground cumin
1 tablespoon chili powder
3 cups vegetable stock
Directions:
Saute the onions and garlic in the olive oil, using a medium-sized soup pot.
Add all other ingredients and stir to combine.
Bring to a boil. Allow to boil for approximately 10 minutes and remove from heat.
Allow to cool and serve.