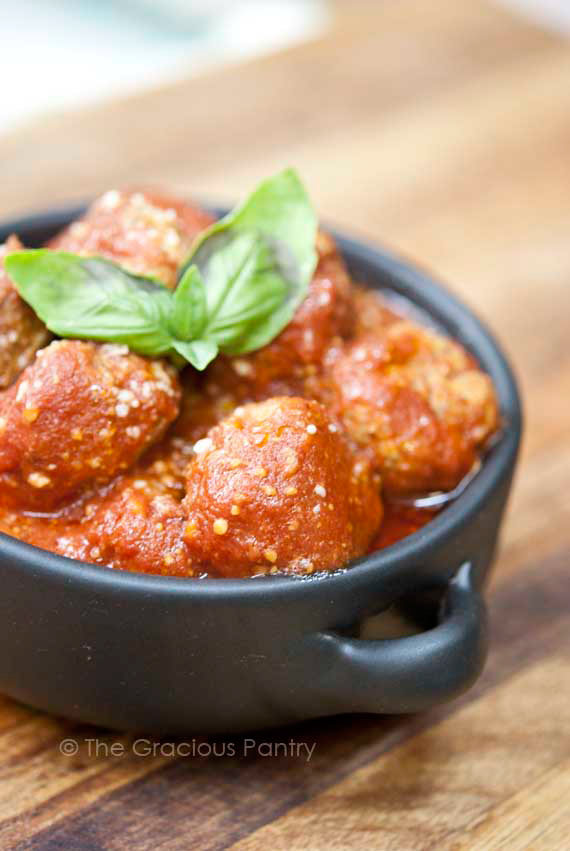 This is a very simple recipe that is wonderful to make for when company comes over, or just for a family night dinner. It's minimal prep, and cooks while you run errands.
These are more of a dense meatball and the sauce is perfect for ladling over whole grain pasta or brown rice. Basically, this is a quick and easy way to make spaghetti and meatballs without all the hassle that usually ensues when making non-slow cooker varieties.
Because this busy mama is all about quick, easy, clean meals!
YOU MIGHT ALSO ENJOY:

Clean Eating Slow Cooker Italian Style Meatballs
(Makes 22 Meatballs)
Ingredients:
1 1/2 pounds lean, ground turkey
1 tablespoon garlic powder
1 tablespoon onion powder
1 tablespoon Italian Seasoning
1 1/2 cups clean tomato sauce
1/4 cup fresh, grated parmesan cheese
Directions:
In a large mixing bowl, knead the turkey together with the spices.
Roll meat into 22, walnut sized meatballs, and place in a single layer in your slow cooker (Mine was a 5 quart).
Pour the tomato sauce over the top, being sure to cover the meatballs well and evenly.
Sprinkle the cheese across the top and set the slow cooker to low heat for 4 hours.
Serve over pasta with a little extra parmesan cheese.
Note: These are a fairly dense meatball. You can add finely chopped mushrooms to the mixture to soften them up a bit. About 1/2 to 1 cup should be fine, and you'll get more meatballs out of it to boot.