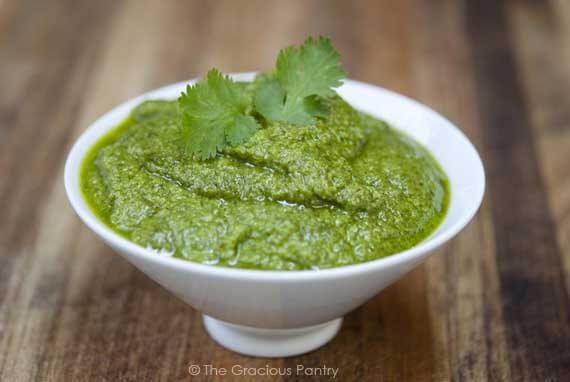 I love basil pesto. There are few things in this world that make my taste buds dance the way basil pesto does. So I wasn't entirely sure that I even wanted to try a cilantro version.
You see, I'm a very loyal sort of girl. Once I find something I love, I tend to stick with it for life. But seeing as how this here blog is a food blog and it's kinda my job to try new things, I gave it a go.
All I can say is, wow. I have a new favorite!! (And that's saying a lot for this loyal girl!)
This stuff was CRAZY good! It still has all the rich goodness of a homemade basil pesto, but with a little bit of peppery kick from the cilantro. Amazingly good. I swear! Oh, and I'll have a recipe coming up shortly that uses it. So go make a batch and stay tuned! I promise you won't regret it!
YOU MIGHT ALSO ENJOY:

Clean Eating Cilantro Pesto
(Makes 1 1/2 cups)
Ingredients:
1/2 cup extra virgin olive oil
1 cup raw walnut pieces
2 cups fresh cilantro
1/2 cup grated real parmesan cheese
Salt to taste
Directions:
Place all ingredients in a blender and blend until smooth. (Depending on your blender, this could take as much as 5 minutes. But it's worth the not-so-long wait!)