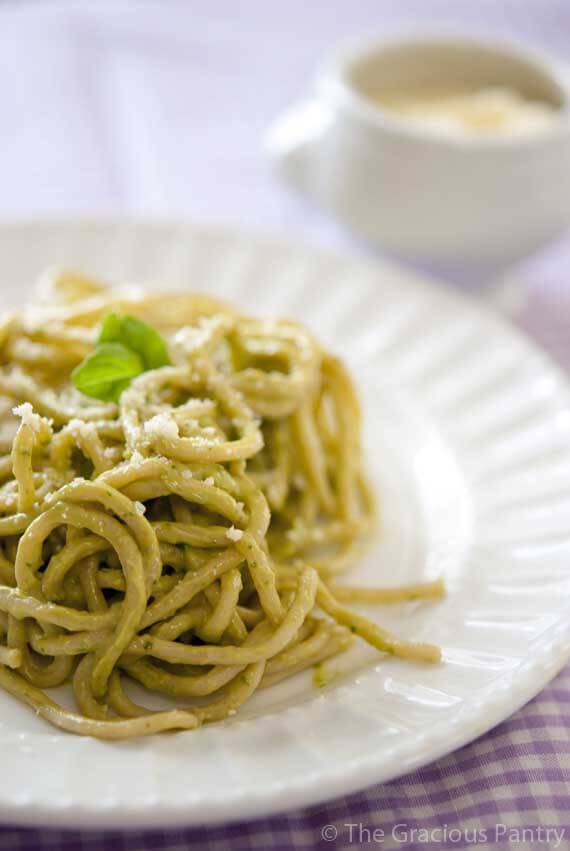 To be honest, the photo above is a little misleading.
I actually served this pesto alfredo over spaghetti squash. The noodles above were Mini Chef's lunch the next day. But any way you serve this, it's DEEEEEEEEE-licious!!!! And not a drop of dairy!
As I embark on this new type of clean eating (basically a Paleo diet), I'm having to get pretty creative. Just like when I first started eating clean, I don't want to give up my usual comfort foods. So I'm having to come up with interesting substitutions and I must say, the challenge is a little exciting.
As I write this, I've lost 15 pounds with this new eating plan. It's a little fast as I've only been doing this for about 2 weeks. But the first 10 pounds came off overnight, so I know that was all water weight. Now I'm waiting to see how fast the rest of it comes off. We shall see. I'm very conscious of the fact that weight should come off slowly so it stays off. But since I'm just getting started with this, I guess I'll take what I can get. If nothing else, it's a good morale booster and definitely motivating. I may be starting over with this weight loss thing, but I'll be darned if I'm not gonna reach my goals!
YOU MIGHT ALSO ENJOY:

Clean Eating Avocado Pesto Alfredo
(Makes about 2 cups)
Ingredients:
2 avocados
1/2 cup packed, fresh basil
4 tablespoons lemon juice
2 teaspoons garlic powder
Salt to taste
Water as needed
Directions:
Place all ingredients in a medium mixing bowl and blend with an immersion blender (or, blend in a regular blender) until smooth. Add water to reach your desired consistency.