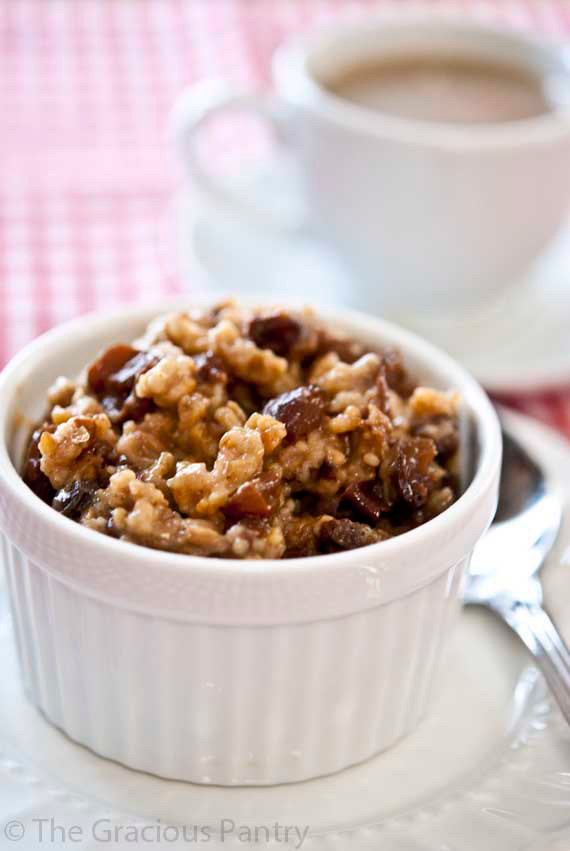 Guess what?
This delicious breakfast will be ready for you when you wake up in the morning and you won't have to lift a sleepy, coffee-deprived finger to do it. True story.
This bad boy will cook all night while you sleep. Yup. A full 8 hours!
Sorry, no, I can't include the 8 hours of sleep with this recipe. I barely get that myself these days. But I can promise you a "wake-you-up-it's-so-delicious" breakfast you'll enjoy again and again this season. And all you have to do is throw it together the night before when you're still somewhat conscious! How's that for convenience?
YOU MIGHT ALSO ENJOY:

Clean Eating Slow Cooker Overnight Oatmeal
(Makes 2 servings)
Note: I don't recommend using any other type of oats with this. Steel cut oats seem to stand up to long cooking times far better than other styles of oats. Also, if you prefer your raisins chewy, add them after cooking. Cooking them makes them very soft. However, if you do not cook them with the oats, you will most likely need more sweetener.
Ingredients:
1/2 cup steel cut oats
2 cups water
1/2 tsp. cinnamon
1 teaspoon vanilla extract
1/2 cup raisins OR dried cranberries, fruit juice sweetened
Pure maple syrup for topping
Directions:
Combine the oats, water, cinnamon and vanilla extract in a small, 1 or 2 quart slow cooker. No larger. (You will need to multiply the recipe for larger slow cookers)
Cook on low for 8 hours.
Stir in the raisins OR cranberries and maple syrup when serving.