This delicious, clean eating pumpkin ice cream is dairy free and satisfies your pumpkin cravings!
I love pumpkin. It's just so versatile. There aren't many other veggies that are so full of potential. Pumpkins can be anything from breakfast to dinner or dessert! You just can't lose with pumpkin. And it's so good for you! In fact, I would go so far as to say that this may be one of the most nutrient-dense ice creams on the planet! How's that for being humble?
Many of you know that a lot of my recipes for ice cream are banana based. Bananas offer a creamy texture that we are so used to in regular ice cream, but allow us to avoid the fat (for those who want lower fat eating plans) and even dairy for those who are sensitive. But the best part, is that you can significantly reduce the amount of sugar you have to add to get the level of sweetness you would expect from ice cream. I don't know about you, but I'd much rather get my sugar intake from fruit than from a bag of sugar, even if it's a bag of clean sugar. And while this does contain some maple syrup, it's much less than you would have to add to regular ice cream. So that, in a nutshell, is why I keep doing these banana ice cream recipes. I will say that if you want to reduce the amount of maple syrup, I recommend switching to honey instead and using maybe 1/4 cup or so. The great thing is, you can adjust to taste after blending and before freezing!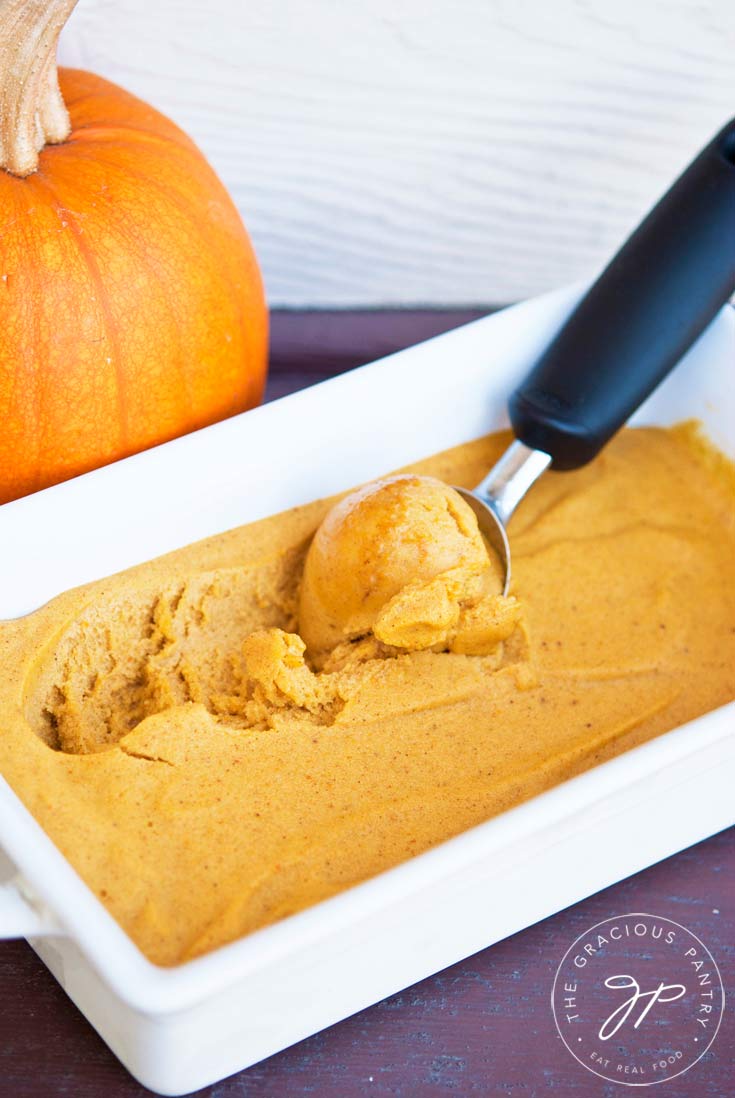 I have, however, gotten emails and facebook postings from people who dislike or are allergic to bananas. For those people, I highly recommend substituting the bananas with frozen mango. The flavor will be slightly different, but not so much so that it won't still taste like pumpkin ice cream. Enjoy!
RECIPE NOTES:
This does freeze pretty hard. When removing it from the freezer, let it sit on the counter for a bit before trying to dig into it. Also, I went a little light on the spices, so if you prefer a stronger flavor, feel free to add more. That's what is great about this recipe. You can taste it before you freeze it to adjust it to your own taste! Also, just because this has already been asked, yes… you can taste the bananas. There is no way around that. But again, adjust the flavor before freezing to something you enjoy.
That being said, if you want to minimize the banana flavor, make sure you use just barely ripe bananas. Avoid bananas with any brown spots at all. If they have just finished turning from green to yellow, they are probably perfect.
NEED A FOOD PROCESSOR?
This Hamilton Beach Processor (affiliate link)
 is good quality and definitely the processor I will buy next time I'm in need of one!
YOU MIGHT ALSO ENJOY THESE CLEAN EATING RECIPES:

CLEAN EATING PUMPKIN ICE CREAM RECIPE: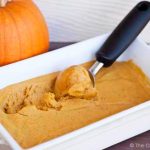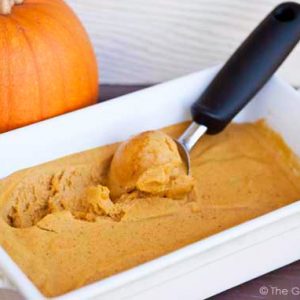 Clean Eating Pumpkin Ice Cream Recipe
This dairy-free, vegan ice cream is an Autumn favorite. Serv in a homemade cone or with some graham cracker crumbles sprinkled over the top. Yum!
Ingredients
4

medium

bananas, sliced and frozen overnight

1

cup

pumpkin puree

1/3

cup

maple syrup

1 1/2

tsp.

pumpkin spice, no sugar added if purchased
Instructions
Using a food processor, blend the bananas, pumpkin, maple syrup, and pumpkin spice thoroughly.

Transfer to a freezer-safe container and freeze for 24 hours.

Recipe Notes
Please note that the nutrition data below is a ballpark figure. Exact data is not possible.
Nutrition Facts
Clean Eating Pumpkin Ice Cream Recipe
Amount Per Serving
Calories 136
% Daily Value*
Sodium 5mg0%
Potassium 414mg12%
Carbohydrates 34g11%
Protein 1g2%
Vitamin A 6405IU128%
Vitamin C 8.8mg11%
Calcium 42mg4%
Iron 1mg6%
* Percent Daily Values are based on a 2000 calorie diet.