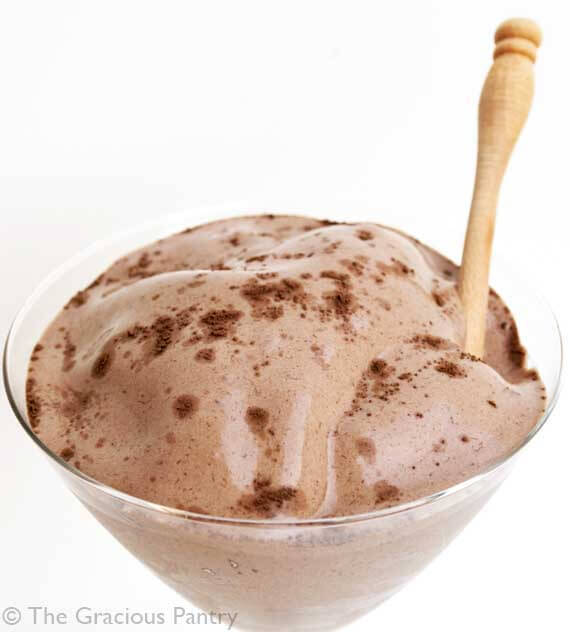 I have to tell you, this is one of the most sinful desserts I've had since starting my clean eating program.  It was a recipe that Danica from DanicasDaily gave me at a blogger's luncheon. If memory serves, she said her sister had passed it on to her.
If you like bananas, and you like soft serve ice cream, then this is the perfect dessert for you.
It's soft, it's fluffy, it's cold and ice creamy. But guess what….
It's not ice cream at all! (Shhh, don't tell the kids! They'll never know the difference!) It's just bananas!
Clean Eating Chocolate Banana Ice Cream
(Makes approximately 4 cups )
Ingredients:
4 medium bananas
1 cup milk
2 tablespoons cocoa powder
2 tablespoons honey
Directions:
This is one of those recipes you have to start the day/night before. Slice your bananas into a container with a lid. Put in the freezer over night or until thoroughly frozen. It's important that they are completely frozen.
Empty your frozen banana slices into a food processor. Add all other ingredients and turn on your processor. That's it!
Note: You may need to stop the processor a few times and poke at it with a spatula just to be sure you got all the bananas blended. There are always a few rascals in there that like to hide.
Also, this is NOT something you can put back in the freezer after making. This is strictly a make and serve dish. Freezing the finished ice cream turns it into something pretty yucky. So make it and eat it!
Alternative: If you prefer, you can just do the bananas and milk with a splash of vanilla extract. It's very similar to vanilla ice cream, and you don't have to add any additional sweeteners like you do when you add cocoa powder.
UPDATE: Since writing this post, I was sent a Yonana's machine. This is an amazing little contraption that makes ice cream out of frozen bananas and just about any other frozen fruit. If you are lucky enough to have one of these little goodies, omit the milk altogether, put the bananas through the Yonana's machine and stir in the cocoa powder and honey if needed. Easy!
Nutritional Content:
(Data is for 1/2 cup)
Calories: 82
Total Fat: 0 gm
Saturated Fats: 0 gm
Trans Fats: 0 gm
Cholesterol: 1 gm
Sodium: 18 mg
Carbohydrates: 20 gm
Dietary fiber: 2 gm
Sugars: 13 gm
Protein: 2 gm
Estimated Glycemic Load: 9
Please Note: Nutritional information estimated at Nutritiondata.com. Data may not be accurate and is subject to the availability of specific foods in their database. Where one ingredient is not listed, substitutions must be used. Therefore, you should not refer to this data as being exact. It's more of a ballpark figure. The Gracious Pantry does not take responsibility for the inadequacies of the nutrition calculator used. This data is provided as a courtesy and general reference only. It is not exact.