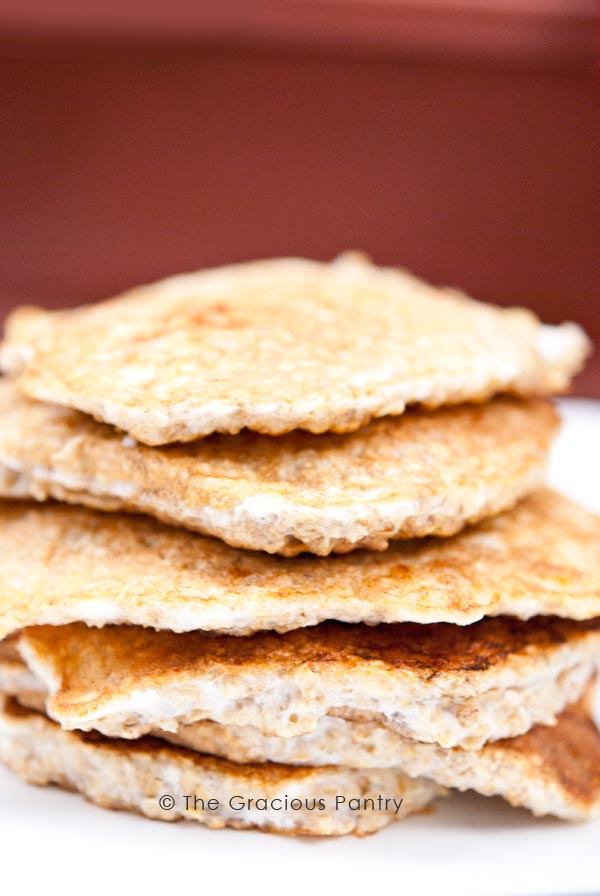 The first time I heard about protein pancakes was from a Facebook friend. When she told me what was in them, I all but gagged. I just could not fathom the idea that these might actually be edible.
However…
A few weeks later, I was watching some videos on BodyBuilding.com of Ava Cowan (fitness model). I'm a big fan of hers, and was curious to see how she eats and works out. Imagine my surprise when she demonstrated how to make protein pancakes!
So I figured if my friend on Facebook and Ave Cowan can eat these, then there must be something to them other than just a high protein breakfast. So I gave it a shot.
I can tell you that not only were my husband and son impressed (guys and kids are the toughest critics!), but I was just over the moon. I've been eating these puppies for breakfast every morning since and I haven't gagged even once! I swear! They are almost like eating a savory oatmeal muffin. A bit on the fluffy side, and just downright delicious!
From the Gracious Pantry archives. Originally posted: 2/18/2011
RECIPES MENTIONED:
Recipe adapted from BodyBuilding.com.

Clean Eating Protein Pancakes Recipe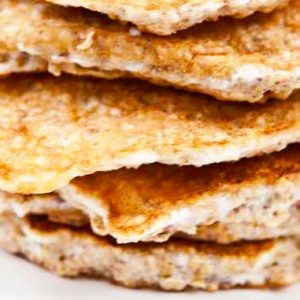 Author:
Tiffany McCauley | The Gracious Pantry.com
Ingredients
PANCAKE INGREDIENTS:
12 egg whites
1 cup quick oats
½ teaspoon olive oil (from an oil sprayer)
OOEY-GOOEY TOPPINGS::
1 tablespoon clean peanut butter
EXTRA FIBER TOPPINGS:
1 tablespoon clean hummus
SAVORY MIX-IN SEASONINGS:
½ teaspoon onion powder
½ teaspoon garlic powder
SWEET MIX-IN SEASONINGS:
1 teaspoon. cinnamon
Top with maple syrup
Instructions
Stir both ingredients together in a mixing bowl.
Spray a non-stick pan (yes, it has to be non-stick) with about ¼ tsp. olive oil. It's not much at all. Just a very light mist.
Ladle 3 pancakes onto your pan and cook like a regular pancake. Each pancake should be approximately 1 scant ladle full. Depending on the size of your ladle, you should get about 7 pancakes out of it.
Spray with the last half of the oil, and ladle on your last 3 pancakes.
You can serve this with any clean toppings you like. But I prefer to eat them plain like a piece of toast. Once they've cooled down, you can just grab and go!