Clean Eating Garlic Parmesan Quinoa Recipe
This post may contain affiliate links. Read my
Privacy Policy.
As an Amazon Associate I earn from qualifying purchases.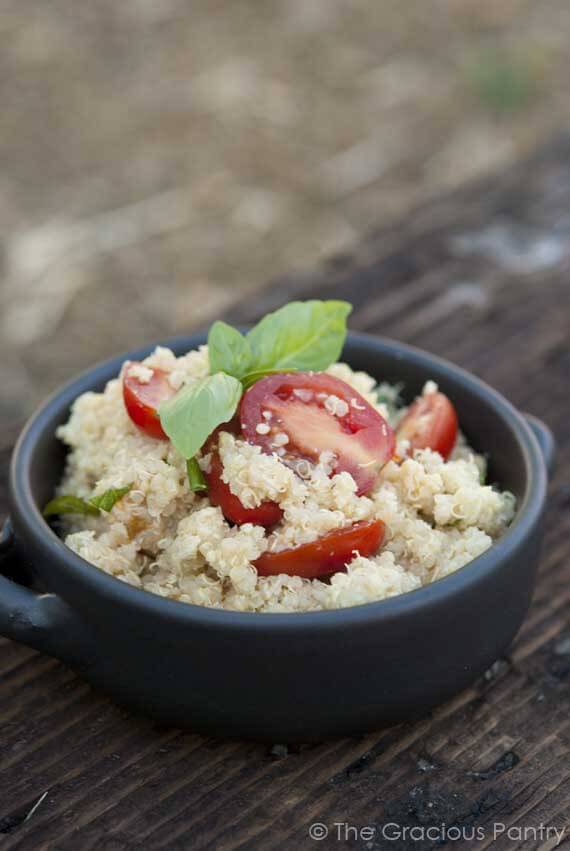 This is a wonderful summertime picnic or family gathering dish. Take it to pot lucks or even a company party and I think you'll find that most people really enjoy it.
I actually made this for the 4th of July. Mini Chef, his dad and myself went to see fireworks at a local school. They shoot them off right over the school soccer field. So if you set yourself up on the field, it's quite something to have the fireworks going off right over your head. This is Mini Chef's second time going and he was just as amazed by it this year as he was last year. Although, it's hard to say if it's the fireworks or the fact that he gets to stay up late that excites him most.
But then, I can't say much, staying up late was my main mission as a kid. No matter what was going on or how tired I was, I always wanted to stay up later. I always felt like there was something going on that I was missing out on by going to bed "on time". I couldn't wait to become an adult so I could make my own bed time.
But I digress…. big time…
Serve this as a side dish, or as a main, vegetarian course with a side salad. It's full of flavor without being overpowering, and pairs nicely with just about anything. Even chicken or fish!
YOU MIGHT ALSO ENJOY:

Clean Eating Garlic Parmesan Quinoa Recipe
Author:
Serves:
Approximately 6 cups
Ingredients
1 cup uncooked quinoa, rinsed well
2 cups low sodium chicken broth
1 tablespoon garlic powder
1 cup grated parmesan cheese
1/2 pound cherry or sugar tomatoes, halved
1/4 cup chopped, fresh basil
Instructions
Follow package directions to cook the quinoa, but substitute the water with chicken broth.
When done, fluff with a fork and allow to cool enough so the cheese won't melt when you add it.
Stir in the garlic powder and parmesan cheese.
Add the tomatoes and fresh basil.
Stir well and serve.