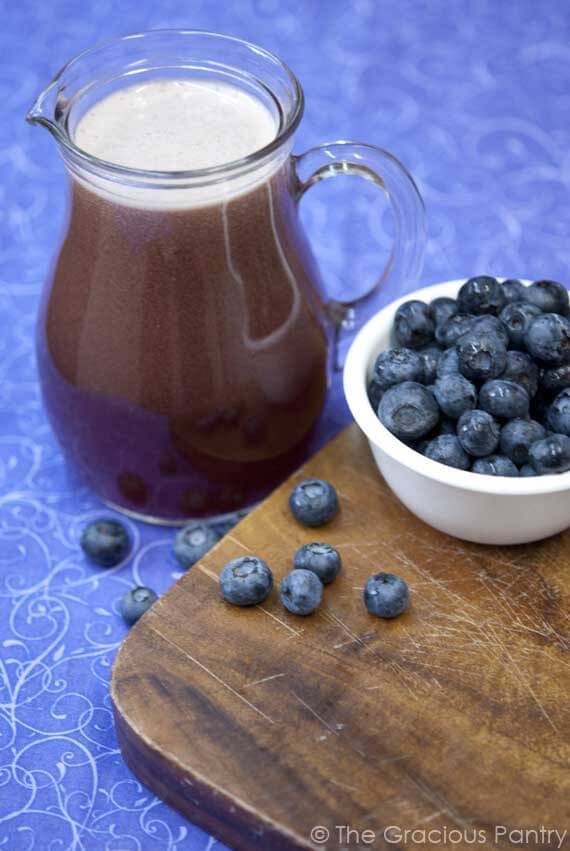 Recently, a reader asked me on facebook if I had any recipes for Agua Fresca. I had never heard of it before! This drink is absolutely and completely new to me… and I love it!
That's one of the things I love about social media. I get to talk to so many people about so many things, and inevitably, you all keep me on my toes in the food department! I mean, I could have gone an entire lifetime never knowing about this marvelous beverage if it wasn't for social media. What an awful shame that would have been!
This stuff is absolutely perfect for a hot summer day. Pour it over a tall glass of ice, sit back and let the cool refreshing flavors tone down the intensity of all that persistent summer heat.
YOU MIGHT ALSO ENJOY:

Clean Eating Blueberry Lime Agua Fresca
(Makes approximately 3 1/2 cups)
Ingredients:
1 cup fresh blueberries
3 cups water
2 tablespoon lime juice
Sucanat (amazon affiliate link) OR coconut sugar OR honey OR stevia to taste
Directions:
Blend all ingredients together in a blender.
Strain the liquid through a very fine-meshed sieve or through some cheese cloth folded a few times.
Serve over ice.