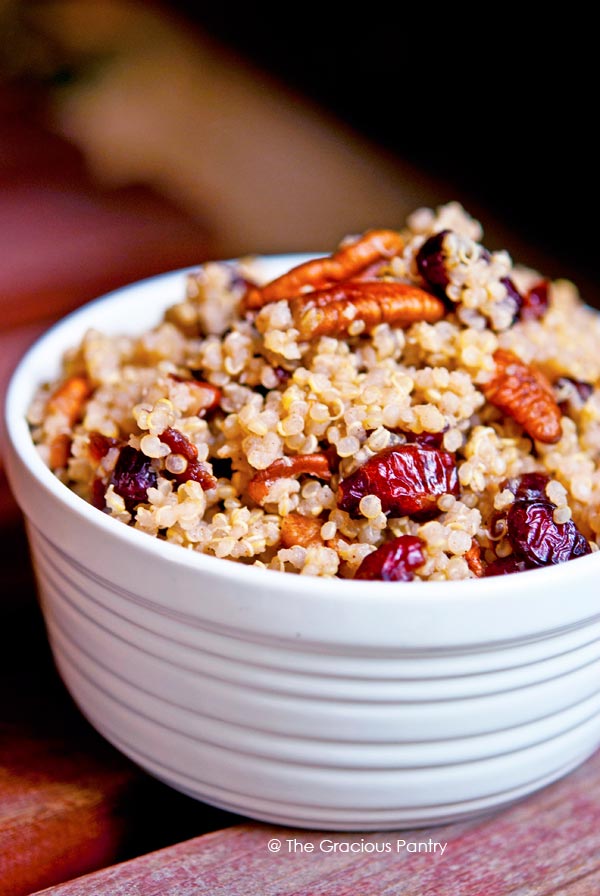 Quinoa is fabulous. Need I say more?
Well okay, just a little more. But seriously, if you haven't tried it yet, it's amazing stuff. Technically, it's actually a seed, not a grain. But everyone treats it like a grain. It's actually very similar to millet or couscous.
Science shows that this particular seed has all 9 amino acids (just like meat!). So while I personally (no medical degree here!) wouldn't consider it a primary source of protein by itself, it is a great way to make sure you are getting complete proteins. Particularly if you are vegan or vegetarian.
This is a sweet side dish, and would pair well with chicken or turkey. It's easy to assemble and is a good source of healthy fats and antioxidants. I do strongly suggest seeking out the fruit juice sweetened cranberries. If you can't find them locally, amazon does sell them.
This recipe has been featured on Tosca Reno's blog!
From the Gracious Pantry archives. Originally posted: June 25, 2015.
YOU MIGHT ALSO ENJOY:

Clean Eating Cranberry Pecan Quinoa Recipe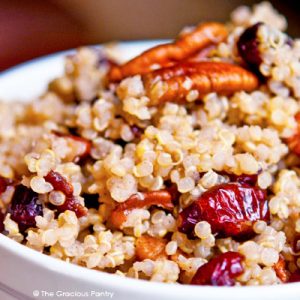 Author:
Tiffany McCauley | The Gracious Pantry.com
Ingredients
4 cups cooked quinoa, cooked with unsweetened almond milk, cooled*
1 cup juice sweetened, dried cranberries
1 cup pecan pieces
½ tsp. cinnamon
2 tbsp. honey
4 tbsp. fresh lemon juice
Instructions
Mix all ingredients together in a medium mixing bowl and serve.
Note: When cooking the quinoa, simply substitute the water for almond milk in equal amounts according to package directions. If you find that the quinoa is not completely cooked when the milk has cooked out, simply add in ½ cup at a time until the quinoa is fully cooked. Keep the heat on low to medium to avoid burning.