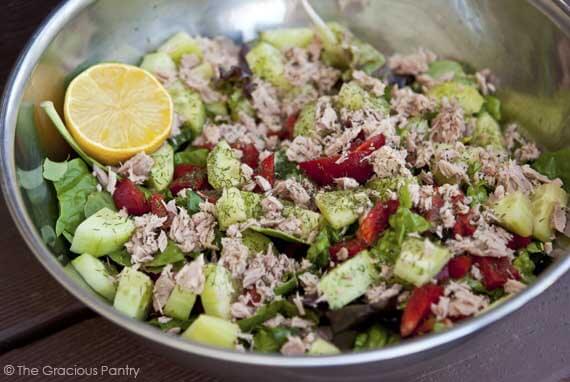 Spring is in full swing, the sun is shining more, we're leaving our jackets at home just a little more often, and the thought of flip-flops doesn't seem so absurd.
Here in the Napa Valley Wine Country, we are experiencing a little more sunshine and summer weather than most. But that's not uncommon for California. The bike trails are teaming with cyclists and dog walking folk of all kind. This time of year is beautiful here and I do all I can to enjoy it before the real heat kicks in.
That includes lighter foods that hydrate and keep me going. Salads are fabulous right now, especially as the abundance of wonderful produce really starts to infiltrate the farmers market here. Salads are also a great way to toss together a quick, easy and healthy meal, no matter that the time of day. This was my lunch and yes. I ate both servings. It was relish!
YOU MIGHT ALSO ENJOY:

Clean Eating Fresh Greens & Tuna Salad
Author:
Ingredients
3 cups spring mix lettuce
1/2 large red bell pepper, chopped
1/2 large cucumber, chopped
1 (4 oz.) can water packed tuna, no sodium added
Juice from 1/2 a lemon
1 light drizzle of virgin olive oil (about 2 tsp.)
1 tsp. dried dill
Salt and pepper to taste
Instructions
Toss all ingredients together in a large mixing bowl and serve.