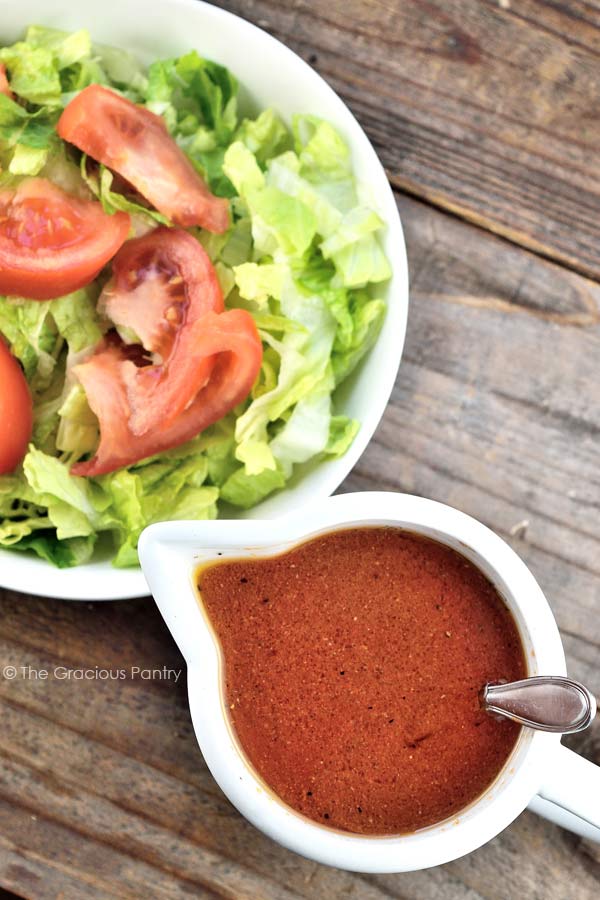 I sometimes get requests from you guys to create specific recipes. I love this because it can sometimes be hard to think of something new to make. It keeps my eating plan lively and you guys get to enjoy the recipes. So it's a win on both sides!
I love this one in particular. The sweetness is completely adjustable to your tastes and the ingredients are quite simple.
When I made this, I didn't actually have tomato sauce. So I grabbed some tomato paste out of the cupboard and mixed it with some water until I got sauce. I know… Italians everywhere are shaking their fists at me. But it works!
YOU MIGHT ALSO ENJOY:

Clean Eating French Dressing Recipe
Author:
Ingredients
1 cup olive oil
1/2 cup tomato sauce
1/2 cup apple cider vinegar
1 tbsp. onion powder
1 tsp. garlic powder
2-4 tbsp. Sucanat OR maple syrup OR 1 tsp. liquid stevia (to taste)
1 tsp. paprika
1 tsp. dry mustard
Salt and pepper to taste
Instructions
Place all ingredients in a mixing bowl and whisk to combine.
You can also put everything in a blender and blend to combine.
This will keep for several weeks.