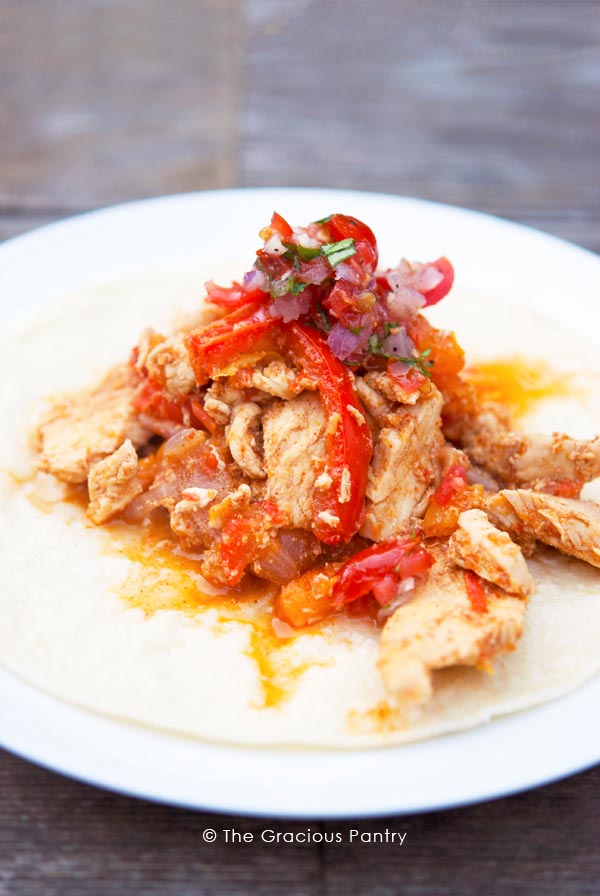 I just returned from a fabulous weekend getaway for a friend's birthday in Carmel. The weather was perfect, the shopping was abundant and the friendship and laughter made the entire two days simply perfect. To say we relaxed and had a great time is an understatement. I never set foot in a spa while I was there, but I feel like every kink has been worked out of my "hunched-over-the-laptop" muscles.
However, there was one thing missing from my perfect weekend. Mexican food! I do love it, but somehow, we just didn't find ourselves in the near vicinity of any Mexican food. Sad but true.
But when I do find myself at a Mexican food restaurant, fajitas are often what I order (with corn tortillas and no sour cream). There's just something wonderful about all those onions, bell peppers and chicken sizzling up a storm in a self-serve frying pan. Now I realize it's not a perfectly clean meal. But when you're out of town without a fridge to keep food in, sometimes you have to improvise. And fajitas always seem like the best compromise in this sort of situation.
I do try not to eat out too often however (it's getting pretty pricy these days!), and instead, opt for enjoying this meal at home.
The spices on this may seem a bit much at first glance, but they really make the meal, so don't cut back unless you truly prefer less flavorful dishes (some people do!).
I can honestly say that this recipe is in strong competition with the restaurant version. Delicious and simple to prepare, this is a pleasure to enjoy at your own dinner table.
YOU MIGHT ALSO ENJOY:

Clean Eating Fajitas
(Makes approximately 6 cups of filling)
Ingredients:
1 large red bell pepper, sliced thin lengthwise
1 large yellow bell pepper, sliced thin lengthwise
1 large orange bell pepper, sliced thin lengthwise
5 raw, boneless, skinless chicken breasts, sliced thin lengthwise (about 7 oz. each)
1 large red onion, slice thin
1 tablespoon garlic powder
1 tablespoon onion powder
1 tablespoon chili powder
1 tablespoon ground cumin
1 tablespoon olive oil
2 packages of small corn tortillas, no sugar added (24 total)