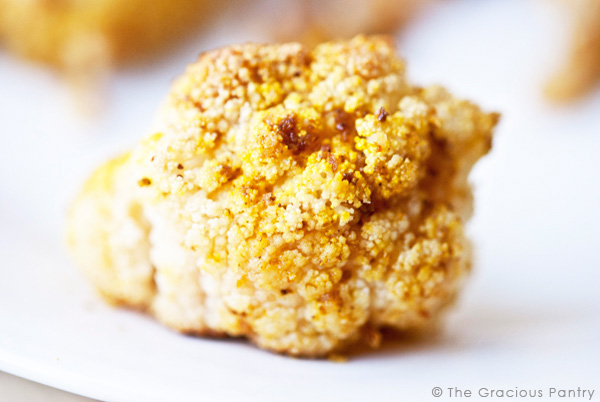 I love roasted vegetables. Those caramel colored edges, the soft chewy-yet-crunchy eruption of flavor in my mouth, and the knowledge that with every bite, I'm doing something good for my body. It just doesn't get any better than that!
But I remember a day when things where not that way. A day when the thought of eating a vegetable was not only revolting, but downright unimaginable. I didn't grow up that way, but I did reach that point. I think it's easy to get there when you rely more and more on processed foods. Your taste buds get used to the intense flavors of those processed, lab-manufactured, chemical excuses for food, and it's all downhill from there.
I won't lie, it took me a long time to start enjoying the natural flavors of real food again. But with persistence, I did eventually come around. And thank goodness, or I might have missed out on simple, easy and delicious recipes like this one!
YOU MIGHT ALSO ENJOY:

Clean Eating Curry Cauliflower
(Makes 2 servings)
Ingredients:
1 medium head cauliflower
Olive oil
Garlic powder
Onion powder
Curry powder
Directions:
Preheat oven to 350 degrees F.
Break your cauliflower into bite-sized pieces.
Lightly spray a cookie sheet with olive oil.
Place the cauliflower on the cookie sheet in a single layer.
Mist the cauliflower with a light spray of oil.
Sprinkle generous amounts of all spices over the cauliflower. At least 2 tbsp. of each (which is just a guestimate).
Place cookie sheet in oven and cook until the cauliflower has some golden edges and is easily pierced with a fork.
Allow to cool.