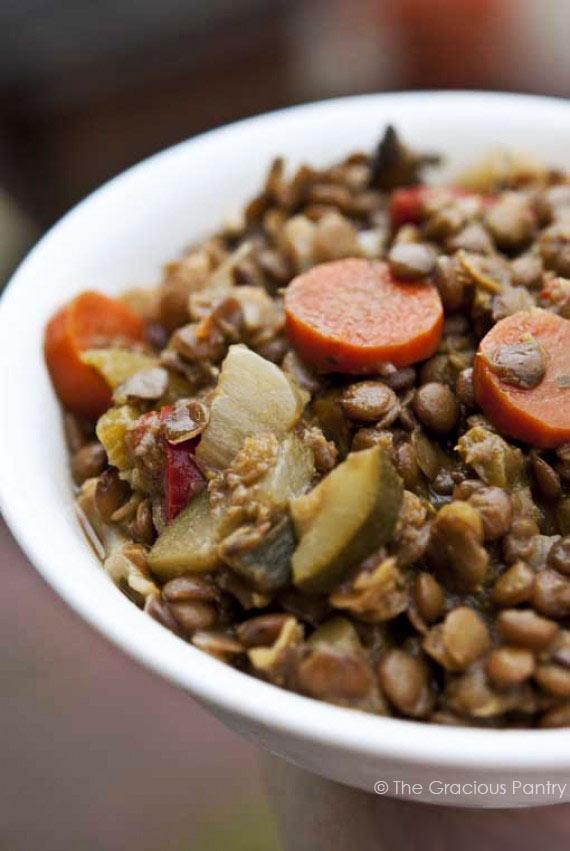 I don't know about you, but I find fiber to be a pretty essential part of my eating plan.
So I try to opt for foods that I know are higher in fiber. When I made this recipe, I had no idea until I calculated the nutrition data just how much fiber I'd be getter in one bowl. It was awesome!
You actually get half the day's fiber requirement in just one cup of this delicious stuff! You'll also get vitamin b6, A and K while you enjoy a wonderfully comforting dish.
YOU MIGHT ALSO ENJOY:

Clean Eating Curried Lentils
(Makes 8 servings)
Ingredients:
2 cups dry lentils
7 cups low sodium vegetable stock, no sugar added
2 cups sliced carrots
2 cups chopped celery
1 tablespoon curry powder, or to taste
2 teaspoon ground cinnamon
1 teaspoon ground cumin
2 teaspoons garlic powder
2 teaspoons onion powder
1/2 teaspoon ground ginger
3 cups fresh spinach, packed tight when measuring
1 tablespoon balsamic vinegar
1 1/2 cups light coconut milk
6 cloves garlic, chopped
2 cups grated zucchini
Directions:
Combine all ingredients in a large soup pot and bring to a boil.
Reduce to a gentle boil and cook until all the liquid has been absorbed and the lentils are soft.