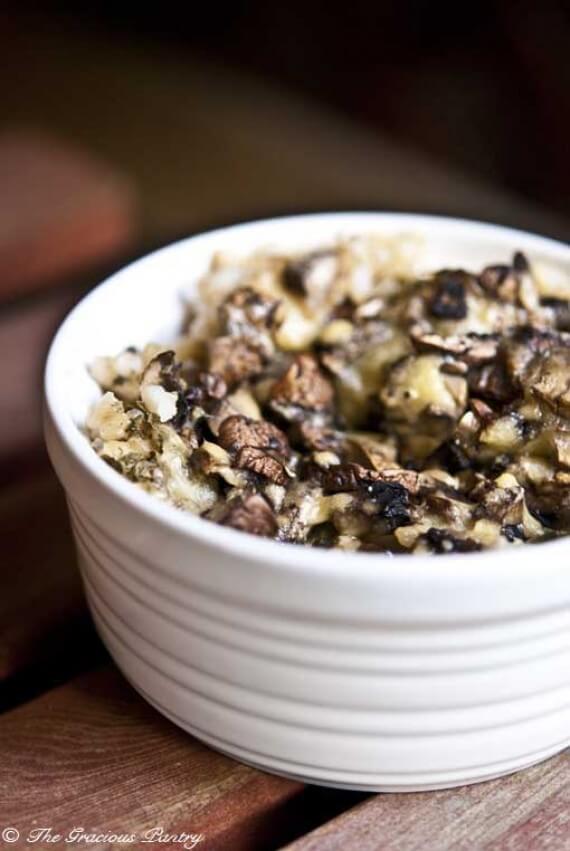 Here's to a quick and easy weeknight dinner!
I love this casserole because it comes together so quickly, especially if the rice is already cooked. And you can even assemble this the night before and keep in the fridge so all you have to do is pop it in the oven when ready. Can't get much easier than that!
This will pair nicely with a piece of meat and some extra veggies on the side. I had it with some asparagus and a baked chicken breast. It was delicious and very filling!
YOU MIGHT ALSO ENJOY:

Clean Eating Mushroom & Brown Rice Casserole
(Makes 8 servings)
Ingredients:
4 cups cooked brown rice, cooked to package directions
1 tablespoon dried basil
4 cups chopped mushrooms
4 egg whites
1/2 cup grated parmesan cheese
1/4 cup milk
Directions:
Mix cooked rice, raw mushrooms and basil together and spread out evenly in a shallow casserole dish.
In a medium sized mixing bowl, whisk together the egg whites, parmesan cheese and milk.
Pour over the rice and bake 350 for about 30 minutes.
Note: Keep an eye on this in the last 10 minutes of baking. If the rice appears to be getting too browned, place a piece of foil loosely over the top of the dish.